The Sweet Yet Cheesy Taco Bell Menu Hack That (Sort Of) Checks Out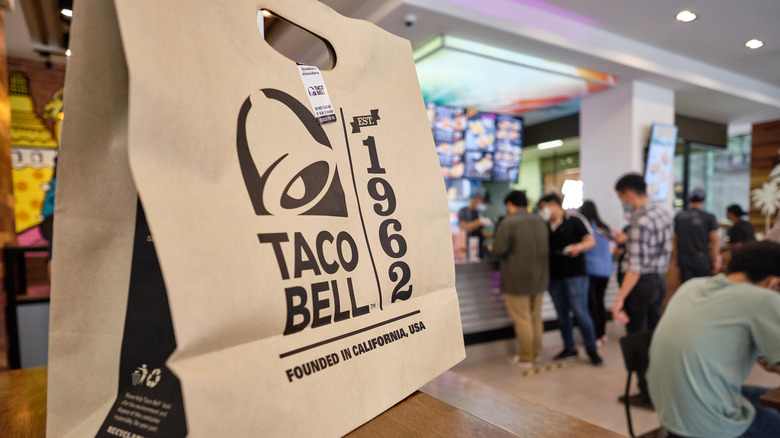 KULLAPONG PARCHERAT/Shutterstock
Taco Bell is there to satisfy all your cravings, whether it's breakfast first thing in the morning, or a cold drink to refresh you after a night out on the town. Fans of Taco Bell have undoubtedly tried the chain's numerous menu hacks, but thanks to TikTok, the world has been introduced to another, perhaps more peculiar menu hack. Taco Bell posted a video on its Tiktok of a man asking everyone what their favorite menu hack is. While in and of itself that's not an unusual question, viewers were quick to point out that he was dipping the chain's Cinnabon delight into nacho cheese sauce.
People were flooded the comments with their thoughts, as well as their own favorite menu hacks to try. One commenter wrote, "THE GASP I JUST LET OUT," while another commented, "Aw no. Not the Cinnabon delights with nacho cheese?!" The verdict seemed a bit split, with some people curious enough to try it, with others declaring the combination too weird, even for Taco Bell. While the jury is still out on the salty-sweet combination, Taco Bell fans were quick to beg the chain for some of their favorite items back, including the Quesarito.
Fans want their voices heard
While the user in the video didn't deny or confirm the deliciousness of his creation, fans will have to try it for themselves and decide. The idea of mixing something sweet with something savory isn't totally foreign, as many people will tell you that fries taste even better when dipped in a chocolate milkshake. Our bodies are designed to crave the savory and sweet combo, which dates back to our caveman days. Those who thought the combination was a bit too adventurous, were not shy about asking for a purely savory menu item to make its return. One user wrote, "THE ONE WHERE THEY GIVE ME MY QUESARITO BACK!" Another added, "Taco Bell pls reconsider the quesarito it was a CLASSIC."
Unfortunately, the Quesarito was nixed from the menu in April 2023, and fans haven't quite recovered. The Quesarito was itself sort of a hack, in that it was a quesadilla wrapped around seasoned beef and nacho cheese, in a hybrid quesadilla burrito mashup. Even though it's discontinued, fans can recreate it at home with a copycat Quesarito recipe. Either way, we can almost guarantee that there will be more unusual Taco Bell hacks, as the chain continues to add new items to its menu.