Cheesy Migas Scramble Recipe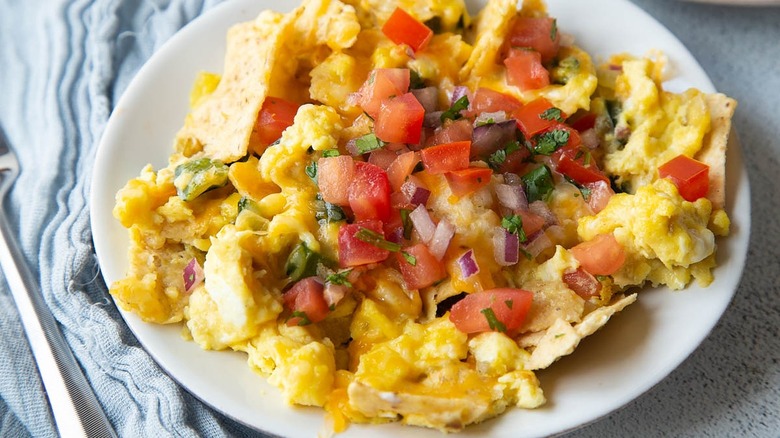 Kate Shungu/Mashed
If there's one thing we should all aspire to these days, it's to cut down on food waste whenever possible, and for that purpose, we love a recipe that can put leftovers to good use. The great thing about migas is that this thrifty breakfast dish was invented to repurpose stale tortillas, but it can work just as well with chips that may be losing a bit of their crunch. Migas are not only budget-friendly but are easy to make and so tasty that they're one of the Pioneer Woman's breakfast favorites.
Recipe developer Kate Shungu calls these cheesy migas "a fun twist on brunch" and "a savory dish that's perfect for a lazy weekend morning." The dish is relatively quick to throw together, too, so you could even toss in some fried chorizo and make it into a quick dinner. The recipe can also be customized to suit your tastes. "You can use any type of shredded cheese that you like," Shungu suggests. You could also shred your own cheddar or pepper jack if you're not a fan of the pre-shredded kind. She also suggests using bell peppers in place of the poblano to make a milder version of the dish, but you could also add some jalapeños or serranos if you want to spice it up a bit. You could even go a little crazy by making your migas with flavored tortilla chips such as Doritos. Traditional? No. Fun? Most definitely.
Collect the ingredients for the cheesy migas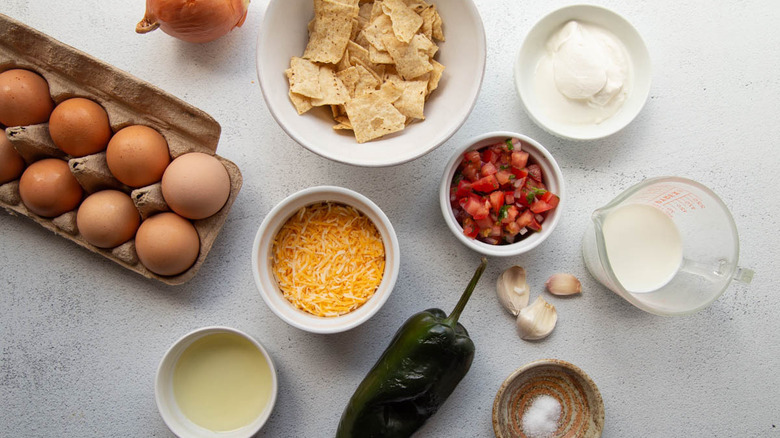 Kate Shungu/Mashed
The main ingredient in migas is eggs. Shungu likes to add milk and salt to hers, then scramble them with onions, poblano peppers, and garlic that have been fried in olive oil. Tortilla chips are then stirred into the semi-cooked eggs before they're topped off with melted cheese, pico de Gallo, and sour cream.
Cook the vegetables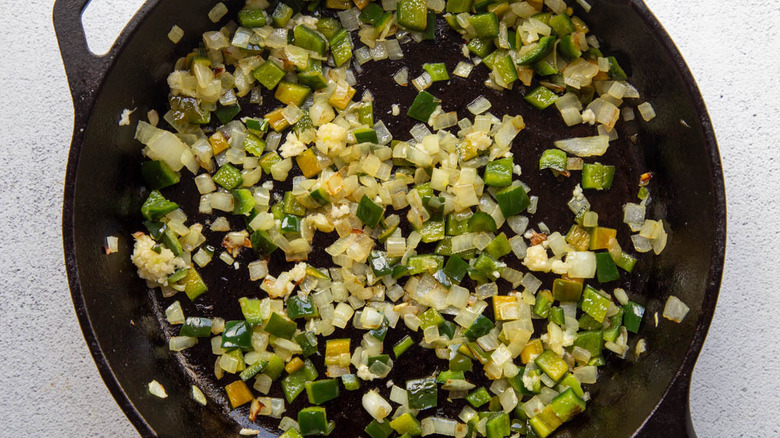 Kate Shungu/Mashed
Heat up the olive oil over a medium-high burner, then fry the onions and peppers for 4 to 5 minutes. Once the vegetables are soft, stir in the garlic and cook that for a minute.
Add the eggs and scramble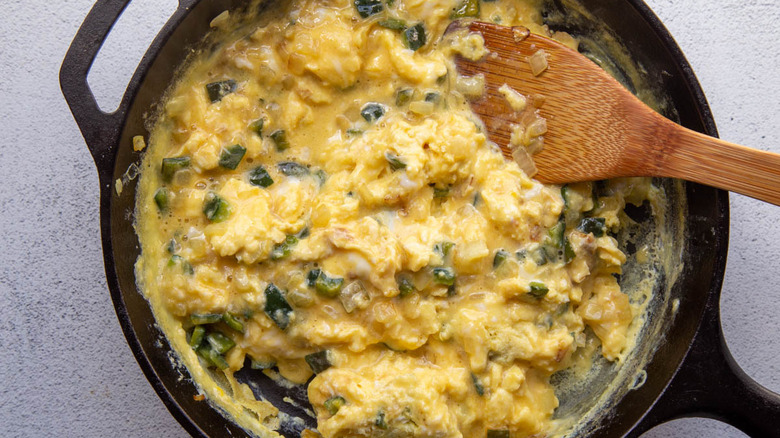 Kate Shungu/Mashed
Whisk together the eggs, milk, and salt, then pour this mixture into the fried vegetables. Cook the eggs, stirring them about once every 10 minutes, until they appear wet but aren't too runny. Don't worry that they're not entirely cooked yet, since they've got another minute or so to go.
Finish off the migas with chips and cheese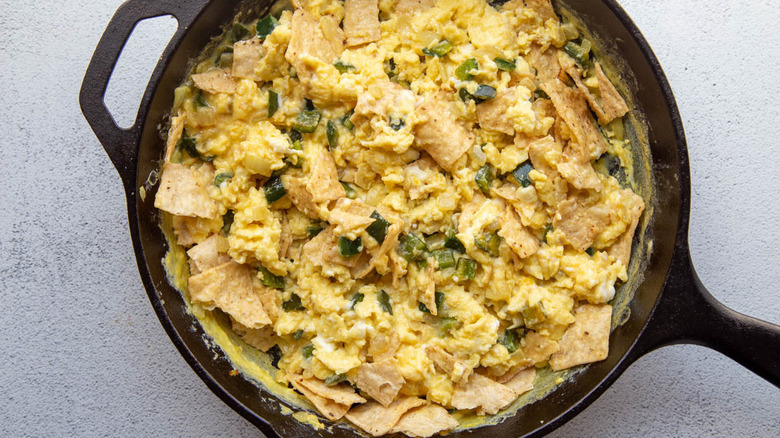 Kate Shungu/Mashed
Fold the chips into the eggs, sprinkle them with cheese, then cover the top of the pan. Cook the eggs for a minute, then check to see if the cheese has melted and the eggs are set. If so, you can dollop on the pico de gallo and sour cream and dig right in. (Well, you might want to put the migas on a plate instead of eating them straight out of the pan, but we're not going to judge you if you don't.)
If you won't be needing all four servings right away, it's best to just cut down on the size of this migas recipe to make just one or two instead. As Shungu points out, "Scrambled eggs don't reheat well," plus the chips are likely to get soggy if you don't eat them right away.
Cheesy Migas Scramble Recipe
If you like your eggs with a side of crispy crunchy goodness, then this migas recipe will most definitely enhance your breakfast.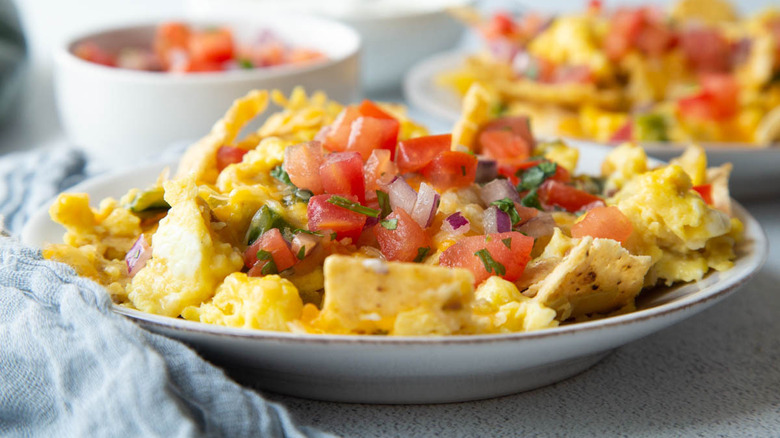 Ingredients
1 tablespoon olive oil
1 small yellow onion, diced
1 poblano pepper, diced
3 cloves garlic, minced
8 eggs
¼ cup milk
½ teaspoon salt
1 ½ cup crushed tortilla chips
1 cup shredded Mexican blend cheese
1 cup pico de Gallo
⅓ cup sour cream
Directions
‌Heat the olive oil in a skillet over medium heat, then fry the onion and pepper for 4-5 minutes, until soft. Add the garlic and cook for 1 minute more.
Whisk the eggs, milk, and salt together. Pour the eggs into the skillet with the vegetables.
Cook the eggs, stirring every 10 seconds, until they are still wet but no longer runny.
Fold the tortilla chips into the eggs, then sprinkle them with cheese.
Cover the pan and cook for 1 minute, or until the cheese melts and the eggs are set.
Top the migas with pico de Gallo and sour cream, then serve right away.
Nutrition
| | |
| --- | --- |
| Calories per Serving | 454 |
| Total Fat | 29.8 g |
| Saturated Fat | 10.5 g |
| Trans Fat | 0.2 g |
| Cholesterol | 359.4 mg |
| | |
| --- | --- |
| Total Carbohydrates | 26.9 g |
| Dietary Fiber | 1.6 g |
| Total Sugars | 7.4 g |
| Sodium | 676.4 mg |
| Protein | 20.4 g |