Kit Kat's Latest Summer Bars Are Getting The Churro Treatment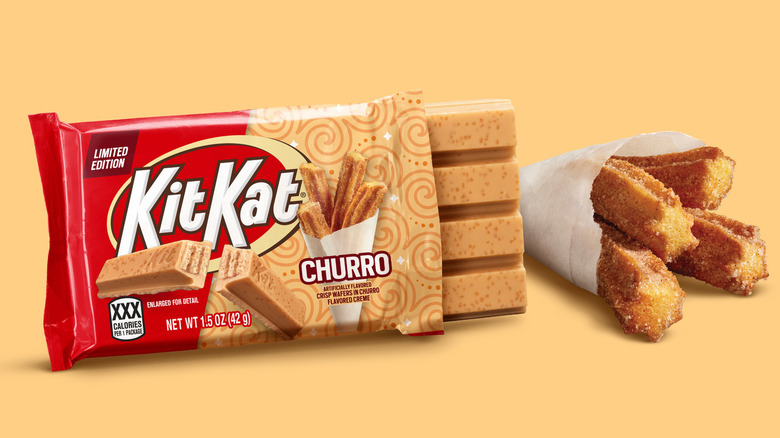 Kit Kat
Snappable, shareable, and never in short supply of that melt-in-your-mouth chocolatey goodness, Kit Kat bars have delighted kids and adults alike for years. The best part is that you can always discover a unique, new flavor you've never tried before, especially in Japan, where over 300 different kinds exist. Fans of the crispy candy bar are in for a treat this summer, as the brand debuts a flavor that will only be sticking around for a limited time — Kit Kat Churro.
No matter how you eat these chocolate wafers, whether it's one by one, nibbling the edges, or just chomping with reckless abandon, many would agree that churro-flavored Kit Kats sound temptingly intriguing. Other popular Kit Kat flavors like Matcha Green Tea, Lemon Crisp, and Mint + Dark Chocolate might seem like safer options for less adventurous snackers since they are such a far cry from the original.
However, Kit Kats that taste like churros, a universally loved sweet and crispy dessert, might just be worth a shot. Since traditional churros are meant to be dipped into chocolate anyways, we're getting wild ideas about combining them with the standard chocolate Kit Kat and seeing what magic could occur.
This new and unexpected confection may not derive the same amount of pleasure as eating real churros can — fresh and piping hot right out of the oil — but it sure sounds promising. In case you don't want to miss out on sampling these creamy delights, here's when they'll be hitting the shelves.
You can try churro-flavored Kit Kats in June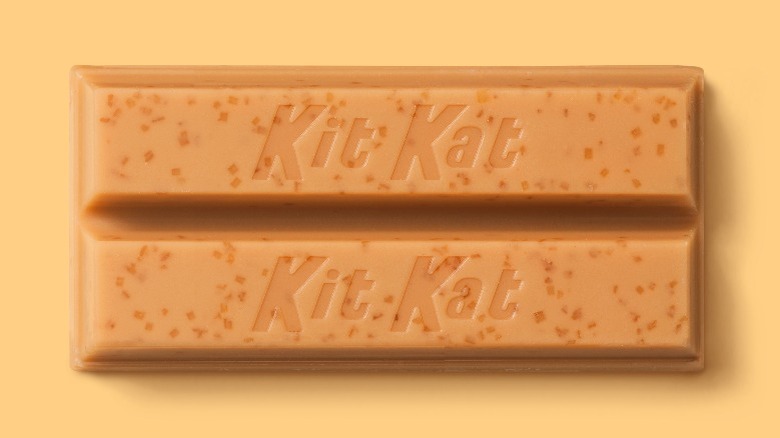 Kit Kat
Kit Kat will bring its special churro-inspired candy bars to stores nationwide in June. The brand wants to make sure customers can enjoy them on June 6, but why so specific? It just so happens that this is a very appropriate date for this particular flavor, as it falls on National Churro Day.
The new bar will be available in all sizes for whatever type of snacking mood you're in, so you can grab them in the standard, king, or snack size. For any passionate churro lovers out there who plan on making their food truck rounds, snagging all the possible free restaurant churros, or even following a churros recipe to make them homemade to commemorate this special day, this Kit Kat could be the perfect end to your celebratory churro quest.
Alex Herzog, associate brand manager for Kit Kat, expressed how much the company enjoys seeing fans react whenever a new limited-edition flavor rolls out. "We hope that every bite of the buttery, churro flavor and familiar crispy crunch of our wafers unlocks memories of the delightful experience of enjoying freshly baked churros from the boardwalk stand, amusement park, or the local fair," Herzog stated in a press release. 
If summer nights full of lighthearted fun are what these little wafers evoke, we'd like several, please. Time to add another one to our bucket list of Kit Kat flavors to try.