TikTok's Viral Juicy Fruit Isn't Actually A Powdered Orange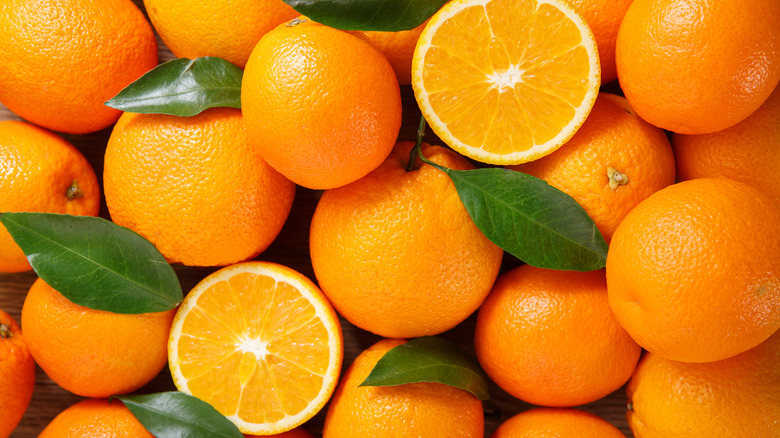 Nitr/Shutterstock
There is something weirdly satisfying about watching TikTok videos of people cutting up fruits that are still hanging from trees. Our eyes refuse to look away when a sharp knife digs into those mangoes and apples' skin to reveal a juicy core.
Perhaps the juiciest of all is a citrus that resembles a powdered orange-flavored mochi from the outside. When creators slice through it and squeeze the orange flesh, a surprising amount of juice oozes out like a blood spurt scene from a '70s movie. Videos of the mouth-watering fruits have been making rounds on the internet for a while now, and the netizens aptly think it's a special kind of orange that, for some reason, has powder all over it.
One TikToker took it upon herself to explain what they are, claiming the initial video was stolen from China's version of TikTok Douyin. Apparently, the fruit may not truly be an orange. The citrus is believed to be Ehime No. 38 Jelly Orange, a hybrid citrus of orange and tangerine from China that resembles the Japanese hybrid orange Beni-Madonna. It has been on the market since 2018. The skin of the fruit is thin and contains around 80% juice and 20% pulp with a jelly-like consistency. A single jelly orange can cost up to $35.
The mysterious white powder protects the fruit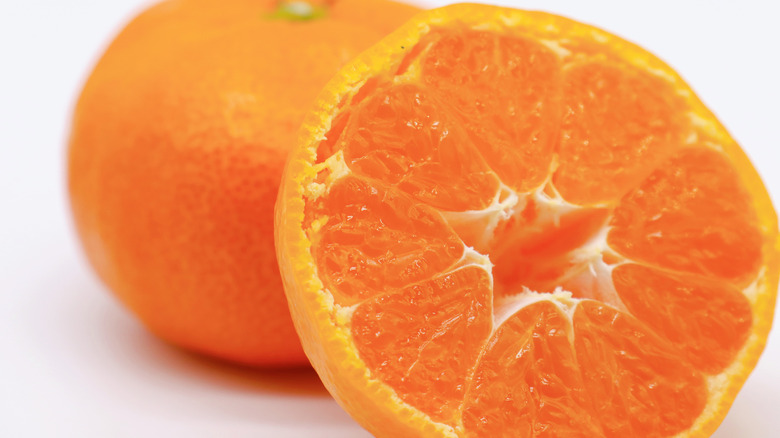 Yusuke Ide/Getty Images
In case you were wondering, the citruses don't have a natural white coating. The white powder all over the outer layer of the fruits in the viral TikTok videos could be kaolin, a clay-based sun protection for fruits. It is mixed with water and sprayed over fruits to preserve moisture and protect citrus fruits from insects like Asian citrus psyllids (ACP). According to Sunraysia Citrus Growers, they can make fruits cooler by up to 50 degrees Fahrenheit.
Fruits with a protective coating are washed after harvest, but kaolin clay is not believed to be toxic. Per WebMD, it is also used in oral hygiene products like mouthwash and applied to wounds to stop bleeding. Ehime No. 38 Jelly Oranges aren't readily available in the U.S., but other varieties of orange like Valencia, Cara Cara, lima, mandarin, blood oranges, Hamlin, tangerines, blood oranges, and clementines are also packed with delicious juices.