The Biggest Flops In Starbucks History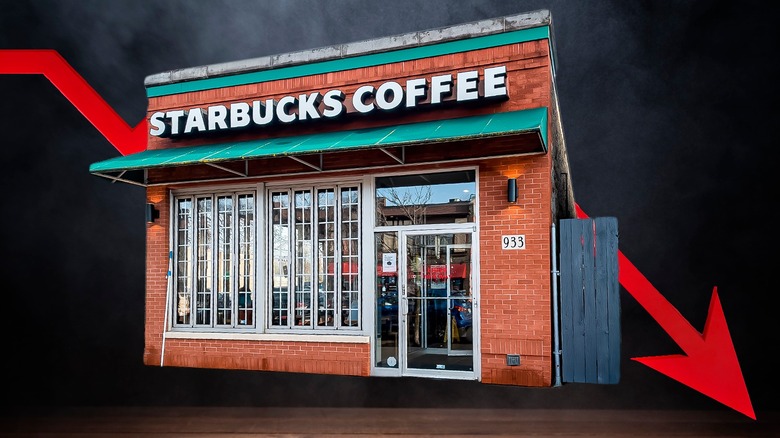 Static Media / Shutterstock / Getty
Since it first opened its doors in 1971, Starbucks has risen to the highest realm of the corporate stratosphere, becoming a multi-billion dollar company and crafting one of the most recognizable brands in the world. But with its many successes, the company has had its fair share of failures. After its meteoric rise in the coffee sector, it bungled attempts at diversification before defining its brand with a dizzying, ever-changing, and hit-or-miss array of beverages. While it usually lets unpopular inventions quietly disappear from its menu without a trace, some of its other failures have been as conspicuous as a misspelled name on a coffee cup.
For every Teavana, there's a Mazagran, and for every Pumpkin Spice Latte, there's a Juniper Latte. Add to this a few failed attempts to revolutionize the entertainment industry and a spectacularly misjudged effort to improve race relations in America. It's clear that the world's most successful coffee company has a much more entertaining roller-coaster history than its yearly revenues would imply.
A highbrow magazine with an uninspiring tagline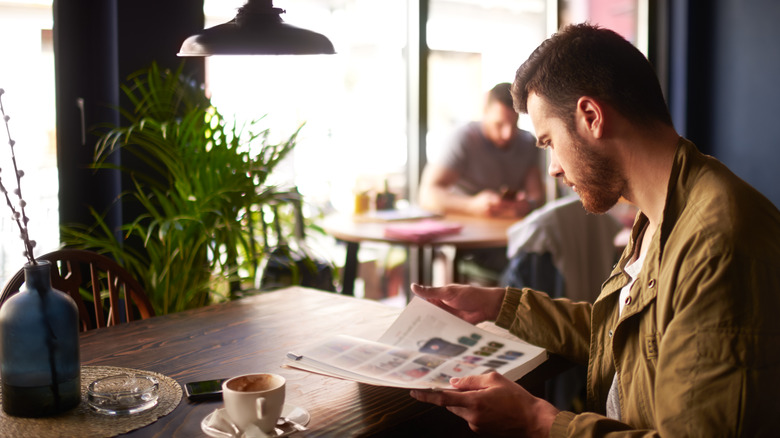 Extreme-photographer/Getty Images
By the 1990s, Starbucks had reached a fever-pitch of success, raking in profits and kicking off a coffee craze that inspired other companies to join the booming industry. With great success comes a dizzying amount of freedom, and Starbucks made some surprising choices. One of the strangest diversions it took was the magazine business. In 1999, the company announced it was releasing a literary quarterly called Joe. Meant to appeal to the modern intellectual, the magazine featured the puzzlingly vague tagline, "Life is interesting. Discuss." The first issue included a photo essay about trust and an article about cubicle life by Canadian author Douglas Coupland. But its impressive roster of writers didn't prevent the venture from drawing criticism. Commentators accused Starbucks of disguising blatant marketing as pseudo-highbrow literature and encouraging mediocrity rather than creativity.
Joe magazine was meant to be part of the company's cutting-edge internet presence, which at the time consisted of a brand-new website. Starbucks was cagey about its online ambitions, but it overhauled its website to promote the magazine and feature some of its articles. Despite its lofty ambitions and a healthy dose of controversy, Joe magazine lasted only three issues. The Starbucks website, on the other hand, did just fine.
A drink that was basically just melted chocolate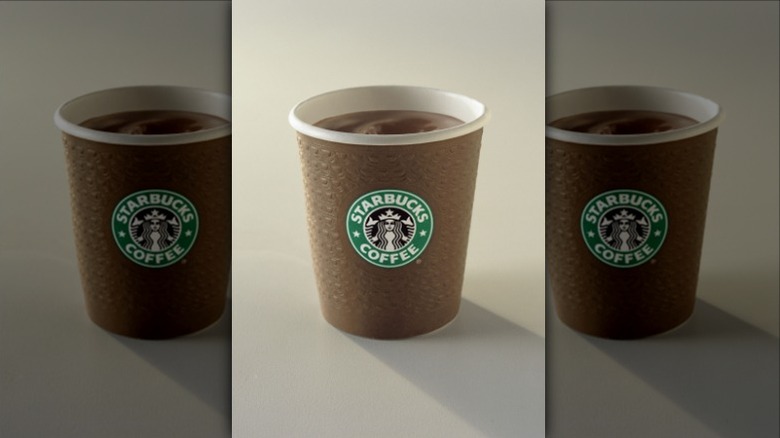 Getty Images/Getty Images
Starbucks is no stranger to bizarre flavor combinations in its drinks, so you wouldn't think that a pure chocolate product would end up being a short-lived and polarizing experiment. But when Chantico hit Starbucks counters in 2005, it divided customers. Named after the Aztec goddess of the hearth, it was a decadent combination of whole milk and cocoa butter with cocoa and sugar that the company claimed was akin to drinking chocolate truffles. It was also 390 calories, a startling amount given the serving size was only six ounces. With a whopping 20 grams of fat, Chantico wasn't exactly health-conscious either, and Starbucks was quick to label it a dessert drink rather than a fancy hot chocolate.
A year later, it was forced to pull the plug. The company claimed the failure had less to do with disinterest and more to do with the fact that customers couldn't customize the drink to fit their tastes. In response, the company introduced easily modifiable chocolate drinks such as the Marble Mocha Macchiato, but some customers were in anguish over Chantico's demise. "How could you?" a reporter at the Morning Call in Pennsylvania reportedly demanded of a Starbucks spokesperson before enlisting the help of several chocolate experts to recreate the recipe. Chantico may have survived only a year, but nearly two decades later, you can still find dozens of copycat recipes on the internet.
A high-end blender that had nothing to do with coffee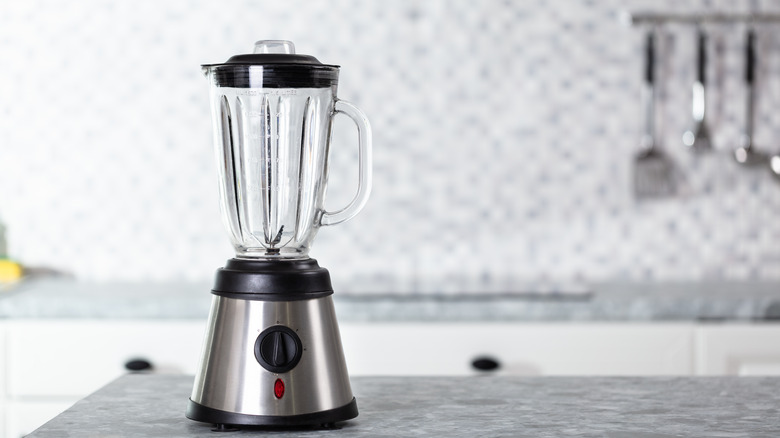 Andrey_Popov/Shutterstock
The Barista Bar Blender hit Starbucks shelves sometime around 2003. Boasting a stainless steel base, tempered glass pitcher, and 500-watt motor, it was a high-end product from a chain associated with menu items that, at the time, cost only a few dollars. In contrast, the Barista Bar Blender was priced somewhere in the realm of $100. This, combined with the fact that coffee drinkers weren't necessarily on the hunt for a kitchen implement associated with making smoothies and frosty milkshakes, may have contributed to its quiet departure from the retail landscape.
By all accounts, those who purchased the blender were thrilled with the product. "I have to give credit where credit is due," wrote one Viewpoints reviewer in 2009. "I am not a frequenter of Starbuck's for coffee drinks ... but the Starbuck's Barista Bar Blender is awesome." The reviewer goes on to say that they used the machine almost every day for three years and that it was "still going strong."
Promotional material for the blender offered a variety of colorful recipes ranging from a coffee banana cream cooler made with soy milk to a peanut butter and mango concoction with shredded coconut and Brazil nuts. Despite its glowing reviews and creative recipes, the blender was discontinued, and the company has stuck to selling coffee machines ever since.
The infamous soda/espresso mashup
Despite its many successes, Starbucks has made some consequential miscalculations, and Mazagran might be the most baffling. In 1994, the company teamed up with PepsiCo to produce a product that American consumers weren't prepared for. They called it a Mazagran sparkling coffee and claimed that it was a "refreshing, lightly carbonated coffee drink first enjoyed by regulars in the French Foreign Legion." While a similar drink made of coffee and cold water originated in Mazagran, Algeria, during the French occupation in the 1800s, it had, by 1994, morphed into a refined beverage with a twist of lemon, sugar, and occasionally a little booze that was popular in parts of Europe and had nothing to do with Pepsi. The Starbucks version bombed. Customers were willing to try it, but carbonated coffee was an acquired taste that, as indicated by rapidly declining sales, almost no one was interested in acquiring.
Within a year, Starbucks and PepsiCo accepted defeat and pulled the bottled drink from distribution. But lest you feel sympathy for the companies, know that their failure evolved into one of their greatest successes. After axing Mazagran, the companies decided to continue their partnership by bottling the unexpectedly successful Frappuccino. After a few recipe tweaks, they released the now-ubiquitous bottled drink, and within only a matter of weeks, it had sold more than 10 times what they had projected.
A sorbet drink with a fussy machine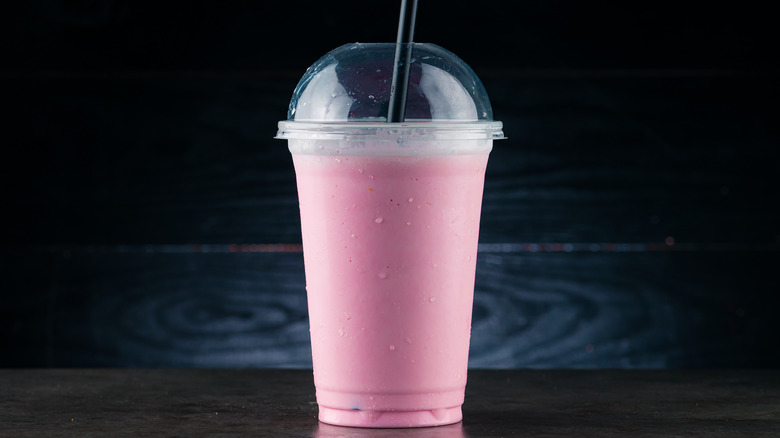 smspsy/Shutterstock
In 2008, Starbucks released two non-coffee drinks in the hopes of luring customers into stores during the sluggish afternoon hours. The concepts were sound: a high-protein smoothie line called Vivanno and a creamy drink called Sorbetto. But both failed. The Sorbetto received a limited release at about 300 locations in Southern California. It came in two flavors — Tangy and Citrus Ice, with an optional combination of the two flavors called Tangy Citrus Ice. Starbucks was upfront about the Tangy flavor being a knockoff of Pinkberry's frozen yogurt, referring to it in press materials as "Pinkberry inspired." Citrus Ice was, as the name suggests, more fruity and less creamy. As with many other Starbucks drinks, the Sorbettos came with a host of optional syrups, including mango and berry.
The ice-based drinks required new equipment, and the large machines that were installed in each store made life miserable for the baristas. On top of the added time it took to make the drinks, cleaning the machines racked up an extra 45 minutes to their shift, which was probably made even harder to swallow by the fact that few customers seemed interested in the Sorbetto. The machines remained in stores for over a year, but the drinks disappeared from the menu. One Starbucks executive blamed the rapid downfall on a rushed rollout, claiming that the Sorbetto had been in the works for only four months before it was offered to customers.
A high-protein meal replacement smoothie
Released in tandem with the new Sorbetto drinks in an effort to boost slow afternoon sales, Vivanno was a health-conscious smoothie that seemed set for success. It consisted of milk, ice, a whey protein and fiber powder, and a whole banana. Naked Juice was added for the Orange Mango Banana flavor, and cocoa powder was added for the Chocolate Banana flavor. The company leaned heavily on the nutritional aspect of the smoothies, boasting that they provided 16 grams of protein, 5 grams of fiber, and no artificial colors, sweeteners, or high fructose corn syrup. Unlike the Sorbetto, the Vivanno was released nationwide, suggesting that Starbucks was more certain in its prospects.
The marketing campaign can only be described as confident. If you walked into a Starbucks at the time, you might have been greeted by a partner wearing a banana costume or a fleet of baristas wearing green Vivanno T-shirts. But the company may have pushed the product too hard. It didn't enjoy the rapturous reception that was expected, and Starbucks eventually dropped the Vivanno name and started calling the drinks smoothies. Your barista will still make the flavors for you if you ask, but you might get a blank stare if you ask for a Vivanno.
A series of upscale restaurants, poetry readings included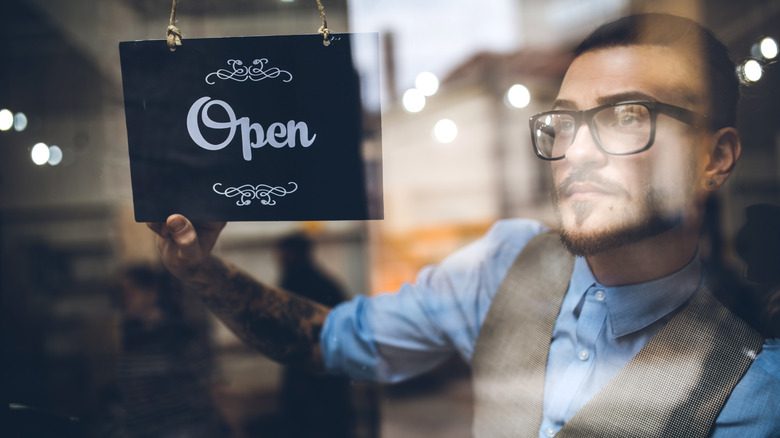 Pekic/Getty Images
In recent years, Starbucks has proved that selling nothing but coffee and reheated breakfast food can be a multi-billion dollar business, but the company wasn't always so confident in its business model. In 1999, Starbucks tried to return to its roots, creating a one-off restaurant that was meant to give patrons a cozy, local feel that had been lost during the company's rapid expansion. Circadia opened in San Francisco that year and featured an all-day menu focused on Syrian-style flatbreads. There was also a bar, velvet curtains, couches, and a private meeting room. It even offered live music and internet access, a novelty for the late '90s.
Although there were plans to expand, Circadia folded and was repurposed into one of Starbucks' other food-focused establishments, Café Starbucks. But diners were unimpressed with the food, and that venture also crumbled. Ten years later, Starbucks opened yet another upscale establishment that hid all signs of its parent company. The business, called 15th Avenue Coffee and Tea, opened in Seattle in 2009 to the irritation of owners from genuinely independent coffee shops who accused it of masquerading as a local hangout. The "stealth Starbucks" as it became known went for the jugular with its hipster leanings, offering poetry readings, a manual espresso machine, and a wall covered in pages from a book by Plato. The 15th Avenue spot and several other "stealth Starbucks" outposts fizzled and were later converted into ... Starbucks.
CD burning, anyone?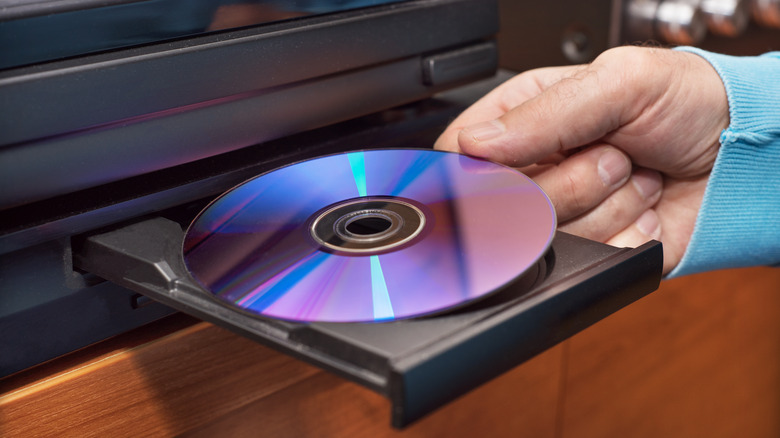 David Herraez Calzada/Shutterstock
Before the iPod and streaming, CDs were the most high-tech, portable way to listen to music, and Starbucks wanted in on the market. In 1994, it started its lengthy foray into the business by selling (what else?) a Kenny G album. By 2007, it had acquired a record label and signed someone named Paul McCartney. Artists Ray Charles and Joni Mitchell followed, proving that, however outlandish the idea may have seemed in the beginning, Starbucks really could take on the music industry. But sadly, the company took a page out of its own book and tried to incorporate its obsession with customer customization into the music business with embarrassing results.
Instead of merely selling CDs, Starbucks began installing kiosks in its stores where customers could create their own playlists from a 150,000-song library and burn them onto CDs. The service cost $8.99 for the first seven songs and 99 cents per song after that. This might have been a good idea in 2000, but Starbucks introduced the feature in 2004, three years after the first iPod revolutionized music listening and acquisition. By 2006, the company was discreetly removing the kiosks from stores, but it would be another nine years before it stopped selling CDs altogether. At that point, not only was the iPod passé, but multiple streaming services had come and gone, and the iPhone was in its sixth generation.
A line of handcrafted sodas
Starbucks returned to its love of new, in-store machinery when it launched a line of handcrafted sodas called Fizzio in 2014. Featuring three flavors -– Spiced Root Beer, Golden Ginger Ale, and Lemon Ale -– Fizzio was introduced in the summer alongside new Teavana iced teas. The company tried to distinguish its new, sparkling soft drinks from the crowd by advertising that each serving was made in-store and to order. The machine, according to Starbucks, was nothing short of a breakthrough in soft drink technology. Instead of adding ingredients to carbonated water, all of the ingredients in Fizzio drinks were carbonated together, ensuring a balanced infusion. The machine also allowed customers to choose how much carbonation they wanted and even let them add fizz to other menu items, such as iced tea.
Sadly, none of the rhetoric translated to customer enthusiasm. Two years later, Fizzio flatlined. In fact, Starbucks' so-called breakthrough technology might have been partly to blame. Baristas complained that the machines were broken more often than they were working and took weeks to fix. Ultimately, the popularity of Teavana may also have played a role. Customers who were happy with the many flavors of iced tea didn't need to wait around for a carbonation machine to start working again, and since Fizzio had been introduced in only 16 states, it was fairly easy to pull the plug without causing an outcry.
Starbucks Evenings
For decades, Starbucks tried and failed to appeal to patrons who wanted to get buzzed rather than jittery. From its Circadia restaurant that featured a bar and live music to 15th Avenue Coffee and Tea, which was supposed to appeal to the beverage-obsessed hipsters of Seattle, the company was forced to shut down a long line of failed efforts. And yet, it was still determined to make a name for itself in the trendy nightlife arena. The chain decided to hedge its bets by selling alcohol at pre-existing Starbucks locations rather than creating yet another new restaurant brand. The concept, known as Starbucks Evenings, first hit the scene in a limited number of stores in 2010 and expanded nationwide in 2014. Along with craft beer and wine, Starbucks Evenings included a fleet of flashy tapas-style food, such as truffle mac-and-cheese, bacon-wrapped dates, and artichoke and goat cheese flatbread.
By 2017, however, the company had to admit defeat again. After expanding to more than 400 stores, Starbucks Evenings was not generating much traffic, and the company called it quits. The end of the program seemed to garner more attention than its rollout, and many Starbucks customers took to social media to express surprise that it even existed. In the end, convincing people to make a coffee shop chain part of their nightlife routine was an uphill battle that the company couldn't win.
A latte that was meant to taste like a tree
Starbucks has proved time and again that it can turn unlikely flavors into the absolute best drinks on the menu. From examples like cotton candy and cake batter, it regularly transforms non-drinkable things into specialty coffee concoctions with great success. But the Juniper Latte was a step too far. It was released in the fall of 2018, just in time to answer the burning question that always haunts the holiday season: "What does a Christmas tree taste like?" The beverage was made of espresso, steamed milk, the company's proprietary juniper syrup, and pine-citrus sugar. According to Starbucks, it offered "a hint of juniper and sage, an evergreen aroma and citrus notes." Customers begged to differ.
Gin was one of the most frequent associations that cropped up in the social media posts and think pieces that proliferated after the Juniper Latte was released. "I love gin and I love coffee," wrote one customer on Twitter, "[B]ut I'm staring in confusion at the new Starbucks Juniper Latte." For at least one employee, there was nothing to be confused about. "Coming to u from a starbucks barista: [D]ont try the new juniper latte it tastes like grass and dirt," they said on Twitter. Between its associations with gin and dirt, the Juniper Latte was not a hit. It disappeared from menus after the holiday season, never to be seen again.
It took a shot at Hollywood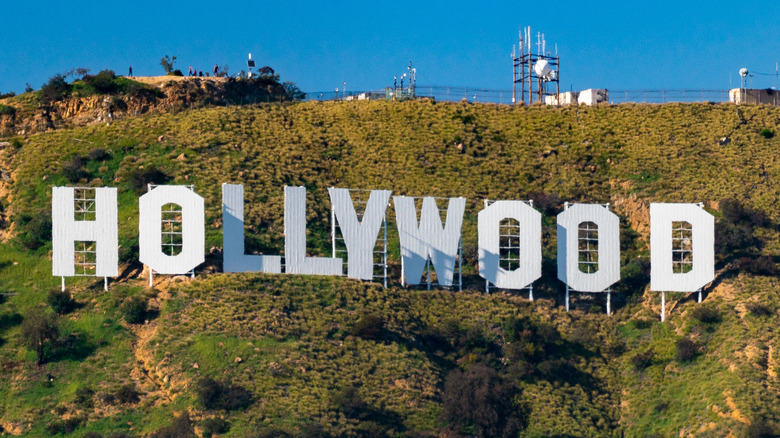 Aaronp/bauer-griffin/Getty Images
Starbucks' foray into the entertainment industries included successful ventures in book publishing and music production, but it hit a wall when it tried its hand at Hollywood. In 2006, the company announced it had partnered with the independent studio Lionsgate to become a power player in the movie business. A few months later, it was saturating its stores with promotion for "Akeelah and the Bee," a heartwarming family-friendly movie following a young spelling bee contestant from South Central Los Angeles. Starbucks filled its stores with coasters, signs, spelling bee trivia games, and coffee sleeves to fulfill its Lionsgate deal, which entailed receiving a cut of the box office profits and DVD sales in exchange for in-store promotion. Despite the company's best efforts, the movie underperformed at the box office, marking an embarrassing failure for Starbucks and its ability to influence its customers.
Its next Hollywood venture fared much worse. "Arctic Tale" was a documentary centered on climate change, but despite yet another aggressive marketing campaign in Starbucks stores involving stuffed animals and branded cup sleeves, the movie flopped, generating only $1.8 million in box office sales worldwide. This was an especially crushing defeat compared with the $127 million garnered by the Arctic documentary "March of the Penguins" a few years earlier. As a result, no future partnerships were struck with Lionsgate.
The Race Together initiative that no one asked for
Few Starbucks inventions have failed as spectacularly as the 2015 Race Together campaign. Following the separate killings of two unarmed Black men, Michael Brown and Eric Garner, and the protests that ensued, Starbucks CEO Howard Schultz teamed up with USA Today to kick off a national conversation about race. What could go wrong? The weeklong initiative encouraged baristas to strike up conversations about the loaded topic with customers and write "Race Together" on coffee cups. A list of discussion points was released, which included conversation starters like, "In the past year, I have been to the home of someone of a different race ___ times," and "I have ___ friends of a different race."
The idea that baristas could lead a national conversation about one of the most fraught topics in America was torn to shreds on social media and late-night talk shows. People pointed out the hypocrisy of white executives asking baristas (many of whom were of color) to initiate conversations about race with customers and accused the campaign of being tone-deaf virtue signaling. As pointed out by Fast Company, the blunder was made even starker when, a week later, top executives from Apple, PayPal, and other powerful companies succeeded in forcing legislators in Indiana and Arkansas to withdraw anti-LGBTQ+ bills. The contrast between the concrete results of the latter initiative and Starbucks' #racetogether hashtag was the final nail in the coffin of what was already a humiliating miscalculation.