Boneless Pork Products Are Sadly Getting Recalled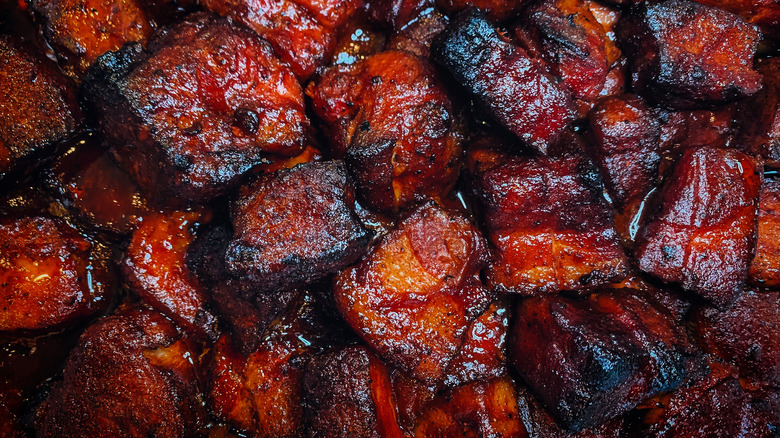 Philoglesby/Shutterstock
Summer is barbecue season, but if you were looking forward to serving up some Marketside ready-to-heat BBQ pork burnt ends (burnt ends are one of America's regional barbecue dishes) to friends and family at your next soiree, you'll have to come up with a new meal idea. That's because that product, along with two other boneless pork items, are being recalled. According to the USDA's Food Safety and Inspection Service (FSIS), nearly 41,000 pounds of boneless pork products imported from Canadian company Eastern Meat Solutions, Inc., are being recalled because they didn't get re-inspected by the FSIS upon import. Once the raw meat arrived to the U.S., another company turned it into three different heat-and-eat products that were shipped out across the country.
The affected items should read "EST. 4800" inside the USDA inspection mark that appears on the packaging. They include Park Street Deli sweet chipotle boneless pork ribs with sauce with lot numbers 3115, 3123, and 3114; Park Street Deli Hawaiian-style boneless pork ribs with sauce with the aforementioned lot numbers; and Marketside's ready-to-heat BBQ pork burnt ends with lot numbers 3116, 3117, and 3122.
What to do if you purchased these products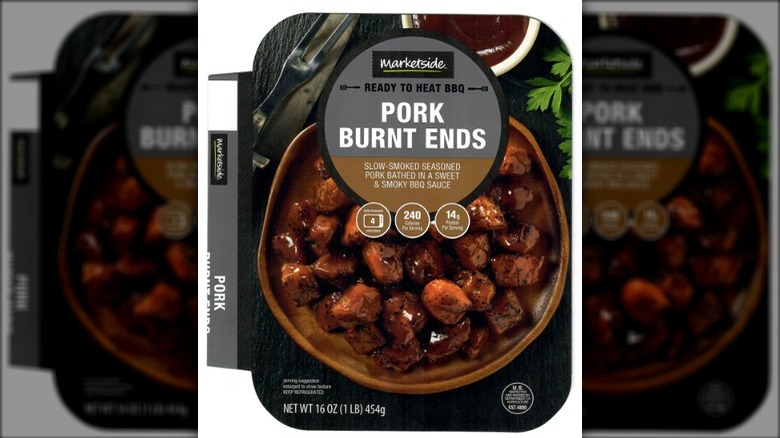 USDA
The good news is that if you did purchase one of these recalled pork products and didn't get sick, you're probably still OK. The FSIS confirms that, so far, there have been no reports of illness linked to the items. However, that doesn't mean they are safe to eat if you do still have them stashed in your fridge or freezer; the FSIS considers this to be a high-alert Class 1 recall. The organization urges customers who do still have the products on hand to throw them away or return them to the place where they were bought, potentially for a refund. After all, un-inspected imported meat isn't really the sort of thing you want to gamble on.
This isn't the first big meat recall in the last year. Nearly 44 tons of ready-to-eat meats were recalled for a disturbing reason back in September of 2022 (potential Listeria contamination), and a dangerous Class 1 Recall was issued right around the new year for 234,000 ham and pepperoni products that also were feared to contain Listeria bacteria. What's a stressed-out shopper to do? Consumers can check the FSIS recall list for the most up-to-date info on food recalls to make sure that the pantry, fridge, and freezer are free of potentially unsafe products.