Martha Stewart's Next Thirst Trap Will Be Published In Sports Illustrated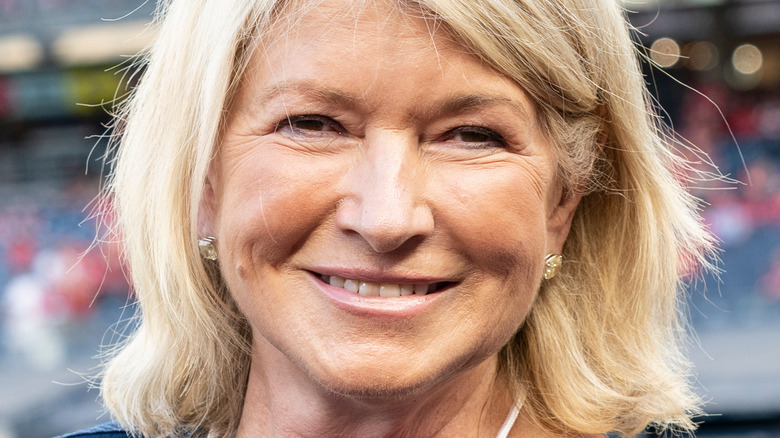 lev radin/Shutterstock
Martha Stewart is no stranger to thirst traps: The business mogul and industry-defining homemaker has often taken to social media to share sultry photos of herself. Perhaps the Instagram post that started it all was a 2020 snapshot of her getting out of her pool, a picture that garnered plenty of fire and red heart emojis. While she was initially modest about the post — telling ET, "I just thought I looked great coming out of the pool," — she went on to post more thirst traps, including one of her wearing nothing but an apron for a coffee ad. A top comment on a different selfie, with Stewart's hair freshly done and her face making a pout at the camera, asks the 81 year old: "How are you looking this amazing?"
Stewart has gone beyond social media for her latest photoshoot, as she was hired by those who might be the most professional thirst trap capturers out there: the crew at Sports Illustrated Swimsuit. Stewart is one of four models gracing the covers of the 2023 swimsuit edition, and, according to the publication, she is the oldest model to ever be featured on the front page.
Age didn't stop Stewart from modeling for Sports Illustrated Swimsuit
Stewart headed to the Dominican Republic to model for the latest issue of Sports Illustrated Swimsuit, donning multiple rounds of attire and accessories for the various photographs taken by Ruven Afanador. The chosen cover photo, which Sports Illustrated posted on Instagram, features Stewart in a white one-piece bathing suit with an orange cover-up over her shoulders. She sits on a bench making what is perhaps now her signature kissy face, with lush greenery in the background. Instagrammers called the photos "iconic," with one person saying they prove that "a woman is beautiful at any age."
Stewart seems to have had a similar idea, explaining to Sports Illustrated that by posing for the pictures, she hoped to share the message that age is nothing but a number. "A woman my age can still look good, be good, feel good," she said. She elaborated on the "Today Show," telling the anchors, "I think all of us should think about good living, successful living, and not about aging."