Let The 2023 Starbucks Summer Game Commence. Here's What You Can Win
Returning for its eighth year, the Starbucks Summer Game is back with chances to win prizes. For the uninitiated, the Starbucks Summer Game is a digital game that can be played on the Starbucks Rewards app or online with a rewards account. 
While the games have varied over the years, this year will focus on a color-popping game that has participants get rid of certain colors that appear on the screen. This year, there will be five different chapters to play through, with up to 20 different levels. Last year's theme focused on a summer road trip, while this year's game, based on the promo, is all about adventure. 
The initial games are free to play, but you can earn additional levels by making purchases. Customers can also snapshot their purchases to earn boosters for the game. Customers can earn instant prizes by completing levels. They'll also have a chance to be entered in the sweepstakes for the grand prize, as well as smaller prizes like Starbucks gift cards, temporary tattoos, and five or 10 stars added to your Starbucks account.
The Grand Prize requires travel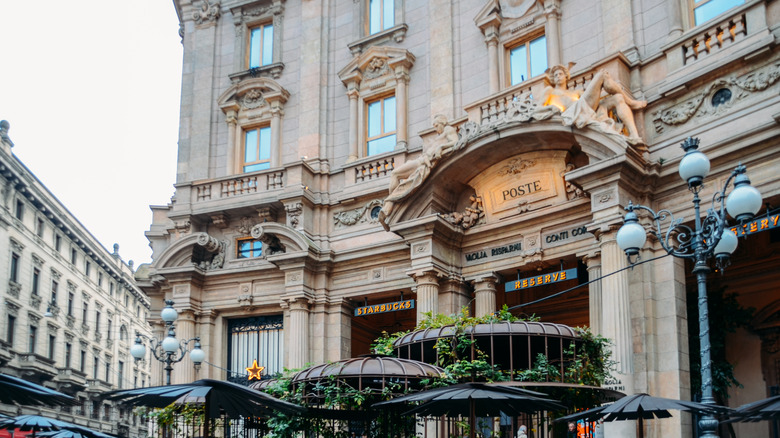 Alexandre Rotenberg/Shutterstock
The 2022 Starbucks Summer Game grand prize winner won a brand new car. This year's grand prize winner will win a trip for two to one of the coffee chain's many unique locations across the globe. Chosen from a list of 20 international locations, winners could ultimately stay in Thailand, India, Turks & Caicos, Europe, or more. The Starbucks in Boulevard des Capucines in Paris has to be one of the most decadent stores on the list, located in a 17th Century building, but you can't go wrong with any destination you choose. In addition to the flight, winners will receive five nights of accommodations, plus $2,000 in spending money. 
The estimated total prize value is a whopping $15,893. There will also be a shot for 50 first-prize winners to win a $250 gift card, while 2,850 second-prize winners will be awarded 1,000 stars. Customers can play from May 15 to June 18. People can enter the sweepstakes daily, even on days when they don't want to make a purchase. Those who simply want to play without spending money have to watch a short video and complete a survey.