Is Kroger Open For Memorial Day 2023?
For many, Memorial Day is the unofficial start of summer with many hitting the swimming pool or throwing barbecues and outdoor parties for family and friends. Needless to say, in any party situation, you're going to need groceries, but the good news for last-minute shoppers is that it seems as if most major grocery store chains — Kroger included — plan to be open on Memorial Day. However, depending on your local grocery, hours may vary.
What this means is that you should be pretty safe for all of your last-minute burger and bun needs and you'll be covered if you should happen to run out of charcoal or lighter fluid at an inopportune moment. If your Memorial Day party will be a boozy one, Kroger may be able to help you out here, too, as many of its stores sell wine, beer, and even spirits depending on state or local law. 
What about Kroger affiliates?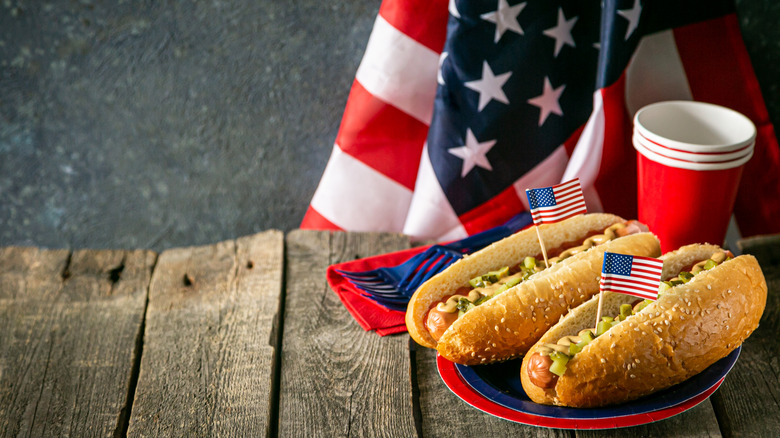 Oleksandra Naumenko/Shutterstock
You may be a Kroger shopper without even knowing it, as the chain operates quite a few other grocery brands, as well. In Colorado, you may find yourselves shopping at King Soopers, while in Wisconsin Pick'n Save is king. Virginia is home to over 50 Harris Teeters, while in western states like Arizona and New Mexico, you're likely to be a Smith's shopper. 
Like Kroger, many of its affiliates like Harris Teeter, Pick'n Save, King Soopers, and Smith's plan to be open on Memorial Day. It is possible, though, that the store holiday hours might be reduced based on staffing, plus there's always a chance that any given store may be closed for reasons of its own. While such events may be unlikely, you can never entirely rule out the possibility. 
That being said, there's a good chance that your local Kroger or Kroger affiliate will be open this Memorial Day holiday. You could always check the hours for your local store online. If you have to be 100% sure about a particular location, though, the only way to do this would be to call in advance in order to confirm its status.