Uncooked Taco Bell Cinnamon Twists Totally Look Like Dried Pasta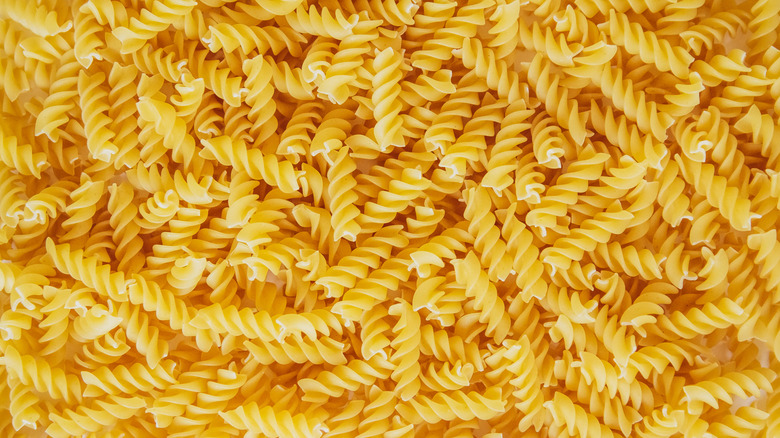 olhovyi_photographer/Shutterstock
Taco Bell is known to have some creative culinary creations on its menu, but pasta isn't exactly what comes to mind when we think of the chain's most unique offerings. Although we wouldn't mind trying spaghetti tacos or lasagna-stuffed burritos (hey, we like to give new things a chance), Taco Bell doesn't really dabble in Italian cuisine. However, one unsuspecting Taco Bell ingredient bears a striking resemblance to rotini pasta — the cinnamon twists.
Throughout the years, there have been a number of theories regarding whether or not Taco Bell's cinnamon twists are actually made from rotini pasta noodles. Many Taco Bell menu investigators on Reddit have claimed that it is, in fact, dried pasta. However, when a YouTuber deep-fried rotini noodles for DIY Taco Bell cinnamon twists, one disappointed fan commented, "Unfortunately, these things taste completely different than Taco Bell's. Taco Bell twists are a fraction of the weight these things are." That's because cinnamon twists do not really use pasta noodles.
Instead, Taco Bell's cinnamon twists are more like sweet cheese puffs — they're made from a combination of wheat flour, cornmeal, rice flour, and cinnamon sugar.
You can make pasta out of Taco Bell cinnamon twists
A Taco Bell employee on TikTok posted a video sharing the process of making the chain's cinnamon twists and referred to the uncooked snacks as pasta noodles. However, critics were quick to correct the Taco Bell worker and let him know that they are not actually rotini pasta noodles. Some people likened them to Mexican duros — a puffed wheat and cornmeal snack that's often seasoned with spices or sugar.
Although Taco Bell's cinnamon twists are more like duros or Cheeto puffs than deep-fried rotini, you can still use the helix-shaped snacks for pasta. One employee on TikTok shared an on-the-clock video of themselves enjoying some mac and cheese made from the cinnamon twist "noodles." An experienced Taco Bell enthusiast commented, "As a former taco bell manager, I did this and this was actually VERY good lol."
If you want to make copycat Taco Bell cinnamon twists, don't be fooled into deep-frying rotini. Grab some duros from your local supermarket for a batch of light, crunchy, and deliciously sweet cinnamon twists that rival Taco Bell's.