A Summer Baking Championship Contest Reinvented The Circular Ice Cream Sandwich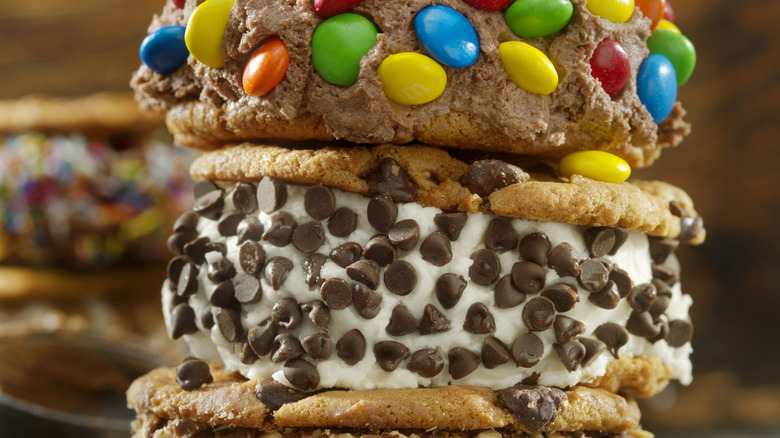 Lauripatterson/Getty Images
Who says ice cream sandwiches must have the usual round or rectangular shape? Not "Summer Baking Championship Contest" contestant Yohann Le Bescond. During the S1E2 episode "Let's Cool Off," the bakers were challenged to create a designer ice cream sandwich. Every challenge has its rules — these bakers made the ice cream and the cookies from scratch and featured a colorful inlay that evokes summer.
Le Bescond, a Florida pastry chef, drew inspiration from his favorite summer memories, which include relaxing by the pool with his best friend, some wine, and sandwiches. He chose to make his ice cream sandwich triangle shaped to resemble club sandwich wedges. He mused, "Nothing better than that by the pool on a beautiful day of summer!" The lemon blueberry vanilla ice cream was sandwiched between two lemon sable cookies with a blue water droplet inlay. To top it off, Le Bescond added almond lemon streusel trim rolled around the ice cream perimeter.
The judges Duff Goldman, Carla Hall, and Damaris Phillips, were impressed with the colors, novelty shape, and flavors. Goldman offered a tip that he would have enjoyed more lemon, perhaps a little lemon zest to make the flavors pop even more.
Designer ice cream sandwiches for a cool summer
The bakers showed a range of aesthetic possibilities that can elevate a simple ice cream sandwich. While the other contestants favored the classic round or rectangular shape, they still played with color and design using inspiration from tie-die, seashells, and summer memories.
Yohann Le Bescond used a sablé cookie. This is a departure from the usual soft chocolate cookie associated with classic ice cream sandwiches. The sablé cookie is similar to shortbread — the name refers to its "sandy" texture, according to The New York Times. Other contestants were also creative with their choice of cookies, including almond macaroons, lemon cookies, spiced cookies, and shortbread. 
When evaluating the cookies, the judges noted whether the cookie was soft enough to bite into and whether the flavor complemented the ice cream.  If the episode inspired you, try our ice cream sandwich recipe. Feel free to experiment with shapes, colors, and different ingredients.