The Summer Baking Championship Creation Carla Hall Compared To Salami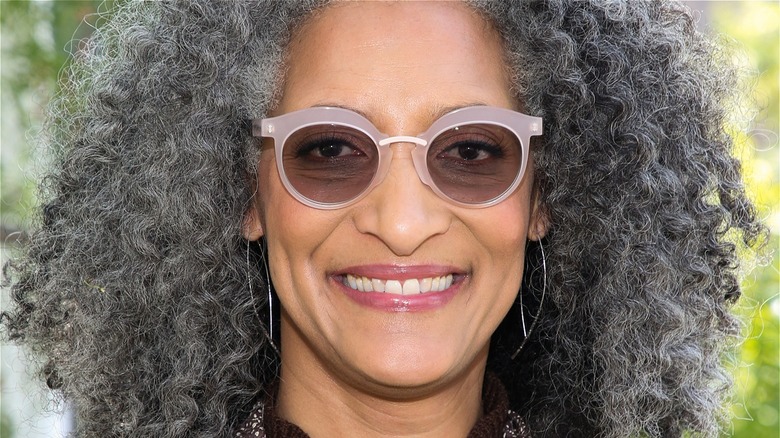 Paul Archuleta/Getty
The "Summer Baking Championship" judges challenged contestants to create a dessert that included a jiggly summertime favorite during Season 1, Episode 1, "Dockside Desserts." The bakers made cakes that included a gelatin water feature. After they started, host Jesse Palmer announced the twist was a mini challenge to include edible water balloons in the design.
Contestant Lisa Lu, a pastry chef from California, drew inspiration from summer days spent near Lake Tahoe. Her vanilla cake was topped with vanilla and orange buttercream frosting. The water feature was a green champagne-flavored gelatin lake with a dock. The inside of the dessert included a couple of layers of bitter orange gelée, and she used purple-colored coating chocolate to make balloon-shaped decorations that partially surrounded the cake. But she didn't seem eager to create anything that resembled cured meat.
The judges had mixed reactions to Lu's cake. Duff Goldman said the champagne-flavored gelatin was his favorite part. Judge Carla Hall agreed, but she found the texture of the bitter orange gelée disappointing. Hall said, "You have to chew it, it looks like a piece of salami!" The judges were also less-than-pleased that the cake was leaning a little and not impressed with the chocolate-coating water balloons.
Creativity under pressure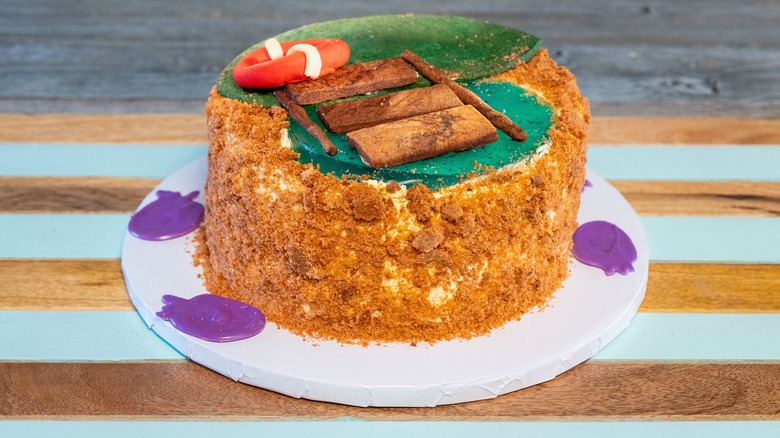 Twitter/The Food Network
People familiar with Lisa Lu's background might not have expected the outcome. Lu is an executive pastry chef and a James Beard Award nominee. And restaurateur Tony Gemignani's Seven Ovens blog raved that she "has a resumé that reads like the Michelin guide," thanks to her time at decorated restaurants like Quince. But in the end, Lu was sent home. Other bakers met the challenge with mixed results. The edible water balloon twist was especially tough.
Some bakers tried to make boba-like bubbles that pop using sodium alginate, which is a thickener derived from seaweed, and calcium lactate from lactic acid. But since the edible balloons were a last-minute addition, the competitors weren't able to focus on them as well as they did on the gelatin water features. Several of them mentioned that they don't usually incorporate Jello in their cake designs. In typical "Baking Championship" style, they raced the clock, and unfortunately, not all of them could make it across the finish line.