What A Taco Bell Restaurant Looks Like In Japan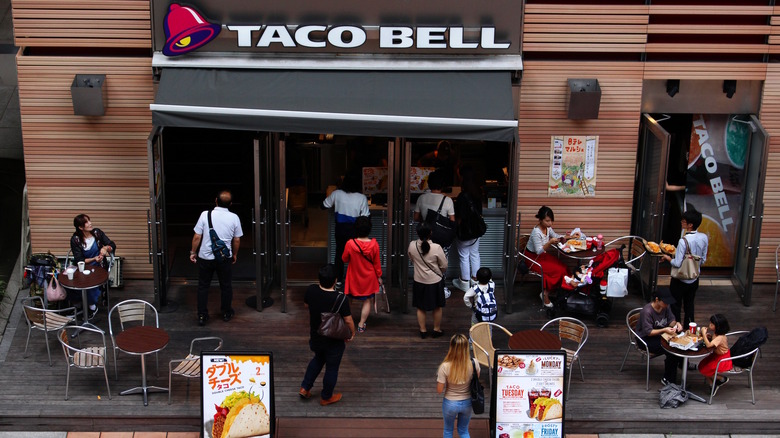 Ned Snowman/Shutterstock
When Taco Bell first came to Japan in 2015, it had many similarities to the U.S. restaurant. However, there were also plenty of differences. People lined up for hours, 300-people deep to experience the first Taco Bell in Tokyo. So, you're probably wondering what they found. If you walked into a Japanese Taco Bell thinking it was going to be the same experience as you would have in the U.S., you'd be wrong. People who have eaten in both restaurants say that, even if a food item in Japan looks the same, it tastes different.
From the fries to the nachos, you're going to notice some differences, but the differences are mainly good ones — unless you're a vegetarian. While the food tastes somewhat different and the portions aren't the same, there are plenty of menu items in Japan that leave U.S. customers jealous. Many items that have disappeared in the U.S. never left Japan. Plus, they have menu items, drinks, and desserts you won't see in a U.S. Bell. So, let's take a closer look at what you can expect to see if you visit a Taco Bell in Japan.
Drink offerings may include melon Fanta and C.C. Lemon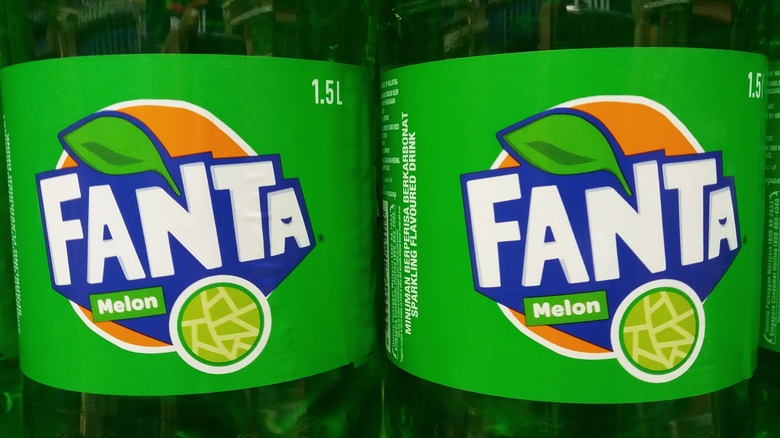 Zety Akhzar/Shutterstock
If you find that you have an unquenchable thirst and are on a budget, Taco Bell is one of the few places you can find free refills in Japan. If you're craving Dr. Pepper and can't seem to find it anywhere else, Taco Bell is also the place to go. However, not all the drink offerings in Japan's Taco Bell will be familiar if you're accustomed to eating Taco Bell in the U.S.
One unfamiliar drink you'll find in Japan's Taco Bell is melon Fanta. In the U.S. you can find several flavors of Fanta, including orange, grape, strawberry, piña colada, pineapple, fruit punch, berry, and peach. However, you won't find melon. Melon just hasn't really been a popular drink flavor in the U.S. yet. However, in Japan, you'll find a lot of melon drinks available, like cream soda drinks, melon soy milk drinks, and even melon cider. So, it makes sense that there would be a melon-flavored Fanta among the fountain drinks at Taco Bell.
Another popular drink you may find in Japanese Taco Bells includes C.C. Lemon. It's a carbonated lemon drink that has been popular in Japan since 1994. C.C. Lemon commercials actually featured The Simpsons between 2000 and 2002, which seems fitting considering how yellow the beverage is.
Seafood is sometimes on the menu
A large portion of Japanese cuisine features seafood, so it's no surprise that seafood appeared on the very first Japanese Taco Bell menu. One of the first menu items the tastemakers for the restaurant dreamed up for its Japanese counterpart was a shrimp and avocado burrito. The flavors were designed to please the Japanese palate since it contained marinated and seasoned shrimp, along with wasabi mayo. However, it was still recognizably Mexican-ish since it came wrapped in a flour tortilla and contained guacamole, salsa, and lettuce.
If you're feeling a little jealous about seafood on the Taco Bell menu, we have had seafood on the menu in the U.S. as well – just not as recently. In 2010, the U.S. briefly had a Pacific shrimp taco available (without wasabi mayo). In 1986, you could get a seafood salad at Taco Bell in the U.S. It came in a taco bowl stuffed with veggies and a seafood mix that included fish, shrimp, and crab. Unfortunately, there were too many food poisoning cases related to the salad to keep it on the menu.
You can order beer and alcohol with your tacos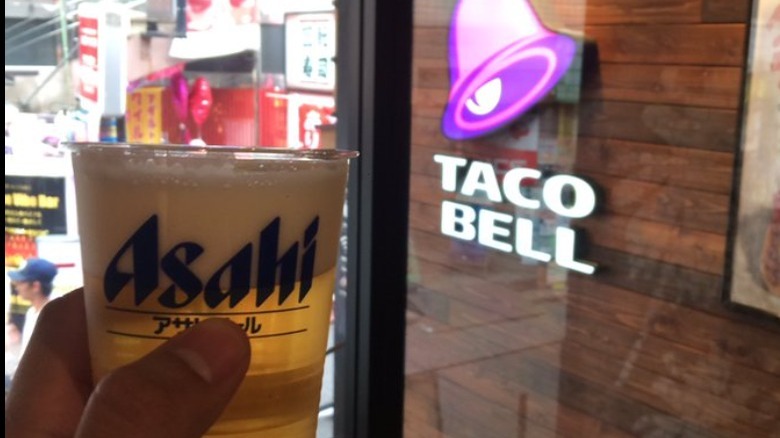 Several Taco Bells around the world sell beer, including the ones in Japan. Sure, there are a few Taco Bell Cantina locations in the U.S. that serve alcoholic beverages, like in Chicago and Las Vegas. In the Cantina restaurant version, you can expect everything from beer and sangria to frozen liquor-filled Freezes and wine. However, in Japan, beer is common on fast food menus, so it's not that surprising that you can find it at Taco Bell. In fact, it would be more surprising if you couldn't. You can order beers in many fast food restaurants in Japan, including Wendy's, Burger King, or KFC.
You can even go to The Bell for happy hour, where you can find beer, sangria, and frozen margaritas. The restaurant has even tried out happy hour deals where your third beer is free. That deal would certainly get more people in the door than tacos alone and have them lingering longer than the average visit in the U.S. But having a dining room that is far cleaner than the ones in the U.S. also helps you want to stick around longer.
You can order your fries loaded
There were three places in the world where you could originally get loaded fries at Taco Bell: the U.K., Korea, and Japan. Japan has had them on the menu regularly since at least 2015. Now, loaded nacho fries are occasionally more widespread, but we had loaded fry envy for a while. Japan's loaded fries feature Mexican-seasoned French fries smothered in nacho cheese sauce and topped with seasoned beef, sour cream, and pico de gallo or green onions.
The U.S. has had a few versions of loaded fries on the menu over the years. In early 2019, you could get steak rattlesnake fries, which featured seasoned fries topped with nacho cheese sauce and creamy jalapeño sauce. On top of those ingredients, were pieces of steak and pickled jalapeñoes. In 2023, yellowbird nacho fries came topped with nacho cheese sauce, yellowbird sauce, chees, tomatoes, steak, and sour cream. We have to wonder why steak always seems to be the meat of choice on the U.S. version of loaded nacho fries instead of seasoned beef as you find in Japan.
Crispy chicken is on the menu
Except for the occasional menu surprise, you won't find much crispy chicken at The Bell in the U.S. But if you're craving crispy chicken with your pseudo-Mexican food in Japan, you can order a Chickstar, which is essentially a crispy chicken Crunchwrap. You could find Chickstars briefly in the U.S. in 2015 and 2017, but they've stayed a menu staple in Japan. In the U.S., they contained triangle-shaped fried chicken pieces, cheddar cheese, lettuce, tomatoes, and avocado ranch sauce wrapped in a grilled flour tortilla. The one in Japan is similar, with a sauce that has a tangy vinegar-like flavor instead of the avocado ranch sauce.
While they're not lucky enough to have a naked chicken chalupa in Japan anymore (which they called a naked chicken taco), they do have plain crispy chicken strips on the menu. So, not only can you get a burrito filled with crispy chicken, but you can order crispy chicken by itself. We're kind of jealous. We're also curious why they didn't try crispy chicken in any other menu items, like tacos or the chicken burrito bowl.
They once had a DIY taco kit
When you introduce a DIY taco kit to a country that isn't familiar with tacos, it results in a learning experience. After all, taco shells aren't sturdy enough for scooping the ingredients into them. Luckily, the kit came with a recipe so even novice taco makers could (hopefully) figure out what to do with taco shells, flour tortillas, taco meat, lettuce, tomatoes, sour cream, and shredded cheese that came in the kit. Using all the ingredients, it was possible to make a crunchy taco supreme or soft taco supreme. It was also a no-brainer to decide between a DIY taco kit or a taco party pack since the party pack was more expensive, wasn't personalizable to different tastes, and didn't come with tomatoes or sour cream on any of the tacos.
You could get taco party packs in the U.S. in 2020 for Cinco de Mayo, but not too many people were throwing parties that year with Covid-19 and local quarantine rules keeping everyone home. Meanwhile, Japan has had the DIY taco kit available as recently as 2022. The U.S. version also came with nacho sauce and refried beans, which the Japanese version did not have.
The desserts are nothing like the ones you find in the U.S.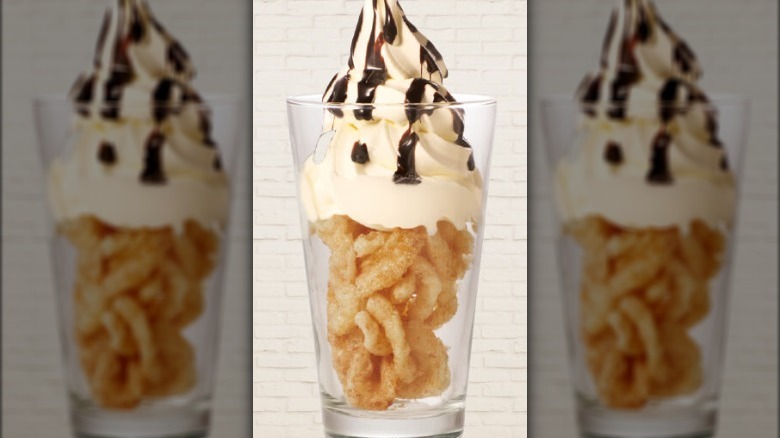 The dessert menu is the most unfamiliar part of the menu in Japan. While you'll recognize frozen drinks, chocodillas (chocolate quesadillas), and cinnamon twists from the U.S. menu, every other dessert is a completely new invention.
Soft-serve is an option at Taco Bell in Japan. While you can order it plain in a cup, there's also a premium ice cream option. Premium ice cream comes with cinnamon twists on the bottom and soft serve ice cream on top, with a drizzle of either chocolate or caramel sauce. One really surprising dessert option is the cheese rollup, which you can get either plain or with cinnamon sugar. That's a flavor combo that sounds curiously intriguing. The cinnamon stadas are also interesting. They're crispy fried flour tortilla triangles covered in cinnamon sugar and chocolate syrup. While dessert seems like an afterthought on the menu in the U.S., you can see that it's a much bigger deal in Japan.
There aren't many vegetarian options on the menu
In the U.S., Taco Bell is one of the few fast food restaurants that has a good vegetarian menu. However, if you go to Japan assuming the same is true there, you'll be wrong. The Taco Bell Japan menu has very few vegetarian options and no veggie cravings menu. Beans are actually quite common in Japanese cuisine in different forms, so it's surprising that you won't find any beans on the Taco Bell menu in Japan. With no beans, that means there are no bean burritos or black bean crunch wraps. Even the quesadilla on the menu isn't vegetarian, since it comes with chicken.
The only vegetarian options on the main menu are plain nachos, seasoned fries (not the loaded variety), or a wimpy little side salad. Japanese restaurants don't generally cater to vegetarians or vegans, so it shouldn't come as a surprise. While eating vegetarian is possible at Taco Bell in Japan, it's not nearly the experience it is in the U.S.
The tortilla chips in Japan are seasoned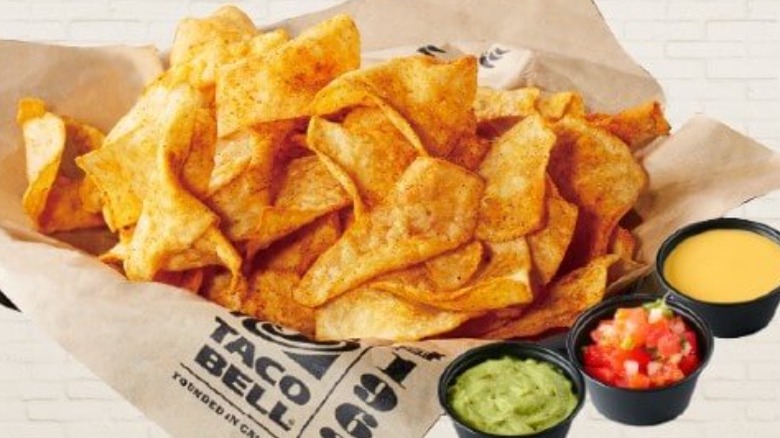 If you order nachos or premium nachos in Japan, they come pre-seasoned rather than plain. Restaurants in Japan don't have to divulge an ingredient list. However, we do know that seasoned hot chips may contain gluten, soybeans, and added sulfites and that they're fried in soybean oil. The seasoning itself is the same seasoning they put on Mexican rice and may contain peanuts, tree nuts, sesame seeds, milk, eggs, gluten, soybeans, and added sulfites. That's not a whole lot of specific information about the content, but it does give you the idea that they're nowhere near plain. For the most part, the seasoning is reminiscent of the seasoning on nacho fries, so the flavor isn't that different than flavors you'll find on products in the U.S.
In 2015, Taco Bell tested out the idea of selling seasoned chips by the bagful in the U.S. The chips started out in southern California with packets that looked like gigantic Taco Bell hot sauce packets labeled with their spice level: mild, hot, or fire. They didn't show up across the country, however, until 2018. By then, they'd downgraded to classic unseasoned chips, along with fire and mild options. However, the U.S. version in stores didn't have the same flavor as restaurant tortilla chips in Japan do, since the seasoning mainly tasted like salt and spicy chili powder.
Cheesy core burritos are still a thing
In 2016, customers in the U.S. were excited to find cheesy core burritos on the Taco Bell menu. Like most tasty menu items, they went the way of the dodo in the U.S. The cheesy core is a burrito within a burrito. The inner burrito creates a cheesy core. Then, an external burrito provides other flavors. The one Japan has on its menu has cheese and crunchy red strips in the cheesy core, with rice, seasoned beef, sour cream, and sauce in the outer layer. It has a satisfying texture since both the inner core tortilla and outer tortilla come grilled.
The U.S. previously had a cheesy core burrito with jalapeños in the cheesy core. Occasionally, you'll find another burrito with a core on the U.S. menu that reverses the idea of the cheesy core burrito — the beefy 5-layer burrito. That one has cheese in the outside layer with seasoned beef, beans, sour cream, cheese, and nacho cheese sauce in the core.
Eating at Taco Bell in Japan is more expensive than in the U.S.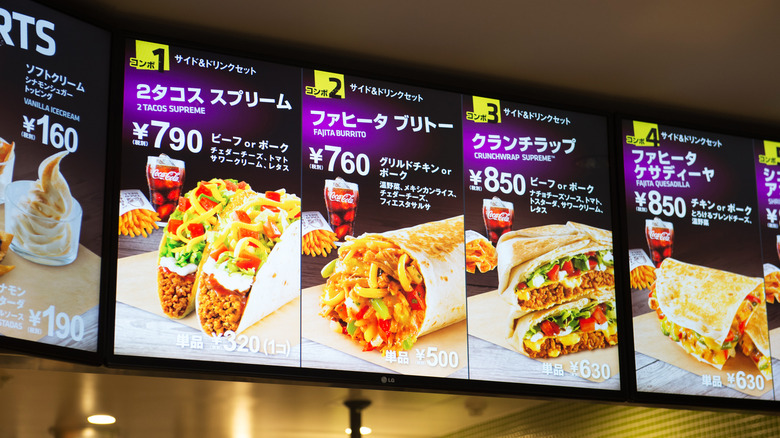 Bloomberg/Getty Images
Eating at Taco Bell in Japan is more expensive than in the U.S. You'll see a price difference in everything on the menu. The price difference isn't too surprising considering that the cost of living is higher in Japan than in the U.S. If you were grocery shopping there, you would expect to spend at least 15% more, with dairy products costing a whopping 55% more. Grocery prices transfer over into the restaurant world when it comes to eating at Taco Bell.
One of the cheapest meal items you can find on the menu in either country is the crispy taco. In the U.S., you will pay $1.69 for a crispy taco, while the same taco costs $2.12 in Japan. It doesn't initially look like a huge difference, but it's actually slightly more than a 25% cost increase. In the U.S., you can buy a Crunchwrap Supreme for $4.89, while the same item costs $4.91 in Japan. So, the price increase isn't always consistent since that's only a $0.02 difference. However, the price increase is more evident when you order several items. For example, if you order a meal for four in the U.S., you'll pay $20.83. Meanwhile, a meal for four in Japan costs $29.18, for a difference of $8.35.
Some servings are slightly smaller in Japan
No, it's not your imagination. When you unwrap your food in a Taco Bell, you'll find that most items look smaller and weigh less. U.S. portions are notoriously larger than those in the rest of the world, and that trend tends to carry over even in fast food restaurants that began in the U.S.
Starting with the taco, everything's bigger in the U.S. A taco measures only five inches across in Japan. Meanwhile, in the U.S., it's 0.75 inches longer. All that extra space means it can contain more taco filling. So, while a taco only weighs around 3.5 ounces in Japan, it weighs nearly 4.25 ounces in the U.S. You'll notice the same thing when it comes to burritos. A Japanese burrito stuffed full of ingredients measures about five inches across. However, when you measure one in the U.S., it's likely to be closer to 6.4 inches long. As you can imagine, the smaller Japanese burrito weighs in at around 7.75 ounces, while the U.S. equivalent weighs about 8.8 ounces. Things start getting even more ridiculous when you measure the Crunchwrap, which is 6 inches in Japan and 6.5 inches in the U.S. The Japanese one has less filling spread over its hexagon shape and weighs around 8.8 ounces, while the one in the U.S. comes in at nearly a whopping 10.6 ounces.
The food is somewhat healthier than the U.S. version
With smaller portions come fewer calories. So, since the portions in Japan's Taco Bells are smaller than those in the U.S., you can expect the nutritional content in Japan to be better than in the U.S. However, the nutritional content also has to do with the available ingredients in Japan as much as size.
When you look at the crunchy taco in Japan, it has 164 calories, 8.2 grams of protein, 5.5 grams of fat, 14.7 grams of carbohydrates, and 293 milligrams of sodium. Meanwhile, the one from the U.S. has 8 grams of protein, nine grams of fat, 13 grams of carbs, and 310 milligrams of sodium. So, there's slightly more protein in a Japanese taco even though it's smaller. It also has more carbohydrates. The same phenomenon happens when you look at menu items like the chicken quesadilla. The larger U.S. version has more calories, fat, and sodium, while the smaller Japanese version has more protein and carbohydrates. However, when it comes to the Crunchwrap Supreme, the larger U.S. version has more calories, protein, fat, and carbs. However, the sodium content is higher for the Japanese version of the Crunchwrap. Given this information, it's clear that the ingredients that go into the food in Japan are somewhat different in some ways.