McDonald's Chicken Sandwiches Look So Much Better In Colombia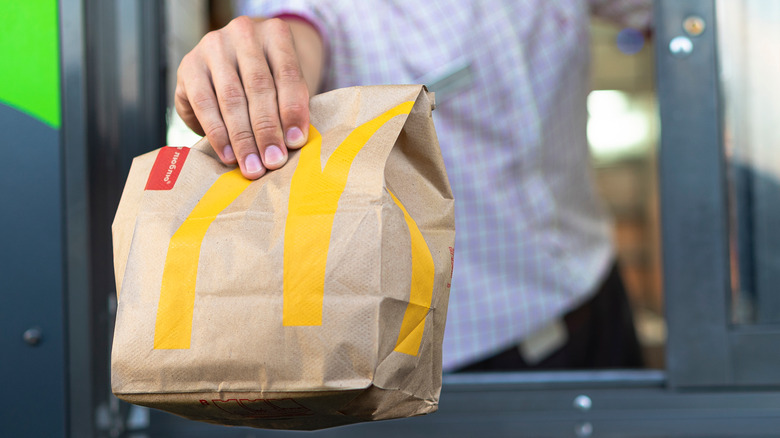 Gargantiopa/Shutterstock
If you've ever tried a meal from McDonald's in other countries, you'd know there are lots of unique gems to discover. Many of the fast food chain's international locations feature dishes and spices that are common staples of that country's cuisine. France's McDonald's has an upscale coffee and dessert menu with croissants and macarons, Japan's menu has teriyaki chicken filets, and Thailand's features a native dish called Kaprao Rice. Meanwhile, Colombia's Golden Arches offers something on its menu that Americans will be very familiar with — the crispy chicken sandwich, except it's majorly upgraded.
In 2021, McDonald's rolled out its current chicken sandwich line in the States. Each option features a southern-style fried chicken patty, with regular and spicy versions available. If you thought the franchise's Crispy Chicken Sandwich you know and love was true to its name, you might want to rethink that, because Colombia does crispy a lot differently. Instead of those flat chicken patties you're used to, the South American country's Club House Pollo Crispy sandwich (as well as the Crispy Onion Barbecue Pollo Crispy) is piled high with pieces of golden, crunchy-looking fried chicken.
Fans who remember the good ol' days when fried chicken was actually offered on U.S. McDonald's menus might be more than a little envious when they see just how stacked these Colombian sandwiches actually are.
Colombia's McDonald's chicken sandwiches rival even Chick-fil-A's
According to a Mashed survey, the most disappointing McDonald's menu item is the chicken sandwich. If only there was actual fried chicken involved instead of that smushed chicken patty the U.S. has to settle for. One TikTok user decided he'd had enough, and decided to hit the road. Nick's adventure took him over 2,500 miles from Connecticut to Colombia, where he excitedly walked into a McDonald's and ordered the most unfamiliar-looking options he could find.
Nick says he ordered a Crispy Onion Burger and the Crispy Onion Barbecue Chicken Burger from the Colombian McDonald's menu with fries and water to wash it down. He reported that the fried chicken "was so good that it made Chick-fil-A look like the girl's friend with a good personality." Each burger was reportedly around $7.30 in American cash, which is a little steep, but it certainly looks worth it. One commenter from the U.S. says, "They don't look thrown together like here," while another believes international McDonald's "tastes better because other countries have higher food quality standards than America."
At Mickey D's in Colombia, you can also order up to six pieces of golden-fried chicken. Move over Chicken McNuggets, some of us need a bit more crunch in our orders.