TikTok's Viral Chicken Goop Recipe Is A Lot Less Gross Than It Sounds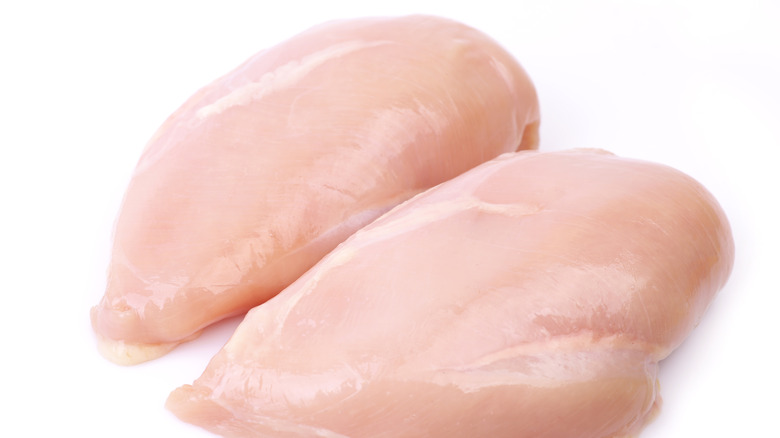 Spayder pauk_79/Shutterstock
The past year has seen TikToks about cloud bread, pasta chips, and butter boards take the app by storm. While these are all very different trends, they have one thing in common: Their names, however misleading, do half of the heavy lifting. Recently, another cooking trend with a catchy (and gross) name has found its way to social media: chicken goop (via BuzzFeed). No, it's not a new type of lab-grown meat, nor suspiciously colored mush. Instead, it's a meal prep ingredient that might conveniently lighten your weekly cooking load.
The low-effort recipe is far simpler — and tastier — than it sounds. All you need is an appliance that works like an Instant Pot. A Walmart pressure cooker does the trick just fine in the TikTok demonstration of the recipe. You start by plopping two skinless boneless chicken breasts into the pressure cooker, a can of Southwest-style corn (Del Monte's version is packaged with poblano and red peppers), and a can of drained black beans. Next, you pour in a cup of white rice and top with a packet of taco seasoning. The final additions are a jar of salsa (preferably of the chunky variety) and 2 cups of chicken broth. Then, close the lid and cook for 12 minutes. When it's done, shred up the chicken with a fork and mix together to create the final, surprisingly appetizing product. It's as easy as that. 
So, why chicken goop?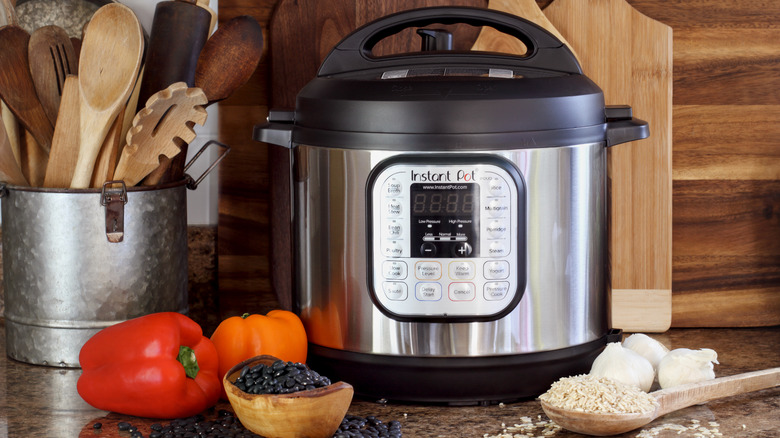 Stephanie Frey/Shutterstock
TikTok users compared the chicken goop to taco soup and suggested adding sour cream, cream cheese, or shredded cheddar. While your mileage may vary regarding goopiness, the basic template of the recipe is foolproof and can be tweaked however you wish. The mixture can be frozen and used throughout the week or month as a wonder ingredient packed full of protein and flavor. You can add it to breakfasts, salads, tacos, burritos, or just eat it by itself. 
But this isn't the only recipe that has taken the strange, unappetizing name of chicken goop. There are similar formulas for "Mexican crockpot chicken" on TikTok that use slightly different ingredients for a familiar end result. Other variations on chicken goop include a 2020 TikTok version that mixes broccoli, carrots, and grilled chicken in a food processor, before adding mayo to create a goopy riff on chicken salad.
That said, it's easy to understand how the trending version of chicken goop got its name — the consistency of the dish falls into a culinary gray area: not liquid enough to be a soup, but far more liquid than your average rice bowl. Also, it helps that the dish (slash meal-prep ingredient) keeps well in the freezer and can be used in so many different ways. It adds to the sort of yucky mystique the name "chicken goop" promises. You've definitely heard the saying about books, but it holds true here too: Don't judge the food by the name of its TikTok trend.