Cardi B X Knorr Meal Kit Review: Balanced And Comforting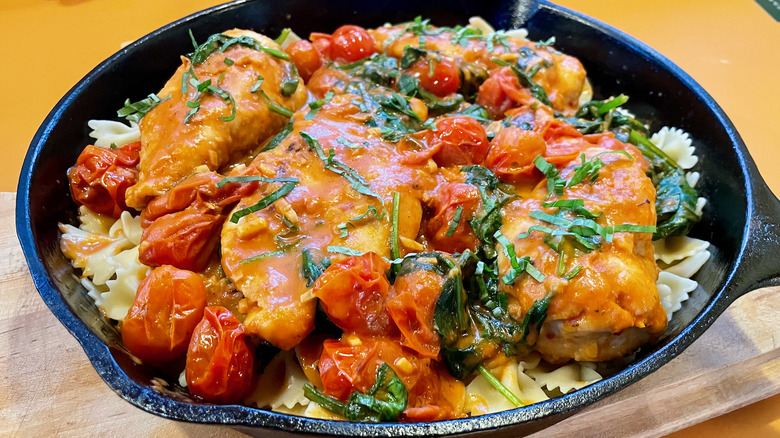 Crawford Smith/Mashed
First, she conquered the world of social media — then she made a splash on reality TV, and her viral fame helped her become one of the world's most popular rappers. Now Cardi B is ready to dominate another cultural sphere: Food. In collaboration with Knorr, Cardi is releasing a limited-edition Taste Combo. What is a Taste Combo, you ask? It's basically a meal kit that allows you to prepare a recipe using ingredients delivered to your door. Each recipe is seasoned using Knorr bouillon.
Almost everything Cardi B touches turns to gold (we don't think anyone was able to get WAP out of their heads the year it came out), so we expected her Taste Combo to come correct as well. Luckily for us, we were able to sample her recipe a few days before it was released to the general public. Although the meal won't blow anyone's mind, in the words of Cardi herself, "I Like It."
What's in Cardi B's Taste Combo?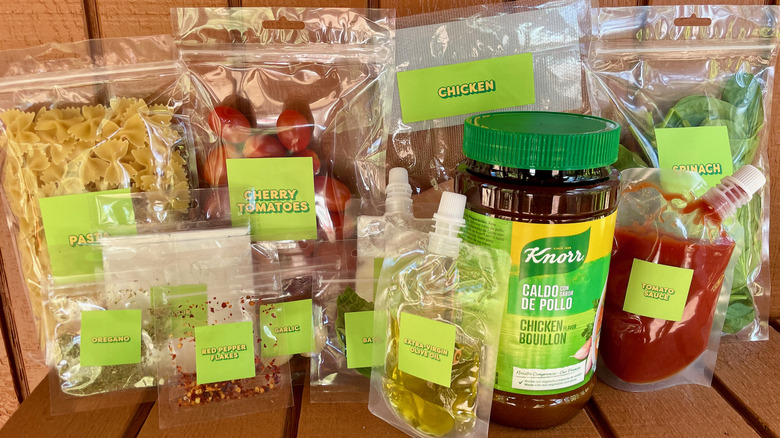 Crawford Smith/Mashed
The Taste Combo included everything we needed to make Cardi B's recipe for sauteed chicken breast in tomato cream sauce with veggies — including boneless and skinless chicken breasts, flour, grape tomatoes, tomato sauce, heavy cream, garlic, spinach, olive oil, basil, chili flakes, and of course, Knorr Chicken Flavor Bouillon. Everything was packaged in single-serve, pre-measured plastic pouches as if it came from a meal kit service like Blue Apron. Everything, that is, except the bouillon, which arrived in a hefty 32-ounce jar. You may be more familiar with compressed bouillon cubes, but this bouillon is in loose powdered form and can be used to season food like salt.
The ingredients arrived in a refrigerated box with cold packs and a recipe card telling you how to cook everything. You can optionally serve it over pasta (which was included in the box) and top it with Parmesan cheese (which was not). The pre-measured ingredients made it quick to cook; the only knife work required was mincing garlic and cutting basil. As we received a special pre-release version of the Taste Combo, we can't guarantee that the one you order will be exactly the same as ours.
How much does it cost and where is it available?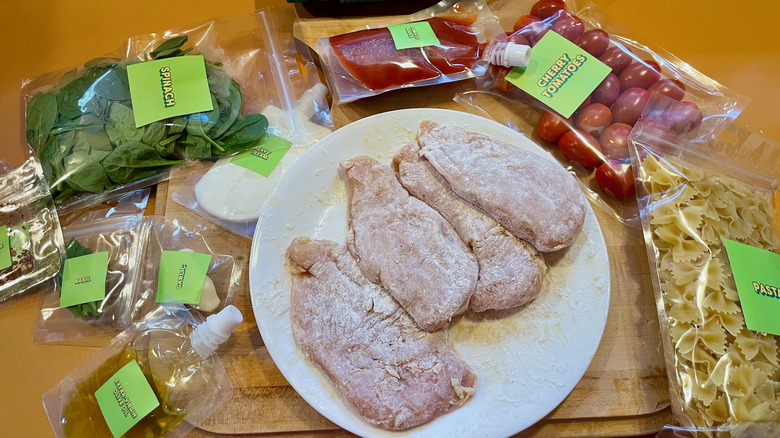 Crawford Smith/Mashed
This is a super limited-time offer. Starting on June 6, you will be able to visit Knorr's website and sign up for a reminder to order your Cardi B Taste Combo on June 8. That day, you can go to GrubHub and search for this product — you will need to use the code "KNORRNYC for anyone based in Manhattan and "KNORRCHI" for those in Chicago in order to access it. The Taste Combos will be delivered sometime between noon and 8 p.m. the next day based on customer preference.
The great news is that the Cardi B Taste Combo will be free for people who are able to snag one. The bad news is that it's only available to residents of Chicago or Manhattan. If you do want to buy a Taste Combo, however, you don't have to limit yourself to Cardi B's recipe. Knorr's site includes many different recipes with lists of ingredients and instructions for preparing them. Even better, each recipe has a link to buy the necessary ingredients from several different online grocers, giving you a meal kit-like experience without needing to sign up for a monthly plan.
How does it compare to other Cardi B-branded food?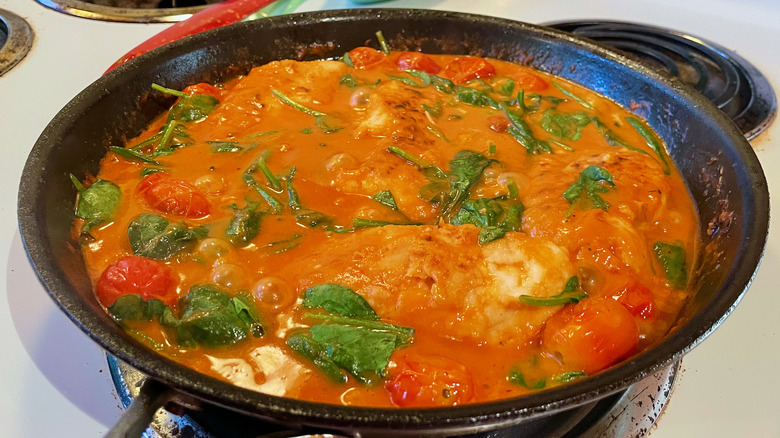 Crawford Smith/Mashed
The Cardi B Taste Combo seems to be positioning itself as an alternative to fast food, considering the slogan on the side of the box is: "It's not fast food, but it's soooo good." Of course, Cardi B has already done a memorable partnership with a fast food company: The Cardi B & Offset Meal at McDonald's. The romantic meal meant to be shared by a couple was released just in time for Valentine's Day 2023 and included Cardi's faves as well as her partner (and fellow rapper) Offset's picks.
Food-wise, there's no overlap between Cardi's McDonald's meal and her Taste Combo. Cardi's portion of her McDonald's promotion included a Coke, a cheeseburger, and barbecue sauce while the Taste Combo is a nutritious chicken dish. There is one similarity, however: Just as Cardi B shouted out McDonald's Twitter before she collaborated with them, she has also shown some social media love for Knorr. Cardi posted a video of herself making a creamy jalapeño dip recipe from TikTok creator @freddsters that is seasoned with Knorr Chicken Flavor Bouillon. This suggests that, like with McDonald's, Cardi is coming to this partnership with a preexisting love for the product she's promoting.
Cardi B's Taste Combo nutrition facts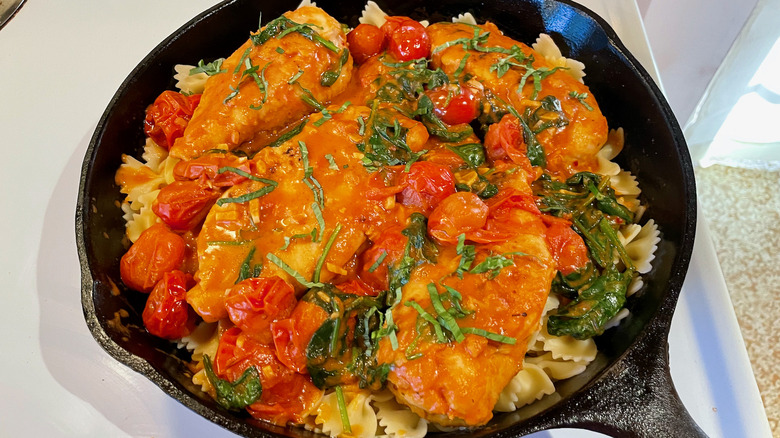 Crawford Smith/Mashed
While the Taste Combo didn't come with nutritional information, we were able to estimate it by adding the ingredients and amounts into a nutrition calculator. As such, the nutrition facts presented here are just ballpark numbers; depending on your ingredients and precise measurements, you may achieve different results. We included the pasta in our calculations because, even though it's just a suggested ingredient, this dish is very saucy. You'll definitely want some kind of starch to soak up the liquid whether it's pasta, rice, potatoes, or bread. The box includes enough food for four servings.
Based on an average-sized chicken breast, one serving (which equals one breast plus a quarter-pound of pasta and one-fourth of the sauce) equals approximately 776 calories, 17.2 grams of fat (4.8 of which are saturated), 764 milligrams of sodium, 96.7 grams of carbs, 5.7 grams of fiber, and 60.4 grams of protein. You also get 20% of the daily recommended value of vitamin D and 39% of your daily iron. If you're following a particularly low-carb or low-salt diet, this isn't the meal for you, but it's overall fairly nutritionally balanced. It is rather high in cholesterol, but according to the Harvard T.H. Chan School of Public Health, for most people, dietary cholesterol consumption doesn't affect blood cholesterol levels very much.
The verdict: Should you sign up to order this meal?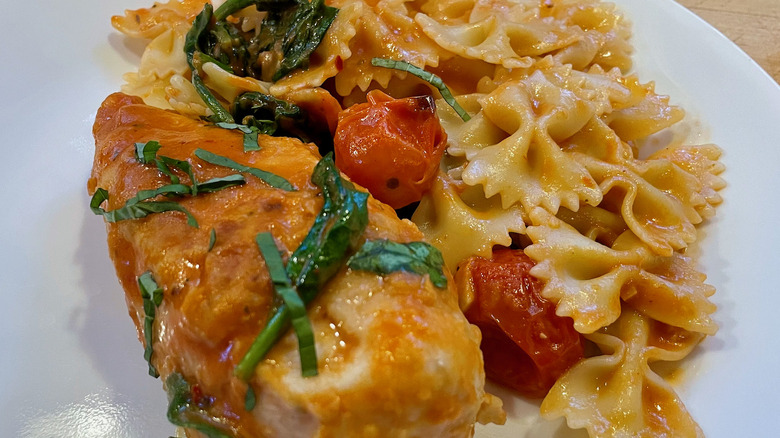 Crawford Smith/Mashed
Cardi B fans in New York and Chicago may want to order this purely to feel closer to their beloved rapper. For the rest of us, it's a free meal, and it's certainly worth more than the $0 it costs. The meal kit aspect of the concept works quite well. Even considering photography was part of our meal prep (and thereby cooking time), it still took well under an hour to make — under normal circumstances, we could have prepared this recipe in 30 minutes.
Taste-wise, it's good — but not great. The chicken breast tastes like chicken breast, and the bouillon certainly helps wake it up. Knorr Bouillon is basically chicken-flavored salt mixed with MSG, so it makes pretty much any savory food taste good. If we made this again, we would chop up the tomatoes rather than sauteeing them whole as instructed because the whole grape tomatoes kind of overwhelmed the texture and flavor of the other ingredients. Overall, the dish could use a little more seasoning. We added more bouillon than called for to amp up the amount of salt. Freshly-cracked black pepper (which isn't called for in the recipe) helped bring out the flavors of all the components. We don't want to sound overly critical; Cardi B's Taste Combo is a comforting chicken and pasta dish that tastes like the home cooking many of us grew up with, and we happily ate a full serving.