Vita Coco And Captain Morgan Are Hitting The Road With A Tropical-Flavored Festival
Now that Memorial Day has passed, summer is officially here, and you know what that means! People in the northern hemisphere are no longer dreaming of tropical island getaways. In some cases, they may be fantasizing about icebergs instead. Still, everyone likes music festivals, and many people enjoy fruity, rum-based drinks, so purveyors of the latter product -– Vita Coco Spiked with Captain Morgan –- are teaming up with selected musicians to launch a mini Tropical Takeover Tour.
Captain Morgan and Vita Coco are bringing good times and music to some decidedly non-tropical destinations, all with names that evoke sunnier climes. On June 28, Jamaica, Queens (the NYC borough) will host Jamaican dancehall artist Shenseea, while Puerto Rican rapper Myke Towers, himself a native of San Juan, will play in San Juan Capistrano, California, on August 4. The concert series wraps up on September 14 in the Boston suburb of Jamaica Plains, Massachusetts, with Jamaican rapper Sean Paul. As these shows are for ages 21 and up, it seems that the sponsor's rum-spiked coconut water drinks will play a prominent role in the festivities.
Even if you miss the tour, you can still score some merch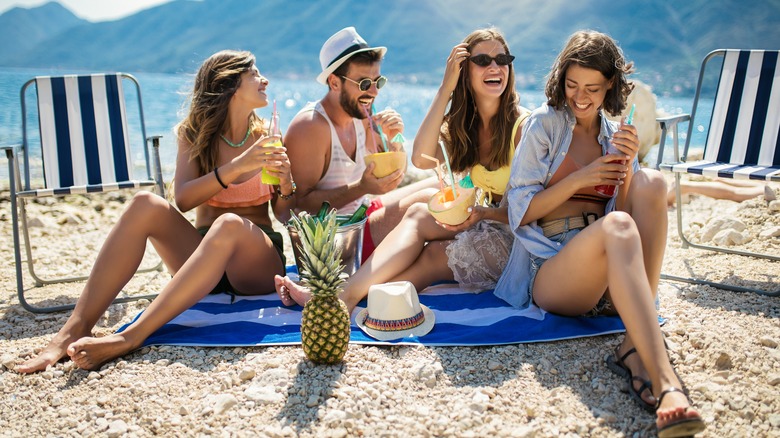 adriaticfoto/Shutterstock
Since the Tropical Takeover Tour is so limited, sponsors Vita Coco and Captain Morgan will also release "Tropi-KITs," which they say have all the necessities for a Caribbean-themed summertime celebration. There will be three different kit drops, with the first and last ones timed to coincide with the June and September shows. The August kit arrives a few days earlier, on the 8th of that month. Each kit will contain some type of special surprise from one of the artists.
Whatever swag the kits contain, they will likely include samples of Vita Coco Spiked with Captain Morgan. If you haven't tried it, each can contains 5% ABV and has 145 calories. The drinks are available in strawberry daiquiri, lime mojito, and pina colada flavors and, for the most part, do not taste overwhelmingly of spiced rum or coconut water, closely resembling their eponymous cocktails. If the kits contain these alcoholic beverages, you'll need to be at least 21 years old to purchase or enter a company-sponsored sweepstakes to win one.