Costco's Key Lime Pie Return Essentially Marks The Beginning Of Summer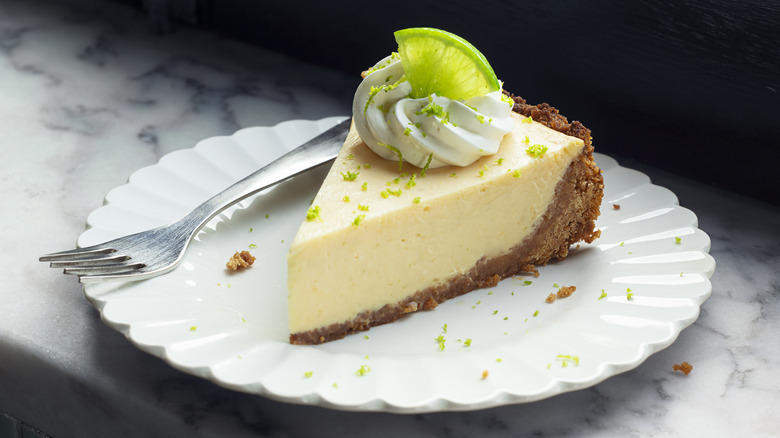 Viennetta/Getty Images
Though the Costco bakery pumps out tasty treats all year round, some of the most popular Costco bakery items are seasonal desserts. The key lime pie in particular has Instagram blowing up with its return each year, with many users calling it the perfect summer pie.
As you might have guessed, this citrusy seasonal favorite is returning to Costco bakeries yet again, seemingly unchanged from years previous (whether that's for better or for worse is up to you to decide). Each key lime pie weighs about four pounds and sells for $15.99, though some locations may charge more. The cost per slice works out to about $1, which isn't too far off from a smaller Edwards key lime pie at Walmart.
In other words, if you really enjoy key lime pie, this could be a good purchase. However, as other customers have previously pointed out, there are a few things to keep in mind should you decide to buy a Costco bakery key lime pie.
Not everyone plans on having a Costco key lime pie this summer
Don't get us wrong, the key lime pie at Costco has too many fans to count. Several Instagram users said they had been "waiting all year" for the pie's return, while Reddit users pointed out that the pies, while gigantic, freeze well. One person wrote, "Lol literally just finished mine a few minutes ago."
Given its size, Costco's key lie pie offers plenty of bang for its buck, but as a result, it also requires an investment of both time and money. Likewise, some believe that the pie's competitors outrank it. In a head-to-head comparison, Cheapism found Costco's key lime pie to be rather pale (both in color and in flavor) compared to other key lime pies, specifically Trader Joe's key lime pie. Others weren't thrilled with the contents, which include high fructose corn syrup, palm oil, artificial flavors, and about a dozen more impossible-to-pronounce ingredients.
All in all, while the pie has its supporters, many shoppers find the Costco key lime pie concerning and instead recommend following your own key lime pie recipe at home. If you do decide to buy one, though, you'd best go before they all sell out. As one Redditor wrote, "It's officially Summer!"