Loaded Blondies Recipe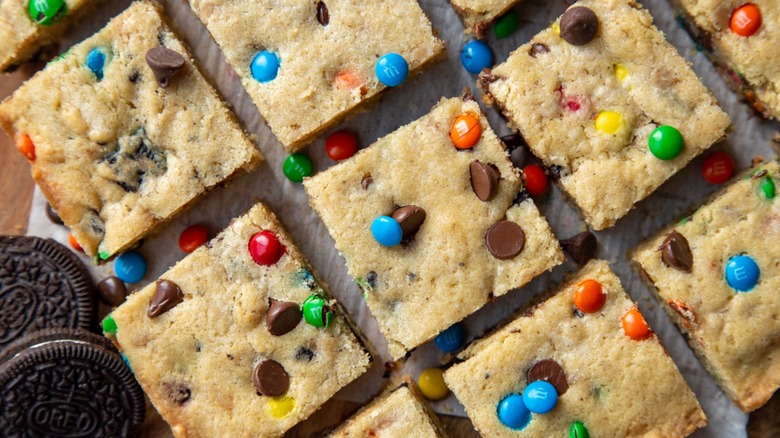 Loaded Blondies Recipe
Who doesn't love a chocolate and candy-filled treat that looks like a brownie, tastes like a cookie, and can tame all of your sweets cravings in one fell swoop? This recipe for loaded blondies couldn't be easier to make, and it's the perfect crowd-pleasing option to bring to a potluck or to serve at a bake sale. Plus, it's a flexible recipe that gives you a chance to use up any "extras" you've got sitting around your kitchen. 
"These blondies are the perfect 'clean out the pantry' recipe — use whichever mix-ins you have on hand," says recipe developer Kate Shungu of Gift of Hospitality. While the recipe calls for M&Ms, toffee bits, chopped Oreos, and mini chocolate chips, there's no need to stick to these ingredients. "You can easily substitute chopped nuts, pretzel pieces, butterscotch chips, white chocolate chips, dried cranberries, or raisins for any of the mix-ins," she says. So do a tour around your kitchen before you head to the store to see which leftover sweet or salty options you already have on hand. Every time you make a batch of loaded blondies, the add-ins may be slightly different, but the results are guaranteed to be the same — absolutely delicious.
Gather the ingredients for loaded blondies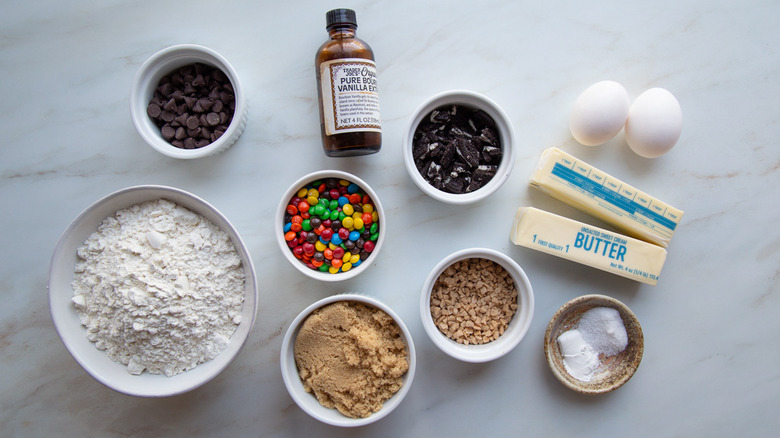 Kate Shungu/Mashed
Aside from the mix-ins used in this recipe (which again, you can sub in and out based on what you have on hand), the ingredients you'll need are pretty standard. All you need is melted butter, brown sugar, eggs, vanilla extract, all-purpose flour, baking powder, and salt. Chances are you keep most of these items in your fridge and pantry, so you may not even have to do a store run before whipping up a batch. And as for the mix-ins, if you're sticking to Shungu's recipe, you'll need chopped Oreos, M&Ms, mini chocolate chips, and toffee bits. In total, Shungu uses 2 cups of mix-ins, so if you're using other items, keep the total amount about the same. 
One thing you shouldn't substitute is brown sugar. "The keys to these blondies are using all brown sugar for a robust flavor and baking powder to keep the blondies light in texture," says Shungu. "These two ingredients plus all the mix-ins create an irresistible bar cookie!"
Mix the wet ingredients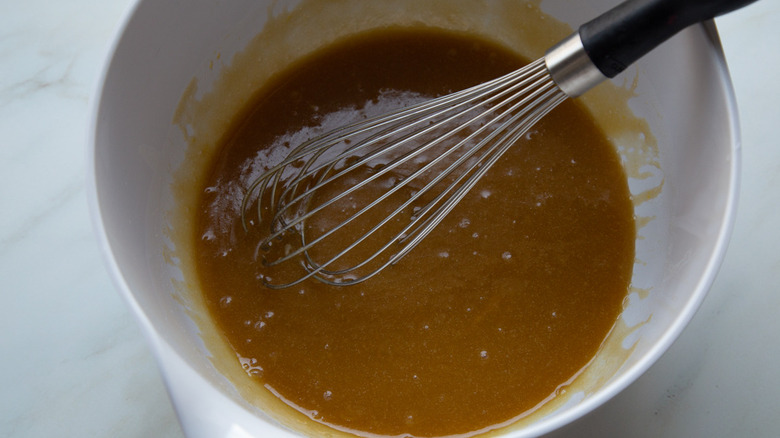 Kate Shungu/Mashed
Before you start whipping up your blondie batter, go ahead and preheat your oven to 350 F and line a 9x9-inch baking pan with parchment paper. Set it aside as you begin making the blondie batter.
Grab a large bowl and combine the melted butter and brown sugar within. Stir them together until they're well-combined, then whisk in the eggs and vanilla.
Add the dry ingredients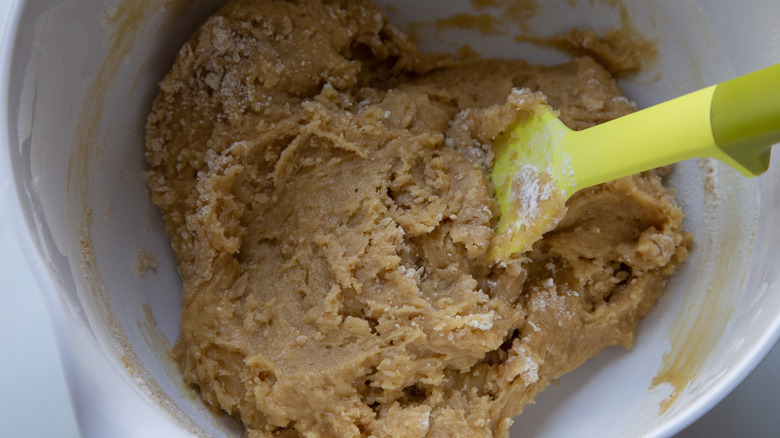 Kate Shungu/Mashed
With the wet ingredients fully mixed, you'll finish making the dough by adding the dry ingredients. Stir the flour, baking powder, and salt to the same bowl and continue mixing until just combined. 
Load up the batter with goodies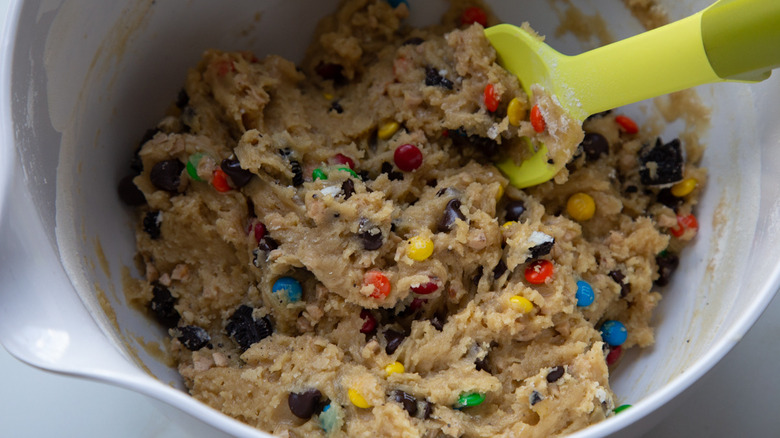 Kate Shungu/Mashed
Now for the fun part! Go ahead and stir in your 2 cups of selected mix-ins until they're mixed all the way through. If you're using chocolate chips (or another kind of chips) and candy pieces like M&Ms, reserve a few to decorate the top of your blondies. 
Transfer the batter into a baking pan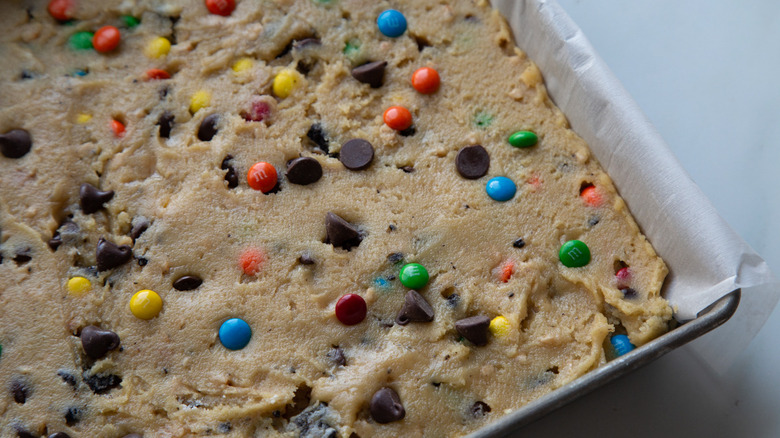 Kate Shungu/Mashed
Spoon the dough into the pre-lined baking pan. Take your time and try to make sure the dough is evenly dispersed from edge to edge and corner to corner. If you reserved some of the mix-ins, sprinkle them across the top of the blondie dough then press them down gently to stick to the dough. 
Bake the blondies, cool, and enjoy
Kate Shungu/Mashed
Go ahead and pop your pan of blondies into the oven and set the timer for 25 minutes. Remove them from the oven when the center no longer looks wet (you may need to allow up to 30 minutes). Set them aside to let them cool completely, then use the edges of the parchment paper to lift them out of the pan before cutting them into squares. 
They're now ready to serve, which Shungu suggests doing with a big glass of milk. And while you're not likely to have them last longer than a day or two given how delicious they taste, Shungu says they'll keep for up to a week at room temperature. 
Loaded Blondies Recipe
These sweet blondies are loaded with M&Ms, Oreos, mini chocolate chips, and toffee bits.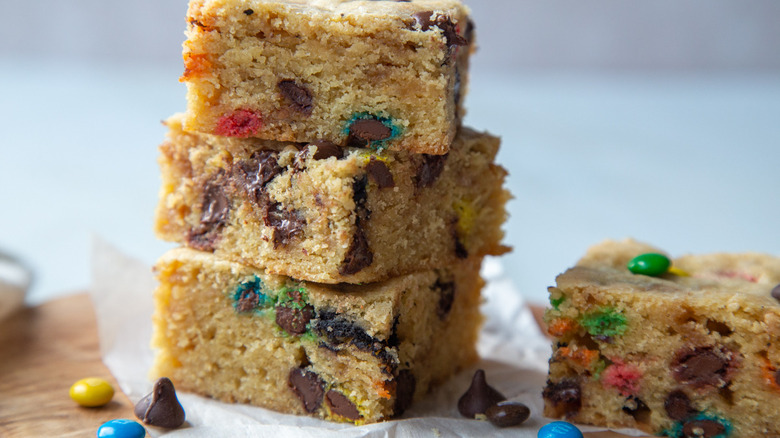 Ingredients
1 cup melted butter
1 ¼ cups brown sugar
2 eggs
1 teaspoon vanilla extract
2 ¼ cups all-purpose flour
1 teaspoon baking powder
1 teaspoon salt
½ cup chopped Oreos (about 3 Oreos)
½ cup M&Ms
½ cup mini chocolate chips
½ cup toffee bits
Directions
Preheat the oven to 350 F. Line a 9x9-inch baking pan with parchment paper.
Place the melted butter and brown sugar in a large bowl. Stir to combine. Whisk in the eggs and vanilla.
Stir in the flour, baking powder, and salt, and mix just until combined.
Stir in the Oreos, M&Ms, chocolate chips, and toffee bits (reserve a few M&Ms and chocolate chips for the top).
Transfer the mixture into the lined baking pan. Top with the remaining M&Ms and chocolate chips and press them lightly into the batter.
Bake for 25-30 minutes, or until the center no longer looks wet. Let cool, then lift out of the pan using the parchment and cut into squares.
Nutrition
| | |
| --- | --- |
| Calories per Serving | 290 |
| Total Fat | 15.5 g |
| Saturated Fat | 9.3 g |
| Trans Fat | 0.1 g |
| Cholesterol | 51.8 mg |
| | |
| --- | --- |
| Total Carbohydrates | 34.9 g |
| Dietary Fiber | 0.8 g |
| Total Sugars | 21.4 g |
| Sodium | 145.3 mg |
| Protein | 3.0 g |