Panera Debuts A Chef's Kiss Gouda And Ham Sandwich
Whether you're in need of its free Wi-Fi, veggie-topped sandwiches, or a comfy bowl of soup, Panera Bread's fast casual coziness can be an easy decision when the hunger hits. The chain prides itself in its chef-inspired menu options, packed with meals that tend to be much healthier than your average fast food joint. Such options include its Toasted Baguette sandwich melts, which Panera launched at the start of 2023. Three flavors graced the menu in January, including Pepperoni Mozzarella, Smoky Buffalo Chicken, and Green Goddess Caprese, all folded into the bakery's classic French baguettes. This new sandwich line quickly rose to fan-favorite status, and soon became one of Panera's top-sellers. Because they were such a big hit among fans, Panera has announced a fourth type of sandwich it will begin offering nationwide on June 22.
Each Toasted Baguette melt comes with a different type of cheese, providing lots of variety and flavor parings for sandwich lovers to enjoy. It only makes sense that the new addition will include smoked gouda cheese on what could be the next future star of Panera's toasty sub menu, layered between black forest ham, signature country mustard, and arugula. If this sounds way too tempting of an offer to wait around for, the good news is that members of the chain's loyalty program can dig into the Black Forest Ham and Gouda Melt even earlier.
MyPanera members get early access to the new sandwich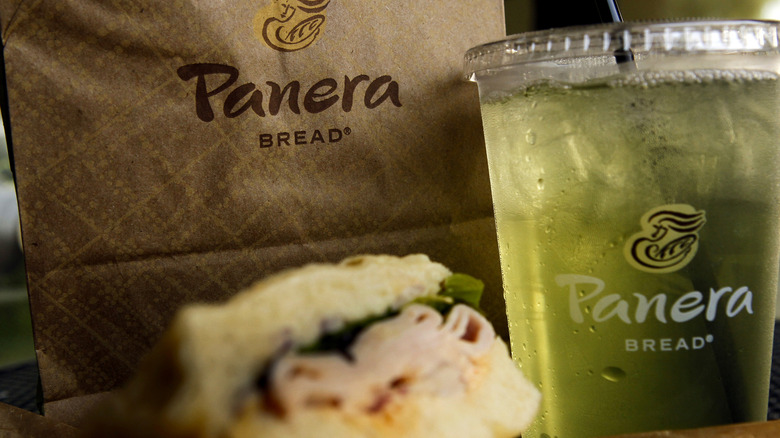 Bloomberg/Getty Images
From June 12 through June 21, nearly two weeks before the official release of the Black Forest Ham and Gouda Melt, Panera is treating its MyPanera members to an early bite of its newest sandwich. If you're already signed up for the program, you should know that this perk is exclusive to online orders only, so be sure to log into your account if you're eager to sample it early. You can get your taste buds on this new toasted sandwich for $9.49 plus tax, or add it to a Panera Value Duet or Family Feast deal. If you're curious about all four of the newer baguette sandwiches, the Family Feast lets you pair three to four of these popular menu items with a soup quart and a fresh Greek or Caesar salad. They are great for swapping and sharing too, as each baguette is 10 inches long and quite filling.
Black forest ham isn't only making an appearance on Panera's new Toasted Baguette, but will also be featured on a new Deli Ham sandwich that will also be appearing on menus soon. Leafy greens, red onions, mustard, and tomatoes are the ingredients you'll find piled inside it, except instead of a crispy French baguette, the deli sandwich will include Panera's Country Rustic Sourdough. We'll give it to them — Panera definitely knows how to take a boring sandwich and elevate it with lots of tasty-sounding upgrades.