Shake Shack's Fruity Lemonade Flavors Now Come With An Optional Caffeinated Twist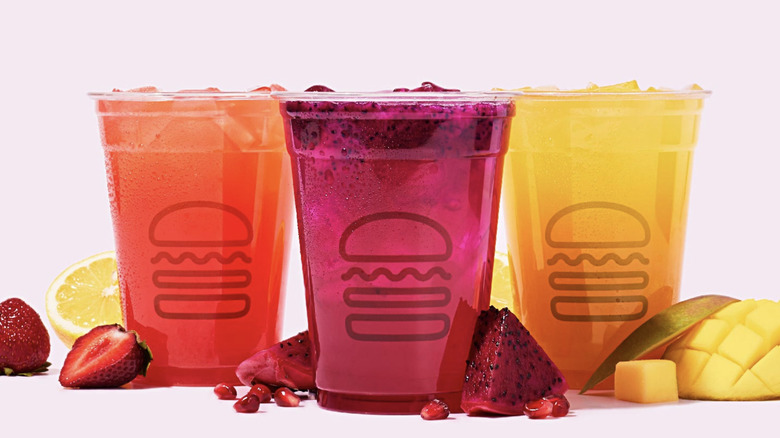 shake shack
Is there anything more refreshing than a cup of sweet, ice-cold lemonade on a blazing hot summer day? We don't think so and neither does Shake Shack, which is offering up a selection of fruit-forward caffeinated lemonades that scream summertime. Strawberry lemonade, a summer classic, is made with house-made lemonade and real strawberries. Mango Passionade is made with real mango and passionfruit, mixed with the chain's house-made lemonade. And Shake Shack is getting really exotic with its new Dragonfruit Pomegranate Lemonade, made with real dragon fruit and pomegranate, and, of course, house-made lemonade.
On top of offering unique fruity flavors, each of the lemonades can be boosted with the addition of natural caffeine. The caffeine kick comes in the form of a Shake Shack-developed energy boost syrup concocted from Coffeeberry Energy, green coffee extract, ashwagandha, guarana, and ginseng. This caffeine contains zero artificial ingredients. Shack Shack is known for using fresh ingredients where possible and the summertime special lemonade appears to be no exception, with real fruit used for each flavor. The house-made lemonade contains real lemon juice and is sweetened with cane sugar. 
Where to buy the summertime specials
Customers can order the limited-time summery lemonade flavors at all U.S. locations, for both dine-in and carry-out. When the summer promotion ends, customers will still be able to reach for a cold cup of regular lemonade, or a fifty/fifty lemonade made with lemonade and iced tea, as both items are on the permanent menu.
While the prices may vary by location, customers can expect to pay around $4.69 for a small lemonade and $5.69 for a large one. Just like all of Shake Shack's soft drinks, lemonades, and iced teas, the fruit-juicy lemonades are available with unlimited free refills. These summer lemonades are seasonal items with no exact end date in sight. Luckily, Shake Shack offers a year-round rotation of different flavors of lemonade.
The company is constantly bringing in new limited-edition lemonades. In 2021, Shake Shack unveiled three drinks highlighting winter fruits, like cranberry citrus. In February 2023, the company debuted its pomegranate, basil, lemongrass lemonade, and blood orange lemonade, which highlighted the flavors of the winter season. If you miss out on the chance to try the summer flavors, rest assured there will be another round of seasonal flavors following suit.