The Flavor Tip To Make Canned Green Beans Taste Savory
Olenamykhaylova/Getty Images
Canned green beans, while not the freshest way to get a serving of veggies on your plate, can make an easy side dish that doesn't take long to prepare. You might heat up a can of beans on the stove and call it good, letting the salty brine that's already in the can do the flavoring for you. If the broth isn't your thing, rinsing your canned beans before heating and seasoning them is always a good option to remove excess sodium. Salt and pepper might be your go-to seasoning method for flavor-boosting these legumes, but such little zest might feel a little uninspiring after a while. Luckily, even canned vegetables can be spruced up with a little culinary creativity by using spice magic like chicken bouillon.
Whatever your favorite canned bean variety is, there's a good chance it can benefit from a little extra savoriness. Cubed chicken bouillon is just the pantry gem that will get the job done. To eliminate that canned taste, adding other aromatic herbs like rosemary, sage, or thyme can complement the earthy taste of green beans and make them taste much fresher. To add even more flavor to your beans, minced onion seasoning can be a great shortcut to infuse them with that tasty allium zing. Additionally, meat eaters should consider adding in bacon chunks for extra crunch. Of course, your main flavor assistant will be bouillon, so here's what you should know.
Using the right bouillon won't over-salt your beans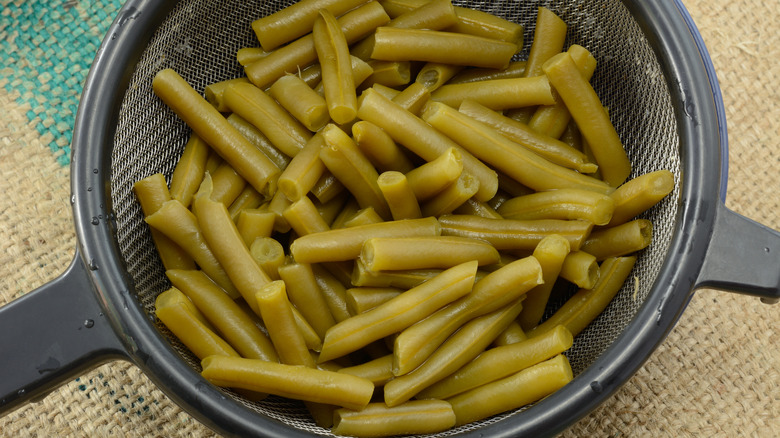 Merrimon/Getty Images
TikToker @taytay_sa shared a canned bean upgrade that seems tempting — however, they use the can's liquid when elevating the dish. That's all well and good, but if you're not careful, you could end up over-salting your beans with the addition of bouillon, as most of these additives can contain up to 42% of your daily sodium. 
Flavor enhancers like chicken powder or those well-known cubes that commonly live in our pantries tend to be packed with salt rather than a distinct taste, but thankfully there are alternative bouillons that add more seasoning than salt. Better Than Bouillon is a great option when giving canned beans the savory elevation they need, since it's made with real ingredients like veggies, spices, and meats like beef and roasted chicken. Many other brands carry reduced or zero sodium options.
Besides adding bouillon, don't get too caught up in measuring out other ingredients — TikToker @taytay_sa said they support the idea of eye-balling and measuring "with your heart." Some delicious-sounding suggestions in the comments include adding a can of diced tomatoes, using bacon grease, or including potatoes. Although the real star of this elevated canned green beans recipe is the bouillon, you can opt to make homemade chicken stock to use instead as your brothy base. If you end up loving it, you might want to start brainstorming other ways you can use chicken bouillon to upgrade other basic dishes that need a touch of TLC.