A Red Snapper Belongs On Every Brunch Cocktail Menu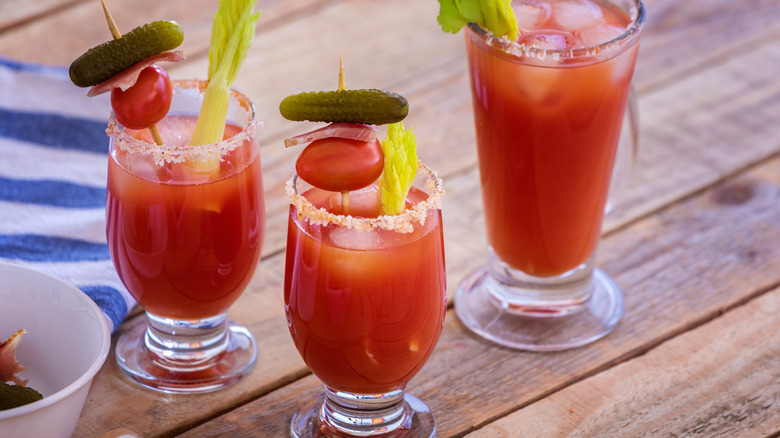 Drbouz/Getty Images
Brunch is all about good vibes, a sense of adventure, and the comfort of indulgent treats. Still, its essence lies in the exceptional signature cocktails. Remove the Bloody Mary or mimosa from the equation, and brunch simply becomes breakfast. For your next brunch experience, we propose breaking away from the usual vodka-and-tomato brunch staple, the Bloody Mary, and venturing into the adventurous realm of its delectable gin-based relative, the Red Snapper.
A hit amongst gin lovers, the irresistibly tasty Red Snapper bursts with vibrant, spicy, and savory notes, offering a delightful twist for brunch enthusiasts. By replacing vodka with gin, the drink undergoes a marvelous metamorphosis, becoming a flavorful botanical delight with a zesty and captivating character. The classic daytime cocktail is crisp, refreshing, and ideal if you crave something extraordinary to complement your favorite brunch delicacies.
Red Snapper also boasts a wide catalog of spinoffs, with vibrant options similar to the Flamin' Hot Bloody Marys, inspired by the fiery goodness of Cheetos. And if you're feeling adventurous, you can experiment by mixing it with one of the delightful brunch dessert recipes. It's brunch, explore!
How to make a quick red snapper for your brunch party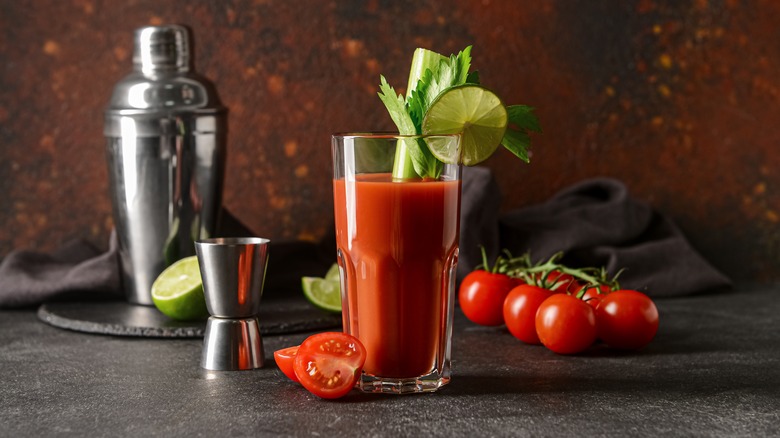 Pixel-Shot/Shutterstock
A red snapper cocktail always begins with a blend of tomato juice and gin, setting the stage for endless culinary possibilities. When making your gin selection, consider the best London Dry style gins, such as Bombay Sapphire, which offers a more pronounced juniper taste, or Tanqueray, which boasts citrusy flavors.
Just like every element of the Bloody Mary, the Red Snapper's garnish can be customized to satisfy individual tastes. However, instead of relying on the conventional approach of incorporating celery salt, which tends to leave a grainy sensation on your taste buds and can easily separate from the blend, go for fresh and crunchy celery stalks. Incorporating these stalks in the cocktail not only adds a flavorsome texture but also enhances the natural botanical flavors found in the gin.
If you're feeling fancy and want to add a special touch that will impress your large gathering of loved ones, you can prep your own exquisite embellishment or seasoning. A popular choice includes a classic combination of hot sauce, horseradish, and black pepper, which delivers a delightful hint of spiciness. For a punchy burst of heat and flavor, consider enhancing your creation with chili syrup. As a unique twist, you can add pickle juice to your recipe and transform your brunch experience into something extraordinary.