Fast Food Restaurants Where You Can Order A True Steakburger
We've found the restaurants that have cracked the steakburger code. While the lovable restaurant chain Steak 'n Shake started it all in 1934, there are other restaurants that have taken the concept of the classic burger to new heights and embraced the challenge of creating authentic steakburgers. Some of these burgers can even rival those found in upscale steakhouses. By elevating the quality of the meat and combining it with carefully selected toppings and sauces, these restaurants have crafted a culinary experience that is sure to satisfy even the most discerning burger connoisseurs.
So what sets a steakburger apart from the crowd? It's all about the meat. While traditional hamburgers rely on cheaper cuts like chuck, round, and sirloin, steakburgers take a different approach. They incorporate one or more top-tier cuts, like t-bones or ribeyes, into the grind. These cuts, often reserved for steaks, bring a level of tenderness and flavor that takes your typical greasy burger and elevates it to something finer. Some steakburger chains also smash their patties on the griddle to create crispy, ultra-browned edges, though this isn't a universal technique. From the cooking techniques and secret cuts of meat they use to the condiments on their sandwiches, each of these restaurants puts its own twist on the authentic steakburger. Here are the fast food restaurants where you can order a true steakburger.
Steak 'n Shake
Steak 'n Shake's steakburgers hold a special place in the hearts and palates of countless individuals. Since its founding in 1934 by Gus Belt in Normal, Illinois, the retro chain has become an enduring presence in the American dining landscape, leaving an indelible mark on the culinary fast food scene. With a commitment to using only the freshest ingredients, Steak 'n Shake continues to captivate taste buds and evoke nostalgia. How'd it become so successful? Belt believed in freshness — so much so that in the beginning, he would grind cuts of steak into patties in full view of customers. The chain quickly gained popularity for its hand-crafted patties made with round, sirloin, and t-bone steaks griddled to perfection.
Beginning in the 1940s, Steak 'n Shake expanded beyond its Illinois roots, spreading its culinary magic to other states. Throughout the decades, the restaurant chain has remained dedicated to providing high-quality meals, ensuring its steakburgers are synonymous with flavor and excellence. Steak 'n Shake's menu offers a range of tempting steakburger options to satisfy any craving. From the classic Double Steakburger with Cheese to the mouthwatering Bacon 'n Cheese Steakburger, each burger is crafted with precision and grilled to perfection. The menu also features unique creations like the Garlic Double Steakburger, which adds a garlic-y kick, and the Frisco Melt, a tank of a meal that's best for anyone with a hankering for savory and salty flavors.
Freddy's Frozen Custard & Steakburgers
Freddy's Frozen Custard & Steakburgers is not just your ordinary burger joint; it's a place where passion for quality and flavor come together. The journey to crafting its famous steakburgers begins with the highest quality of 100% premium beef. The magic happens in Freddy's kitchen, where its skilled team smashes each crispy-edged patty with care and expertise. Whether you're savoring its classic Original Double, indulging in the tangy delight of the chain's California Style, loading up with Bacon & Cheese, or opting for the mouthwatering seasonal specials, Freddy's Frozen Custard & Steakburgers guarantees an unforgettable steakburger experience. 
Freddy Simon, the man who inspired the popular chain, believed he was "the luckiest man in the world" (via Freddy's). When you eat at Freddy's, you'll feel like you're the luckiest eater in the world thanks to its countless options. The chain was co-founded in 2002 by Bill and Randy Simon, Freddy's sons. Their family values and Freddy's patriotic service became the foundation of Freddy's, inspiring a commitment to excellence and a dedication to doing things The Freddy's Way. These values are the reason why the restaurant creates fresh, made-to-order, and craveable food served with genuine hospitality.
Culver's
Culver's is renowned for serving steakburgers that combine a special blend of three cuts of beef: sirloin, chuck, and plate. These prized cuts, all well-marbled for richness and flavor, are the foundation of Culver's ButterBurgers. Unlike many fast-food chains that rely on frozen beef, the burger joint prioritizes freshness by using 100% fresh, never frozen beef. This approach ensures that its steakburgers retain their natural moisture and deliver superior flavor. The cooking process at Culver's further enhances the deliciousness of its steakburgers. Each patty is seared to perfection, creating a deeply caramelized exterior that locks in the juice and gives the burger a distinctly crispy crust.
One little-known fact is that the chain's ButterBurgers are made with buttered buns instead of buttered burgers. The buns at Culver's are lightly buttered before serving. This attention to detail makes each Culver's ButterBurger a labor of love. Customers can enjoy the deliciousness of a Culver's ButterBurger in various ways, with options to customize their order by adding cheese, mushrooms, onions, bacon, and more. The commitment to serving authentic steakburgers has helped Culver's earn a reputation for its crave-worthy offerings, making it a favorite among burger enthusiasts across the nation.
Arby's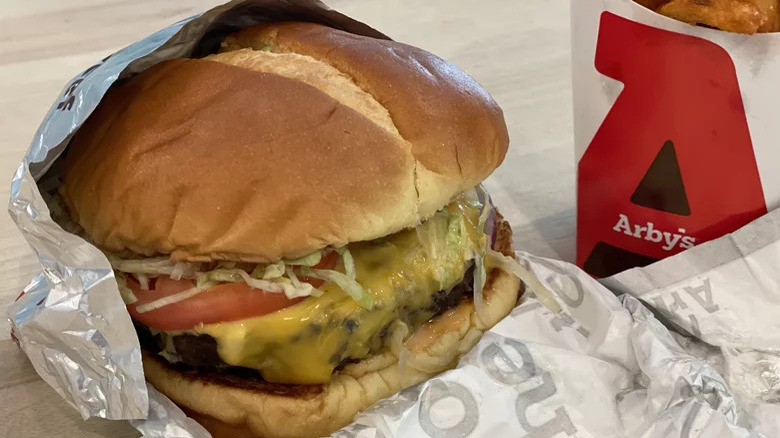 Steven John/Mashed
In 2022, Arby's ventured into uncharted territory by introducing its very first burger to the menu: the Wagyu Steakhouse Burger. This momentous addition sent ripples of excitement throughout the fast-food world. Our own review deemed the burger to be excellent. The Wagyu Steakhouse Burger features a generous 6.4-ounce patty made from a blend of American Wagyu beef and ground beef, resulting in a marvelously marbled and flavorful creation. Topped with shredded lettuce, a thick-cut slice of tomato, red onions, pickles, cheese, and a delectable sauce, all encased in a soft, buttery bun, this burger is a true feast for the senses.
The Arby's Wagyu Steakhouse Burger offers a pretty good value for its quality. When it debuted, it was priced at $5.99, making it comparable to the average price of a Big Mac. Whether you choose to pair it with a side of the chain's signature curly fries or opt for some delectable crinkle fries, this burger is sure to leave you satisfied and contemplating when you can indulge in its tantalizing flavors once more. This menu item started life as a limited-time offering; you can check on Arby's website to see if it's still available at your local restaurant.
Tom Wahl's
Tom Wahl's does things a little differently. Instead of making what other chains calls steakburgers, it makes "ground steaks." If you've never heard of Tom Wahl's, that's because it's limited to Upstate New Yorkers only. The humble restaurant started in 1955 as a root beer and ice cream stand before expanding its menu to encompass crispy crinkly fries, steakburgers, sandwiches, and even fish. Now, customers drive countless miles just to have the chain's hand-crafted root beer and its burgers rival those of other steakburger chains. While the menu includes a bunch of offerings from Bleu Cheeseburgers to Big Bopper burgers and even Cheddar Jalapeño burgers, the signature offering at the chain is the Wahlburger. It's a delectable sandwich with crispy ground steak, Swiss cheese, secret Wahl's sauce, and ham on a 5-inch seeded bun. 
So what was the root of Tom Wahl's success? As Tom Wahl told the Democrat and Chronicle in 2010, "be the best stand there is" and nothing less. He didn't just believe in creating the best stand, he believed in creating the best experience from start to finish and in every single corner of the restaurant business. According to a former server who worked at the restaurant in 1977, Tom Wahl's runs on five rules that could be easily summarized in one sentence: Beat every fast food chain at every aspect of the business. This meant nailing the customer experience down to the final smile and "thank you."
IHOP
If you're an IHOP know-it-all, you probably remember the infamous IHOB campaign. While everyone around America was raising eyebrows, IHOP raked it in with a wild 400% increase in burger sales. But what kind of burgers? The IHOP menu boasted enticing options like the Big IHOP Pancake Burger, Garlic Butter Steakburger, and Loaded Philly Steakburger aimed at satisfying burger lovers' cravings. However, reviews of these steakburgers were mixed. Critics found the burgers to be somewhat lackluster in taste, and IHOP's policy of cooking them well done, unlike steak, drew some scrutiny. The pricing of these burgers was also relatively high compared to other fast food options. While the toppings provided an array of flavors, they also overwhelmed the taste of the burger patties themselves. 
It appears that IHOP's Ultimate Steakburgers might not be the go-to choice for those seeking an extraordinary burger experience. Despite the mixed reviews, it's worth noting that IHOP's Ultimate Steakburgers still have their own distinct appeal. The current menu is quite different than it was during the IHOB push and caters to those seeking a burger with a twist with tempting options like Bourbon Bacon Jam, the Big Brunch, and Jalapeño Kick. For adventurous eaters willing to explore unconventional burger options, IHOP's steakburgers may offer an interesting and unexpected alternative to your typical pancake if you're craving something different the next time you're at IHOP. 
Yardley's Steakburgers & Custard
Yardley's Steakburgers & Custard is an Arizona treat with quite the backstory. Believe it or not, its roots all began in 1856 with a cattle company. The Yardley Cattle Company started with fourteen men and a dream to set up a cattle-ranching business in the Beaver River Valley in Utah. The cattle grown and bred by The Yardley Cattle Company are special, but how does this actually affect the burger? 
Let's say it's in a pretty big way. Each and every burger made with Yardley meat is hand-formed, cooked to perfection, and chock-full of savory flavor. These burgers are meant to satisfy big appetites — other than the kid's cheeseburger, you won't see a single-patty burger on the menu. For the adults, every steakburger on the menu has a minimum of two, three, or even four patties. The sides the restaurant offers are great too. From waffled sweet potato fries to your typical fast food french fry and crispy onion rings, the Yardley Steakburgers & Custard has something for every taste bud.  
Kirk's Steakburgers
Since 1948, Kirk's Steakburgers has maintained its tradition of charring patties over an open charcoal flame. This timeless cooking method sets Kirk's apart, offering customers a taste of history with each bite. One of the key things contributing to Kirk's Steakburgers' consistency and authenticity is its longstanding relationship with the trusted butcher it's had since the early days. Beyond its culinary prowess, Kirk's Steakburgers prides itself on being a family establishment. The restaurant has employed multiple generations of workers, with second and even third-generation employees working behind the scenes to uphold the restaurant's reputation for delectable food and exceptional service. This familial atmosphere creates a sense of warmth and dedication that extends to the customers, making them feel like part of the Kirk's family.
While family and tradition are pretty important for this California born-and-raised restaurant, its steakburgers are something special too. Kirk's Steakburgers goes beyond traditional expectations with its innovative and delectable steakburgers. From the classic steakburger to the heartier double steakburger and Big Kirk, the offerings cater to diverse preferences. Premium toppings such as avocado, bacon, and grilled pineapple elevate the flavors. A variety of sauces, including its signature Grillsauce and tangy Pub Sauce, enhance the experience. Sides like classic fries, Onion Strings, and Loaded Fork Fries complete the meal. With a commitment to quality and unique combinations, Kirk's Steakburgers offers a remarkable culinary adventure for burger enthusiasts, making it a must-visit destination.
Hard Rock Cafe
Hard Rock Cafe's Steak Burgers have garnered awards and accolades, making them a must-try for burger enthusiasts worldwide. One of its most over-the-top creations was the world's first edible 24-Karat Gold Leaf Steak Burger, a masterpiece created with a proprietary beef blend for maximum flavor that was adorned with actual 24-karat gold leaf. While the 24-Karat Gold Leaf Steak Burger is no longer available, Hard Rock Cafe still has other Steak Burger options, including its Original Legendary Burger, BBQ Bacon Cheeseburger, Big Cheeseburger, and Double-Decker Double Cheeseburger. 
To enhance the dining adventure, Hard Rock Cafe also has boozy milkshakes, sliders, and shareables to complete your meal. Burgers have been a part of the chain's DNA since it was launched in 1971. Hard Rock's founders, Peter Morton and Isaac Tigrett, were American ex-pats living in London who were tired of the city's lackluster burger options. The current Double-Decker Double Cheeseburger is an homage to the Down Home Double Burger from the original menu.
Hopdoddy Burger Bar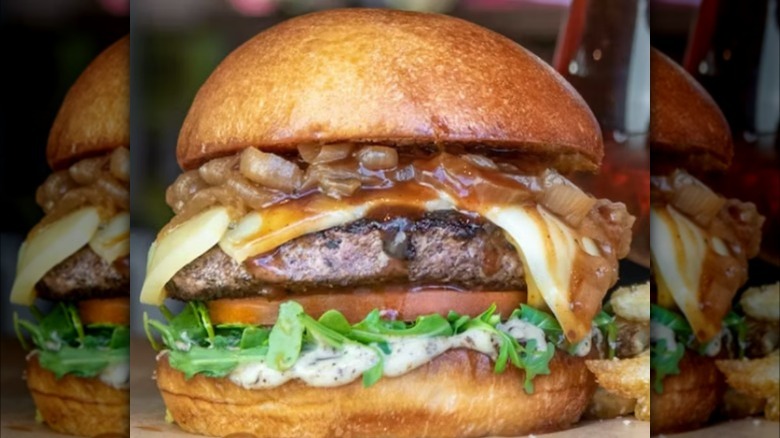 Hopdoddy Burger Bar
Born in 2010 in Austin, Texas, Hopdoddy Burger Bar emerged as a relative newcomer in the burger game. Founded by four friends with a shared vision for redefining the traditional burger experience, Hopdoddy quickly gained attention and acclaim. Since its inception, this burger haven has outgrown its humble beginnings and expanded its reach beyond Texas. With locations now spanning across California, Florida, Arizona, Colorado, and beyond, Hopdoddy continues to make its mark in the burger industry. While it doesn't only serve steakburgers, there's one burger on the menu that qualifies as a "steak" burger and it's quite the patty.
The Primetime Burger is the main "steak" burger that stands out amongst its burger offerings because of its half-pound Cadillac Wagyu Patty and HD1 steak sauce. Featuring a perfectly cooked beef patty, this mouthwatering burger guarantees juiciness and flavor in every bite. Served on a toasted bun, the Primetime Burger is generously topped with Gruyère and Emmental cheese, caramelized onions, and a delectable truffle aioli. The rich and creamy cheese, the sweetness of the caramelized onions, and the tantalizing aroma of the truffle aioli create a symphony of flavors that harmonize perfectly. It's an indulgence that satisfies the cravings of discerning palates and leaves a lasting impression.
Winstead's Steakburgers
Winstead's Steakburgers is a renowned hamburger chain with a rich history and a menu that focuses on its signature steakburgers. Established in 1940, Winstead's is based in Kansas City, Missouri, and is recognized for being a slice of history thanks to its old-fashioned menu and the Art Deco architecture of its original location. With over 80 years in business, you know it has to be doing something right. The age of Winstead's Steakburgers is undeniable once you step inside. It's like stepping into a time capsule transporting you back to the nostalgic charm of a 1940s diner. But what about the steakburger offerings?
Winstead's truly embraces simplicity and quality, especially when it comes to the menu's centerpiece: the steakburgers. These delectable creations are crafted using fresh-ground, premium lean beef, free from any additives. By prioritizing purity and simplicity, Winstead's allows the natural flavors of the beef to take center stage. Served on a plain toasted bun, these burgers provide an ideal canvas for showcasing the flavorful patties. What truly sets Winstead's apart is its dedication to serving exceptional steakburgers. Whether you choose to indulge at the Kansas City location or venture out to Overland Park or Leawood, you're in for a delectable experience that transports you to a bygone era.
Matty G's Steakburgers
Matty G's Steakburgers & Spirits is a restaurant in Arizona that embodies the perfect blend of sports, family, and delicious food. Inspired by the owner's love for sports and cherished memories with loved ones, the concept of Matty G's came to life in 2016. With a sports-themed ambiance and a collection of sports memorabilia, Matty G's is a haven for sports enthusiasts and families alike.
When it comes to the menu, Matty G's takes pride in offering high-quality food and exceptional service. Caramelized onions, cheese, and hearty offerings take center stage as toppings for the burgers. Under the toppings, the steakburgers themselves are a true highlight, crafted with care and expertise. From classic combinations like the Classic Steakburger with single, double, triple, or even "Home Run" four-patty options to innovative creations such as the All-Star, Triple Crown, Alley Ooop, and Hail Mary, Matty G's menu offers a diverse range of steakburgers to cater to every taste. Whether you prefer a traditional approach or want to venture into bold and unique flavors, these steakburgers are the perfect indulgence. Combined with the range of delectable sides and refreshing beverages, Matty G's ensures a memorable dining experience that keeps customers coming back for more.