The Viral Croissant And Custard Lava Cake Is The Perfect Dessert Mashup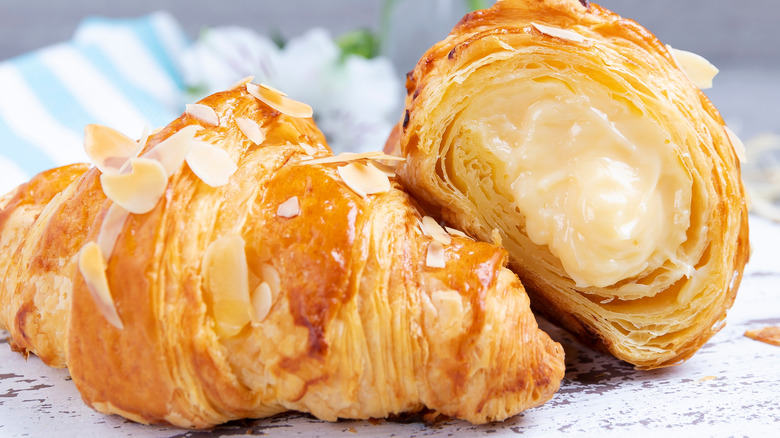 koss13/Shutterstock
There's just something about extra gooey desserts like slightly undercooked brownies, oozy fruit pies, and sticky toffee pudding that hits differently. If you're someone who can't bear to let that chocolatey batter go un-licked from spatulas and beaters while you're baking, then you know what we mean. Speaking of chocolate, there is one lusciously gooey baked treat that stands above the rest when it comes to that melt-in-your-mouth goo factor — the sugar-dusted lava cake. Many eateries like Chili's and Dominoes offer some delicious version of them on their dessert menus, filled with molten chocolate that seeps out of its spongey vessel when your fork first makes contact.
Some restaurants are getting quite creative with their lava cake ingredients, such as the Taiwanese bakery, Hazukido, which opened its very first North American shop in 2020. Hazukido specializes in the flaky croissant, and its menu showcases more than 100 flavors and tasty creations to sample. The Toronto-based bakery became so popular that several locations began popping up all over Canada, and visitors can't get enough of its unique, croissant-lined lava cakes. Each one looks like a royal crown with six golden croissants all attached to form a circle, and in the middle is the "lava" that flows freely once you tear the buttery bake apart. Instead of traditional chocolate seeping from the inside of the cake, Hazukido offers four different flavors of custard that carb-lovers can choose from.
Croissant lava cake flavors include matcha, Oreo, strawberry, and salted egg yolk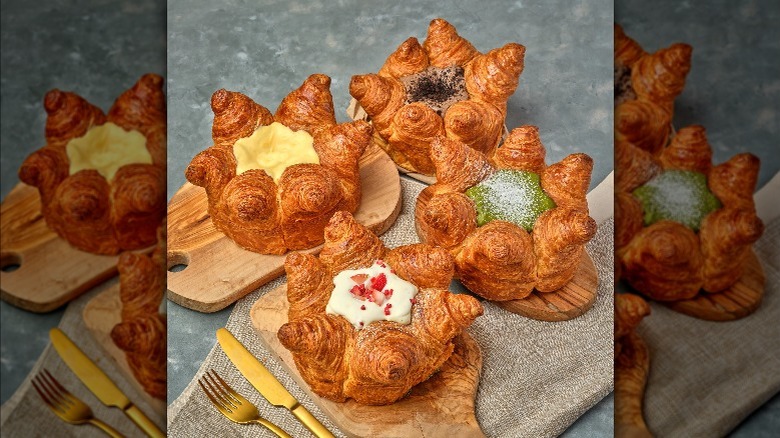 Hazukido
Such a one-of-a-kind dessert deserves to have flavors that are equally as special and intriguing, and Hazukido offers four. Visitors can choose sweet custards like strawberry and Oreo, creamy green matcha, or a more breakfast-oriented pastry filled with a salted egg yolk center. To test out the croissant lava cake, Vancouver foodie, Deanna Woo, stopped by one of the city's Hazukido chains with her friends and chose the Oreo flavor complete with a crumbly cookie topping.
Woo mentions she had never seen croissant lava cakes outside of Korea, but was pleased to discover the delicacy had made its way to her area. "If that's not your jam, they also have ice cream croissants," the TikToker suggests in her video, before mentioning that you can get these in unique flavors like durian and apple pie. The video's comments are flooded with people drooling over their need for this fancy treat, along with countless excited viewers tagging their friends so they can marvel at its existence too.
According to the Canadian TikTok account for Hazukido, the bakery has even held workshops for adults in the past where you can sign up to make your own lava cake with a friend. We're not sure when this chain will grace the U.S. with its croissant lava cake, but you can likely throw together a homemade version, which is sure to be an enticing and eye-catching centerpiece for any food-centric gathering.