Make Effortless Mini Cheesecakes With An Ice Cube Tray
In the heat of summer, there's nothing like finishing a meal with a cool treat. The best summer desserts typically involve something cold and sweet, like ice cream and fruit. With temps soaring, no one wants to think about turning on the oven, so bonus points if you can create a no-bake dessert. A no-bake freezer mini cheesecake could be the ultimate summer dessert. To make freezer cheesecake bites, you need to first create a no-bake filling, sans eggs. Eggs are typically used in cheesecake to ensure a smooth texture, but for a no-bake version, cream cheese and yogurt provide a similar texture.
After the yogurt and softened cream cheese are mixed, honey and vanilla extract are added for sweetness. Finally, everything is blended to form a smooth filing. Unlike some no-bake cheesecake recipes, this TikTok version is frozen in an ice cube tray for adorably tiny bites. The filling is placed into a silicone ice cube tray and topped with graham cracker crumbs. Then, a wooden popsicle stick is added for easy eating. Once the cheesecake bites are frozen, they should easily pop out of the molds.
Get creative with your cheesecakes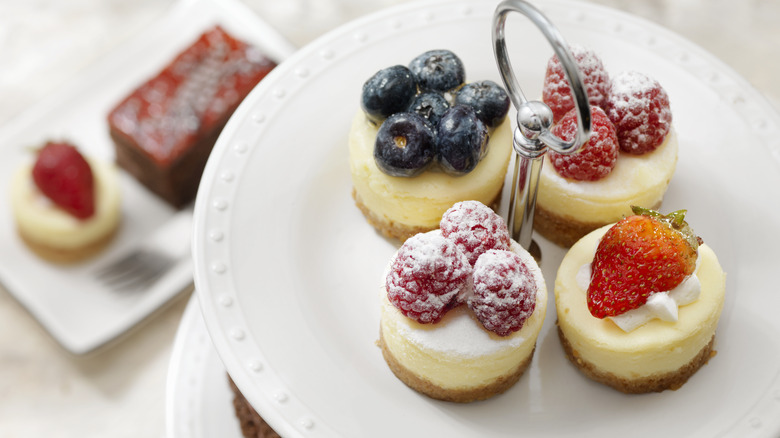 Lauripatterson/Getty Images
In @byjamiemichelle's Tik Tok video, she shares that she likes to add fruit to her cheesecake and sprinkles a few blueberries in the filling. The possibilities for cheesecake toppings are virtually endless and can be customized to personal taste. In the spirit of summer, add fresh in-season fruits like strawberries, blackberries, or peaches. If toppings aren't your jam, change the flavor of the filling by adding in lemon juice or zest — or any of your favorite extracts. For a richer filling, add heavy cream (or even sour cream for a bit of authentic cheesecake tang).
Aside from the advantage of making this dessert without turning on the oven, no-bake cheesecake is more nutritious than regular cheesecake. Since this cheesecake is made with Greek yogurt, it packs protein. If you are concerned about sugar intake, you can use less honey or use a sugar substitute. While full-fat cream cheese will give the richest texture and flavor, low-fat cream cheese could easily be used in its place. Since each cheesecake bite is individually frozen, you can eat them one at a time or serve all the bites at a gathering. As long as you use ice cube trays with rubber bottoms, the bites should pop right out, making cleanup a breeze.