The Mess-Free Pancake Syrup Hack That Makes Breakfast Sweeter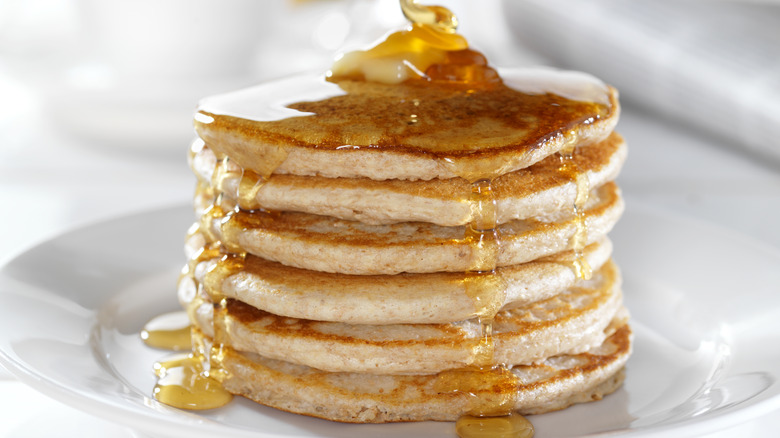 Lauripatterson/Getty Images
Pancake syrup is a must when making pancakes, waffles, and French toast. However, the mess that accompanies this sticky topping can make anyone think twice about their breakfast choice. One hack gives you the best of both worlds: You can keep the sweet, syrupy flavor in your breakfast staples while forgoing the sticky utensils and the likelihood of spills. It's an ideal workaround, especially for those with young kids. This new approach suggests adding syrup to pancake batter while it cooks on the stove. Once the pancakes are done, they'll have a fun design and additional flavor baked into each bite.
Thanks to this hack, syrup doesn't run all over the place, which helps to eliminate sticky tables, chairs, dishes, and even hair. It also saves the time and energy spent cleaning up syrup-related messes. Those who don't mind the clean-up can even add extra syrup afterward, but judging by the TikTok videos showcasing this trend, the syrup swirls are satisfyingly sweet enough.
Baking syrup into pancakes also opens the door for other inventive twists. Although syrup is perhaps the most common topping, others can take breakfast to new heights.
Don't stop at pancake syrup or liquid ingredients for this hack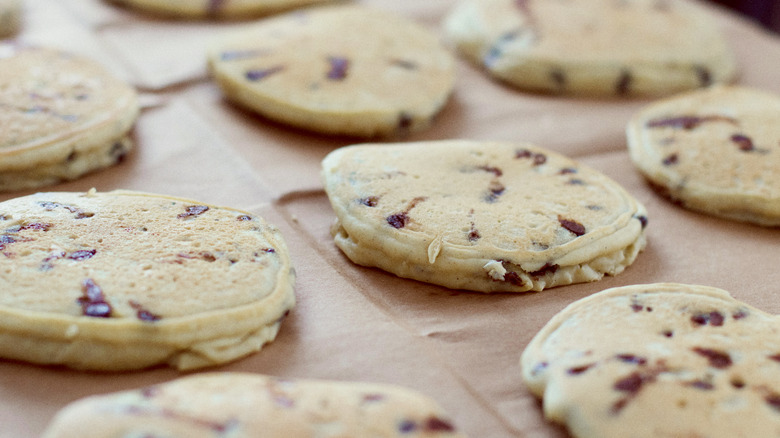 Karlamarie6/Getty Images
The internet's pancake syrup hack serves a specific purpose — reducing mess — but it can be expanded to make breakfast even more creative. Any syrup can be added to pancakes in this same manner, from Hershey's Chocolate Syrup to caramel sauce. Those who walk the line between wanting breakfast and dessert can play around with different options to infuse a variety of flavors into their meal. For example, fruit-based syrups are ideal for hot summer days. Plus, they add a splash of color.
Syrups or sauces aren't the only ingredients that can be baked into breakfast, as anyone who has made chocolate chip pancakes already knows. Mix-ins like candy, fruits, and nuts can liven up pancakes, waffles, and French toast. These items can also remove the need for additional toppings like syrup, which offers another way to avoid a sticky mess. Perhaps that's why concoctions like M&M pancakes have become so popular recently. It's likely why TikTok's latest pancake syrup hack has taken off too. Who needs sticky syrup when other options pack a more contained (but equally delicious) punch?