Bubble And Squeak Recipe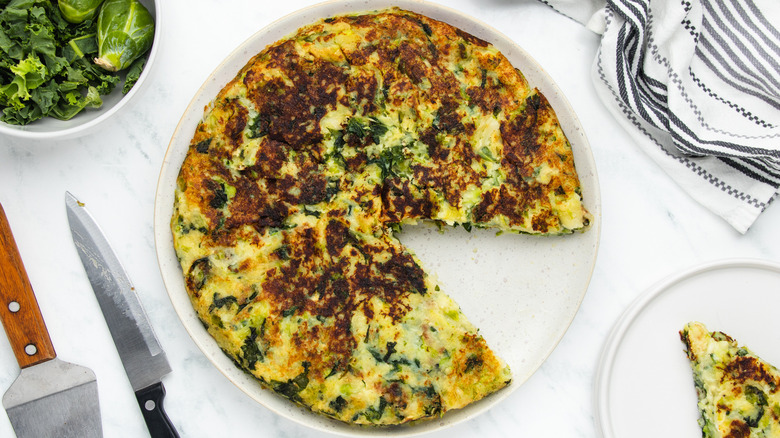 Catherine Brookes/Mashed
Some dishes are made from scratch, with each ingredient specifically chosen for its characteristics. Others are whipped up from leftovers or made to stretch out remaining scraps of food. Bubble and squeak fits into the latter camp. The playful name is meant to refer to the sound the ingredients make as they fry in the pan, but you might have to push your imagination to hear it faintly. This British dish was originally created to use up leftovers from a Sunday roast. Although it traditionally included meat, most modern recipes stick to potatoes and veggies. 
Mashed recipe developer Catherine Brookes shares this tasty bubble and squeak recipe you'll want to make for a starchy flavorful side. She shares, "I often make this around the holidays when [I] have lots of leftover veg and potatoes lying around from Christmas dinner!" For the quickest version, you'll want to have mashed potatoes ready to go, but if a craving for bubble and squeak suddenly strikes, there's nothing wrong with whipping up a batch first and following the recipe as is. Read on for the details to make this classic comfort food dish.
Gather the ingredients for this bubble and squeak recipe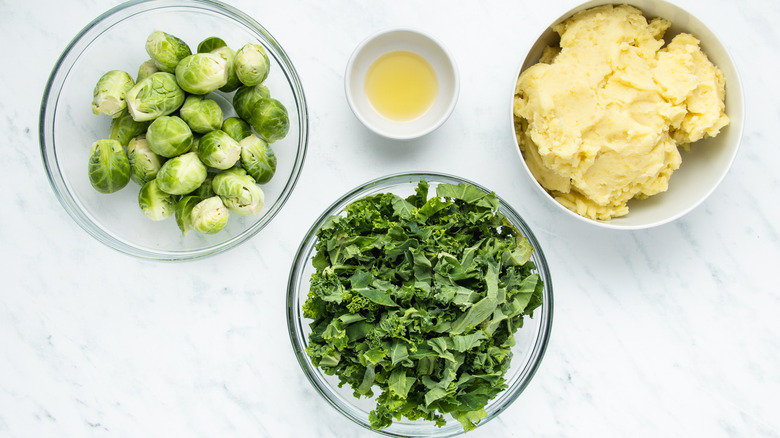 Catherine Brookes/Mashed
For this recipe, you'll need mashed potatoes, Brussels sprouts, kale, olive oil, and salt and pepper to taste. Before you start, trim the ends off the sprouts and remove the outer leaves.
Cook the vegetables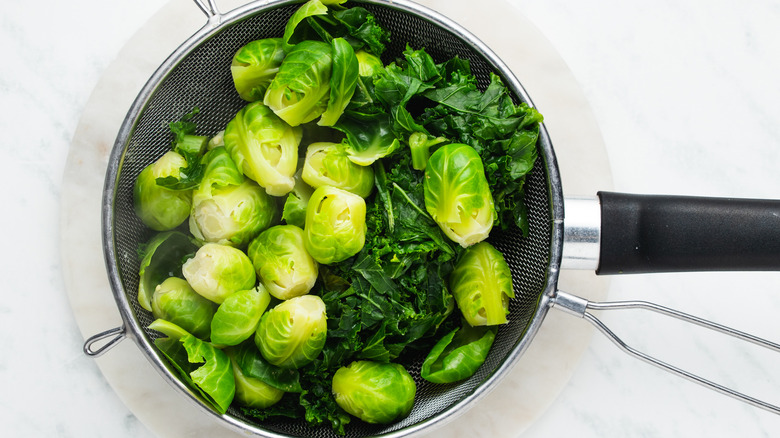 Catherine Brookes/Mashed
Set a large pot of water on the stovetop and bring it to a boil. Once it's bubbling, add the Brussels sprouts and boil them for 8 minutes. Then, toss in the kale leaves and boil the vegetables for 2 more minutes. Drain off the water and let the vegetables steam dry for 5 minutes or so.
Mash everything together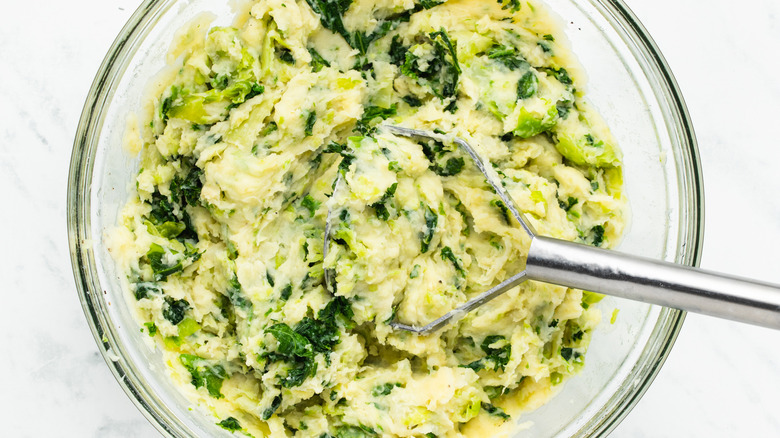 Catherine Brookes/Mashed
Get out a large bowl and add the mashed potatoes and cooked vegetables, as well as some salt and pepper to taste. Mash the vegetables into the potatoes until the Brussels sprouts are broken down and properly combined.
Fry the patty on both sides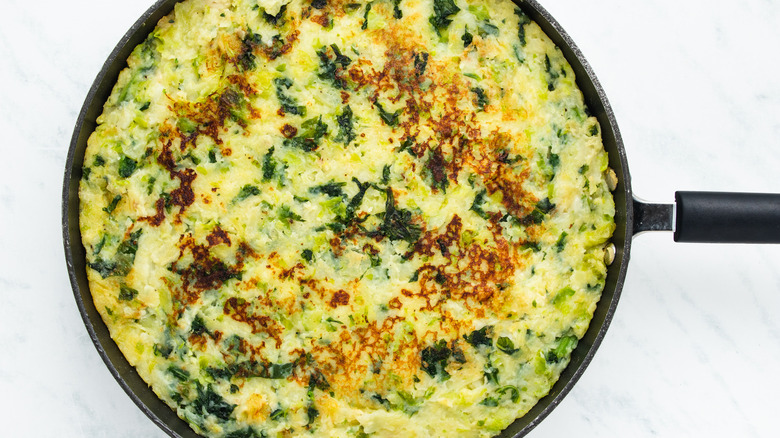 Catherine Brookes/Mashed
Set a large frying pan on medium heat and pour in the olive oil. Transfer the mashed mixture to the pan and flatten it to fit the surface in a compact layer. Cook the patty for 5 minutes on one side, then flip it and cook it for another 5 minutes or so on the other side. Brookes recommends using a plate to assist you in flipping the patty. Keep cooking the patty until it is well-browned on both sides. Brookes comments, "The crispy browned top and bottom of this dish are what give it loads of flavor."
Slice it in wedges and serve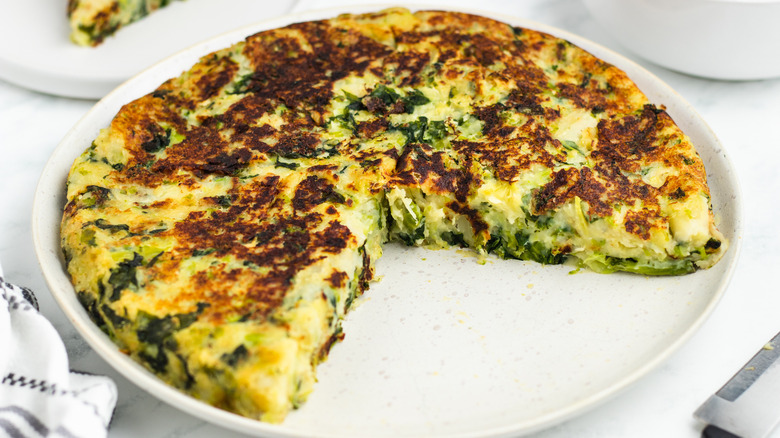 Catherine Brookes/Mashed
Slice the crispy patty into wedges and serve. Brookes shares, "I love serving this as a side along with cold cuts or even for lunch with a fried egg on top." If you have any left over, she notes, "It can be stored in the fridge for up to 4 days and reheated in the microwave or on the stove."
Bubble And Squeak Recipe
This classic bubble and squeak recipe puts leftover mashed potatoes and vegetables to good use.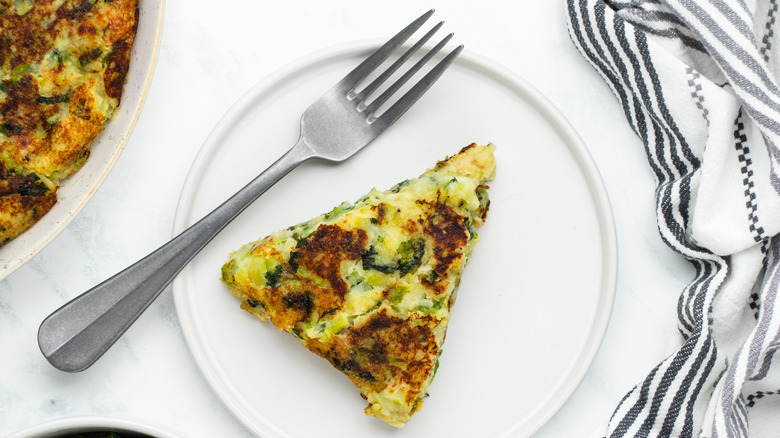 Ingredients
1 pound Brussels sprouts, ends trimmed and outer leaves removed
3 ounces kale
2 pounds mashed potatoes
salt, to taste
pepper, to taste
1 tablespoon olive oil
Directions
Bring a large pan of water to a boil and add the Brussels sprouts.
Boil for 8 minutes, then add the kale and boil for another 2 minutes.
Drain and leave to steam dry for about 5 minutes.
Add the mashed potatoes and cooked vegetables to a large mixing bowl with salt and pepper to taste.
Mash everything together until the sprouts are broken down.
Heat the olive oil in a large frying pan on a medium setting.
Add the potato/vegetable mixture and push it down into a compact flat layer.
Cook for 5 minutes, then flip and cook it for another 5 minutes until it is well-browned on both sides. (You may need to use a plate to flip the patty and slide it back into the pan.)
Slice into wedges and serve.
Nutrition
| | |
| --- | --- |
| Calories per Serving | 116 |
| Total Fat | 4.2 g |
| Saturated Fat | 0.8 g |
| Trans Fat | 0.1 g |
| Cholesterol | 0.0 mg |
| | |
| --- | --- |
| Total Carbohydrates | 18.0 g |
| Dietary Fiber | 3.4 g |
| Total Sugars | 1.5 g |
| Sodium | 340.4 mg |
| Protein | 3.3 g |