Copycat Jollibee Gravy Recipe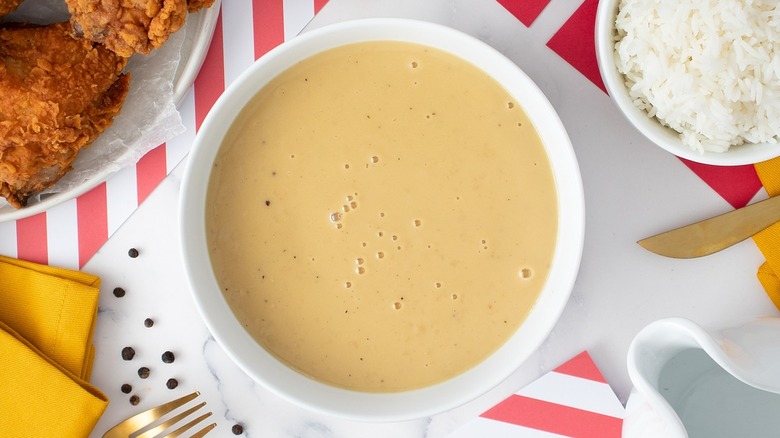 Patterson Watkins/Mashed
If you've ever eaten at a Jollibee location, then you know that there's a real star on its menu — and no, we're not talking about the fried chicken! Okay, Jollibee's fried chicken is the main draw, but if there's one menu item that comes oh-so-close, it just might be the ultra-savory, creamy gravy. Recipe developer Patterson Watkins has graced us with this copycat Jollibee gravy recipe and notes that the Filipino fast-food chain has "crafted a gravy that almost transcends the category," adding that the sauce is "ebbing almost into condiment territory." 
And, yes, for dunking, dipping, and slathering purposes, it's a very good thing that this gravy is almost like a condiment. "I think I've come close to nailing the flavor and mouthfeel," Watkins says of her gravy in comparison to Jollibee's, and she most definitely has put in the tasting leg work to compare the two. And, in case you're wondering what could possibly make this gravy so much more special than any other kind, Watkins explains: "There's a luscious, umami quality that just sets it above the rest." Don't believe us? Well, you'll just have to whip up a batch of this copycat gravy and experience the flavor explosion for yourself.
Gather the ingredients for copycat Jollibee gravy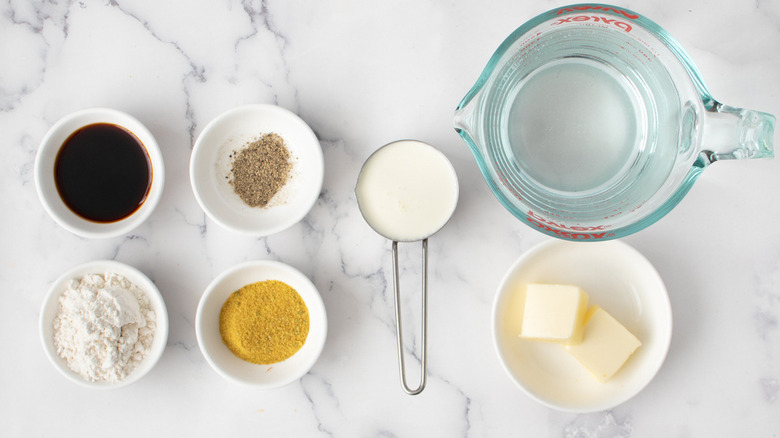 Patterson Watkins/Mashed
There aren't too many ingredients that go into a delicious gravy. Butter, all-purpose flour, water, powdered chicken bouillon, heavy cream, low-sodium soy sauce, and black pepper are all the ingredients you need to make the magic happen. 
Make a roux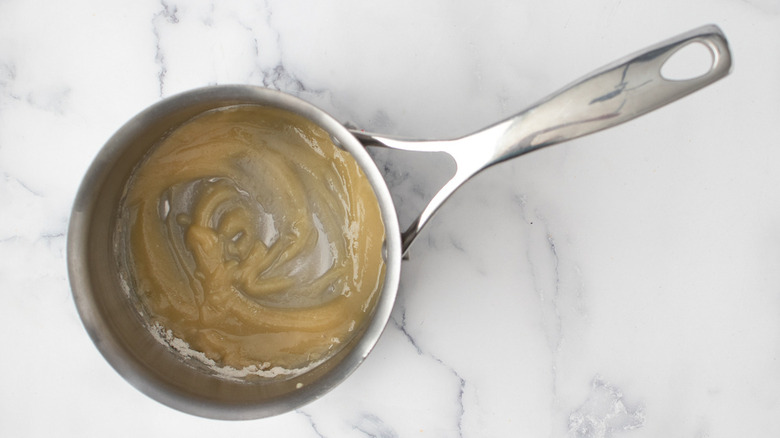 Patterson Watkins/Mashed
Any gravy aficionado likely knows that most gravies start with a roux, and this one is no exception. Start by placing a medium saucepan over medium heat and add in the butter, allowing it to melt. Follow that up with the flour and whisk to form the roux. Continue cooking while whisking constantly for about a minute — just enough time to cook the flour down and remove that overtly floury taste.  
Build the umami-rich flavors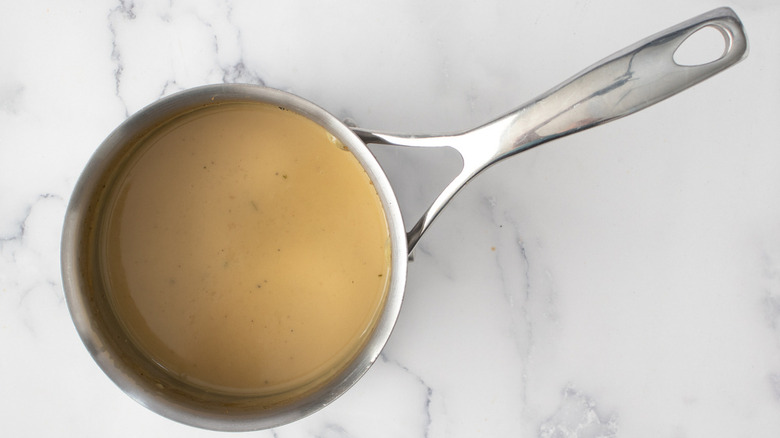 Patterson Watkins/Mashed
With the roux set, go ahead and add in the water, bouillon powder, heavy cream, soy sauce, and black pepper, whisking to combine the ingredients with the roux. Bring the gravy to a simmer and allow it to cook for about 10 minutes, whisking occasionally. During this time, the gravy should thicken up a bit and all of those savory flavors will meld.
Enjoy this gravy with fried chicken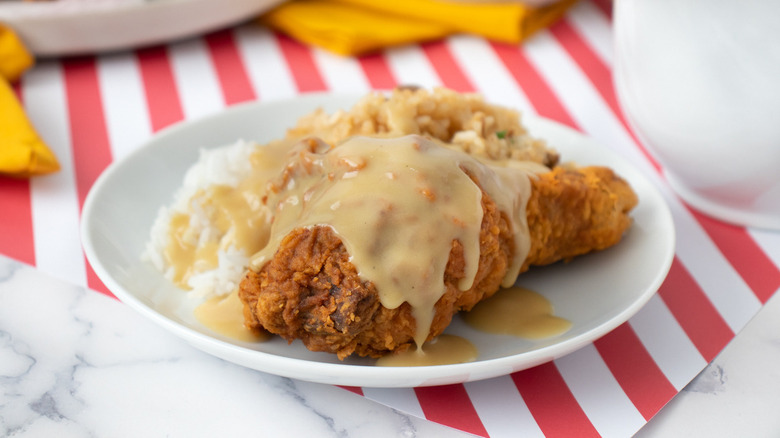 Patterson Watkins/Mashed
Once the gravy has thickened up a bit, you can serve it with your favorite foods. To stay true to the fast food chain, you can't go wrong slathering this copycat gravy onto a big ol' piece of fried chicken, but Watkins also provides a few other suggestions a la Jollibee. "From the white rice, the adobe rice, the fries ... all pair well with this gravy (copiously spooned on or dipped into)," she says.
As for the leftover gravy, it's best to avoid freezing it, though Watkins says that you can refrigerate it. "Make sure to cool your gravy at room temperature before transferring it to a sealable container," she advises. "It should keep in the fridge for 3 to 4 days without anything funky going on. Just make sure to reheat it thoroughly (either via microwave or stovetop)."
Copycat Jollibee Gravy Recipe
The Filipino fast food chain Jollibee is known for serving an umami-packed gravy alongside its fried chicken; here's our take on the scrumptious condiment.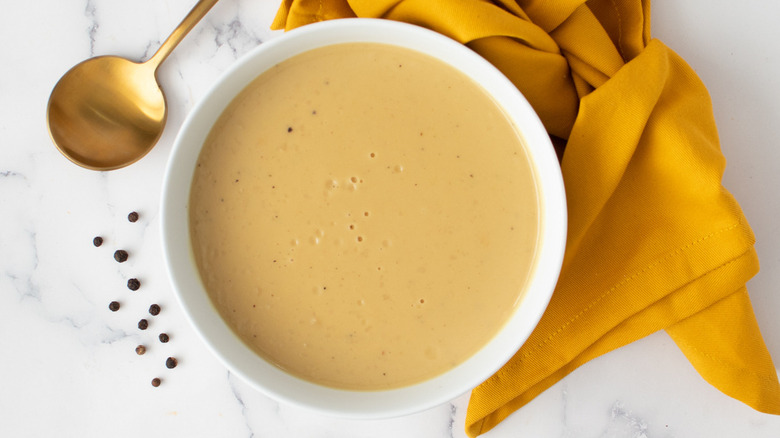 Ingredients
2 tablespoons butter
3 tablespoons all-purpose flour
2 cups water
1 package (1 tablespoon) powdered chicken bouillon
¼ cup heavy cream
2 tablespoons low-sodium soy sauce
¼ teaspoon black pepper
Directions
Melt the butter in a medium saucepan over medium heat.
Once melted, add the flour and whisk to create a roux.
Cook the roux, whisking frequently, for 1 minute (just enough time to remove that floury taste).
Add the water, bouillon, heavy cream, soy sauce, and black pepper to the saucepan, and whisk to combine with the roux.
Bring to a simmer, whisking occasionally, and cook for 10 minutes.
Keep warm until ready to serve. Serve gravy with your favorite fried chicken and starchy sides.
Nutrition
| | |
| --- | --- |
| Calories per Serving | 87 |
| Total Fat | 7.5 g |
| Saturated Fat | 4.7 g |
| Trans Fat | 0.1 g |
| Cholesterol | 21.5 mg |
| | |
| --- | --- |
| Total Carbohydrates | 3.8 g |
| Dietary Fiber | 0.2 g |
| Total Sugars | 0.3 g |
| Sodium | 416.9 mg |
| Protein | 1.3 g |