Pepsi Confirms Pineapple Belongs On Pizza With Little Caesars Exclusive Soda
Little Caesars and Pepsi have spoken, and their answer to the pineapple-on-pizza debate is yes. Per a press release, Pepsi's limited-time summer edition, Pepsi Pineapple, will be available exclusively at the Michigan-based pizza chain starting July 17. 
The tropical fruit-flavored cola made its United States debut in the summer of 2020 but was only available for a short time. Given how many consumers associate fruit with summer, it seems like a natural moment to bring it back. However, Little Caesars is the only place you'll be able to get this tropical fruit soda — at least for now. 
When you purchase online, you can get the Pineapple Pair-Up Combo for $9.99. This combo includes a 16-ounce Pineapple Pepsi and a Large 2-Topping Thin Crust Pizza. But please note: While the soda is pineapple flavored, your pizza toppings can be whatever you like. So if you enjoy your pizza pineapple-adjacent rather than pineapple-topped, then you're still in luck. 
Pineapple isn't the first experimental Pepsi flavor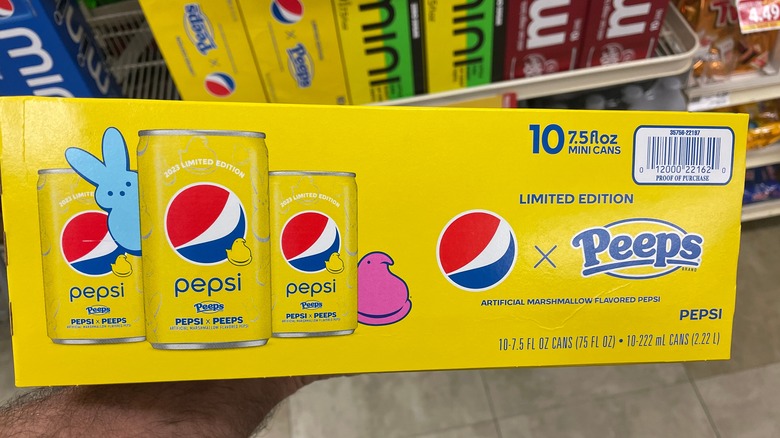 Billy F Blume Jr/Shutterstock
According to Future Market Insights, the beverage flavoring market is steadily increasing, propelled by millennials who enjoy experimenting with more unexpected flavor combinations. While Pepsi doesn't mess with its regular formula, it has introduced some unusual flavors, potentially to court younger generations — and  Pepsi's limited-edition formulas and collaborations are becoming quite a trend. 
Pepsi also has a long history of trying out flavors other soda companies might not: During the 2021 Easter season, Pepsi released Pepsi X Peeps, a Peeps-flavored cola, but limited production to small 7.5 oz cans. However, it brought Pepsi x Peeps back again this spring, this time in abundant supply. Last fall, Pepsi introduced three different flavors of S'mores-inspired Pepsis: Toasty Marshmallow, Graham Cracker, and Chocolate. Perhaps its most surprising recent release was a nutmeg-flavored soda, which was timed to release during the World Cup in Qatar in the summer of 2022 and featured soccer-related images on the cans. 
These examples are only the tip of the iceberg, as Pepsi has been on some wild rides over the years. While some of its unique flavors and concepts have gone over well, other Pepsi products have been massive fails. Is Pineapple Pepsi destined to be a mere flash in the pan — a fun flavor to try, but just once — or will it stand the test of time?