Once-Popular Chicken Chains That Sadly Disappeared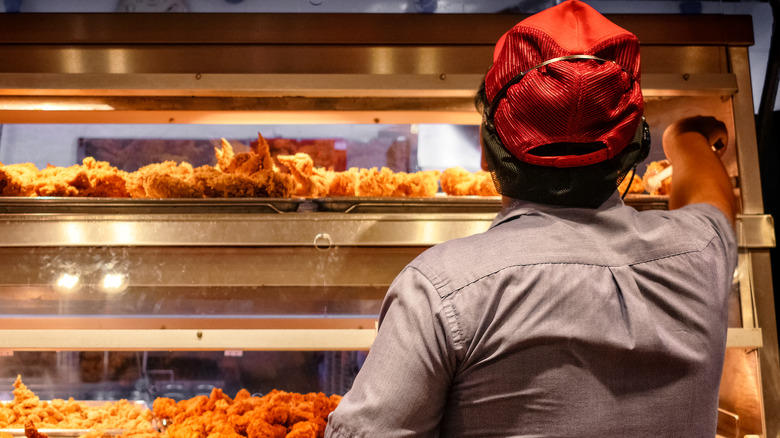 Seika Chujo/Shutterstock
According to the USDA, chicken is the second most consumed meat in the world, and it isn't very difficult to imagine why. Thighs or wings can be roasted, fried, grilled, braised, or poached to perfection. Breasts might be baked with lemon, seasoned with paprika, stuffed with cheese, or garnished with cilantro. Whichever way your chicken is prepared, you're going to get a meal that is loaded with protein, generally lean, and 100% delicious. To make the case for poultry even stronger, nearly every part of the bird has a use, making it a wonderful main component to build a dish around. Is it any wonder that many entrepreneurs have built entire business models around this multifarious meat?
Some of the biggest fast food chain restaurants, such as Chick-Fil-A or Kentucky Fried Chicken, specialize in poultry. Developing a sound, good-tasting menu is obviously paramount to building a successful franchise, but there are also elements of brand identity, marketing, profit, loss — and more often than not, a pinch of good luck — which all work together to fry up success. Unfortunately, not every business that has attempted to make it in the chicken chain restaurant industry has had every one of these elements going for them. Check out our list of once-popular chicken chains that have sadly disappeared.
Kenny Rogers Roasters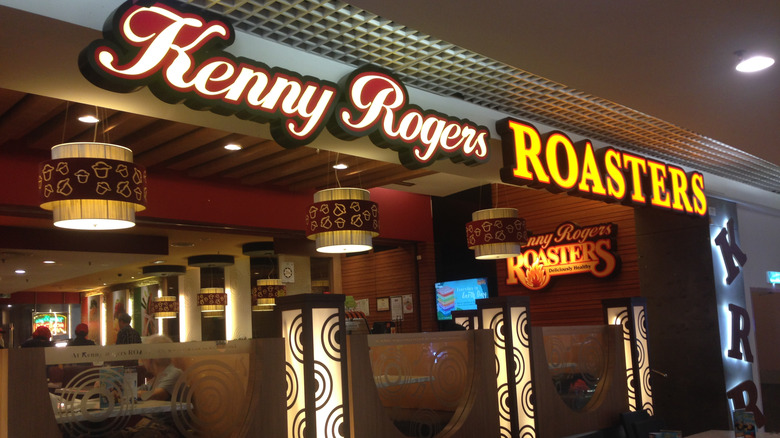 mohd kamarul hafiz/Shutterstock
In 1996, a popular episode of "Seinfeld" aired in which a restaurant with an unusually large chicken sign set up across the street from the main characters' apartment building and caused some major problems. This restaurant was Kenny Rogers Roasters — a real-life chicken chain founded by the country music singer himself in the '90s. Its star dish was a wood-fired chicken, and before long, the company had 350 locations both in the United States and worldwide.
Unfortunately, trouble followed its rapid success. Kenny Rogers Roasters was sued by Clucker's Wood Roasted Chicken, who accused the chain of stealing its menus and recipes. Roasters also found itself in fierce competition with KFC and Boston Chicken, which has been re-branded and is now known as Boston Market. These combined complications led the popular chain to fizzle, and it filed for bankruptcy in 1998. Nowadays, there are zero Kenny Rogers Roasters locations left in the U.S. ... but, if you really have a hankering, you could fly to Malaysia, Thailand, or a handful of other countries where it is still actively roasting and serving chickens.
Chicken George
In 1979, Ted N. Holmes founded Chicken George out of Baltimore, Maryland. His mouth-watering menu full of crispy fried chicken, creamy chicken salad, and gumbo earned Holmes such immense success that his business quickly became one of the most lucrative fast food chains founded and owned by a minority in the United States at the time.
Sadly, despite successful marketing tactics, Chicken George's downfall was in the management of its finances. Holmes admitted in a 1981 interview with the Washington Post that the concept of profit and loss was not his specialty. The franchise eventually filed for bankruptcy protection, and when a plan for moving forward could not be determined, it filed for liquidation in 1987. Hill & Sons Management Co. snatched the restaurants up in public auction, and for a few more years, valiant attempts were made to keep things going. But without Holmes, the chicken just wasn't clucking anymore. In 1991, the company's new owners shut off the fryers for good, and business came to a permanent end.
Pioneer Chicken
In 1962, a little fast-food joint with a sign featuring a covered wagon came onto the scene in Los Angeles. It was called Pioneer Chicken, and the locals ate it up — literally. By the end of the 1970s, several hundred of its restaurant locations had sprung up across California. Known for its bright orange deep-fried cutlets as well as its more unusual appetizer selections like gizzards and livers, the chicken chain was popular among adults and children alike. Grownups looked forward to biting into a skin-covered crunchy thigh while their kids couldn't wait to munch on tenders and flip through pictures of Pioneer Pete, the company mascot, in the comic book that came with the meal.
But despite these clever marketing endeavors, the company could not cope with competition from its looming fried chicken rival, KFC. By 1991, Pioneer was on its second declaration of bankruptcy, and in '93, the owner of Popeyes Chicken & Biscuits acquired the failing franchise. All but two locations — which still stand to this day and serve their deep-fried orange chicken right in the heart of their city of origin, Los Angeles — became Popeyes restaurants.
Chooks Fresh & Tasty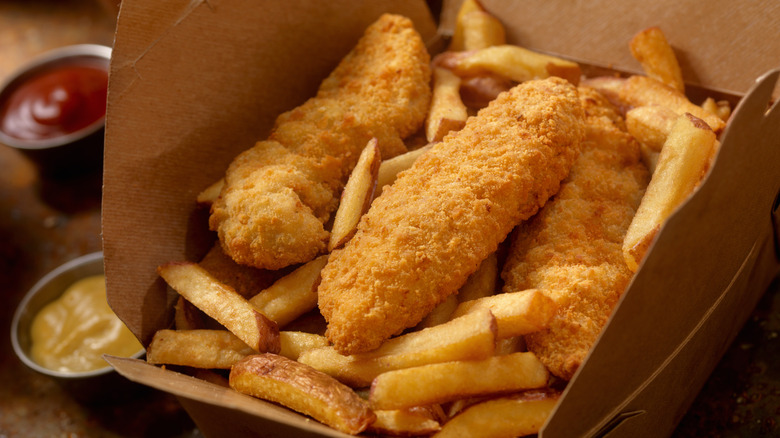 Lauripatterson/Getty Images
In Western Australia in 2003, things weren't going so hot for a small chicken chain by the name of River Rooster. Figuring the reason for its lack of customer generation was because its name was so closely aligned with similar, larger Australian chains such as Red Rooster, the franchise rebranded itself and became known as Chooks Fresh & Tasty. Specializing in fried and barbecued chicken, it also made some deliciously salty chips, or french fries. One writer for The Bell Tower Times referred to the chips as being so great they exceeded those found at the ever-reigning chain KFC. 
The franchise worked as hard as it could to stand out among competing restaurants, but sadly for all of its efforts, Chooks Fresh & Tasty was simply outdone by the rivalry. It was purchased in 2010, and its locations quickly turned into those of another popular Australian fast food chain, Chicken Treat. Thankfully, Chooks's founder, Steve Hansen, felt okay about the deal. According to Franchise Business, Hanson commented positively on the fact that his beloved chain would have an easier time being aligned with a bigger company. However, many Australian fast foodies still remember Chooks's recipes and its delightfully briny, greasy presence.
Mighty Casey's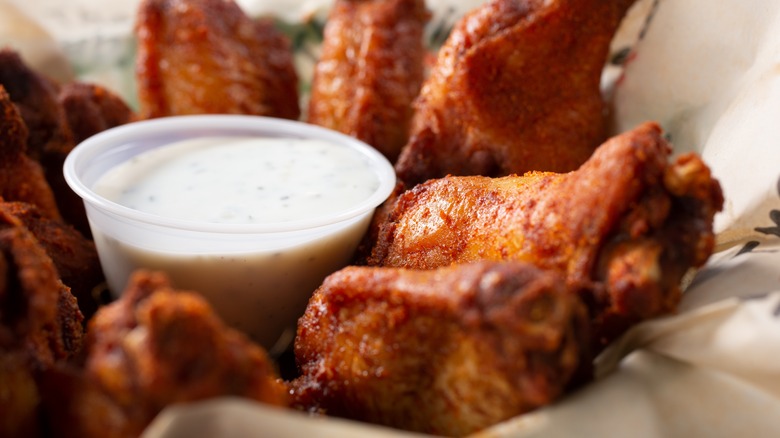 The Image Party/Shutterstock
In the early 1980s in Atlanta, Georgia, a new baseball-themed fast food restaurant stepped up to the plate. Mighty Casey's offered a variety of unique menu options, including their very popular grand slam burger, chili dogs, onion rings, and — you guessed it — delicious cajun chicken wings. Soon its circular sign featuring a hitter at bat could be seen throughout the Atlanta metropolitan area, and consumers praised its recipe creativity and substantial portion sizes.
In the end, though, Mighty Casey's struck out. Although one commenter on Quora, who lived in the area at the time, claimed the drive-thrus were always busy, the chain was purchased by Krystal, another Georgia-based fast food competitor, in 1994. Remaining Mighty Casey's restaurants were transformed into Krystals shortly after that; however, some remember the days when it was still in business. One user on Copykat Chat started a forum post begging for any information that could be shared regarding Mighty Casey's buffalo wings so that she could try and recreate them at home, giving us the impression that the short-lived chain struck a chord with those who were lucky enough to have sampled its fare.
Morrison's Cafeteria
Beginning as a single cafeteria-style restaurant in Mobile, Alabama, Morrison's Cafe got its start in the year 1920. Offering southern-style cooking — including lots of fried chicken — its comfort food and business models were popular with consumers. It quickly grew into a chain, and when shopping malls became more commonplace after World War II, Morrison's Cafeteria developed even further, planting locations directly in malls along the southeastern United States. In its prime, Morrison's operated over 150 locations.
But the years went on, and as they did, diners' preferences started shifting. The popularity of waited dine-in restaurants was on the rise, while that of the once-loved self-serve cafeteria style was on a downward trend. The franchise struggled increasingly as consumer traffic slowed down, with eaters beginning to consider its concept archaic. Finally, in 1996, Morrison's Cafeteria sold all of its locations to Piccadilly, Inc. for $46 million. Now, only a single Morrison's Cafeteria lives on — in Mobile, Alabama, the city where J.A. Morrison first opened its doors nearly a hundred years ago.
Yogi Bear Honey Fried Chicken
In Hartsville, South Carolina, there stands a single restaurant, outside of which a feel-good sign featuring a smiling Yogi Bear holding a chicken leg is displayed proudly. This solo chicken shack, Yogi Bear Honey Fried Chicken, used to be a chain of six locations in the Carolinas in the 1960s. Its chicken sandwiches, legs, thighs, and gizzards were cooked using a unique, honey-flavored chicken tenderizer which was apparently so good it quickly became sought after by a much larger company.
Hardee's, showing immense interest in the honey method, bought the rights to the recipe and the restaurants for $1 million. However, it is reported that despite their initial engrossment, Yogi's was rather forsaken by its new owners. Left to the wayside, the poor chain rapidly began to decline. By the late 1970s, all of them were closed ... except for one solitary showstopper, the Hartsville Yogi Bear Honey Fried Chicken, which has become something of a celebrated landmark for the locals.
Koo Koo Roo
In 1988, Koo Koo Roo got its kickoff in LA by founders (and brothers) Ray and Mike Badalian. Distinctive from most fried chicken chains in that its poultry was charbroiled, skinless, and relatively healthy, the restaurant experienced a burst of quick, modest growth. In 1990, a real estate broker named Kenneth Berg popped in to eat one night on a whim of hunger and was so taken with Koo Koo Roo's mouthwatering chicken he committed himself to become its owner. Berg would aid Koo Koo Roo's expansion to 40 chains by 1999, but Koo Koo Roo struggled for profitability despite the growth in physical locations.
The likely culprit for this constant financial grapple? Inconsistencies within the franchise. The menu regularly changed, new locations opened while others shut down, and at one point, Berg even tried opening coffee shops within the restaurants themselves. Eventually, Koo Koo Roo was acquired by Fuddruckers, who took a swing at keeping things running. Sadly, their efforts were futile, and one by one, the last of the locations shut their doors. Having hung on until 2014, there are plenty of consumers still talking about the retired franchise. Reddit features numerous threads bearing titles such as "I miss Koo Koo Roo" or "[Does Anyone Else] remember and miss Koo Koo Roo?" with users reminiscing on its creamed spinach or macaroni and cheese and wishing the restaurant would come pecking again.
Minnie Pearl's Chicken
The success of KFC in the mid-1900s was both inspiring and enticing for many at the time — including brothers John Jay Hooker and Henry Hooker. The two convinced Minnie Pearl, a country singer whose career was on fire in the late 1960s, to supply them with her name to use as the headliner for their developing fried chicken chain. The plan, of course, was for their own business's success to rival that of Kentucky Fried Chicken, and franchisees with hopes of becoming rich right along with them quickly invested in the new venture. Minnie Pearl's Chicken locations began opening for business in '68 and '69.
The problem? The focal point was the idea as opposed to the actual chicken itself. The Hooker brothers, who had poured most of their energy into marketing and franchising, could not, at the end of it all, deliver an actual good-tasting product. Despite developing unique-looking buildings and a show-stopping sign you could see from a mile away, consumers simply did not care for the food. Therefore, Minnie Pearl's Chicken couldn't deliver on its profits, and the chain's very short life was over with the closing of its final location in 1973.
Sisters Chicken & Biscuits
As its name suggests, Sisters Chicken and Biscuits was a fast food chain local to Columbus, Ohio which promised soul food such as crispy fried chicken and warm, buttery biscuits. While the fried chicken was delicious, it was the delectable baked biscuits that stole the show, according to City Scene. Owned by the Wendy's company, Sisters opened as a subsidiary to the larger chain in 1980 and grew to a size of nearly 80 locations by '85.
Despite further growth in 1986, Wendy's abruptly sold Sisters Chicken and Biscuits in 1987. By the mid-1990s, all of its locations were closed. However, the chain's quintessential buildings — with its slanted roofs and wrap-around covered porches — still stand in the Columbus area, a testament to the flaky biscuits and breaded chicken that once cooked in their kitchens and sent hypnotizing smells wafting out the rectangular windows, inviting hungry passers-by to come in and feast.