McDonald's Fountain Drinks You Won't Find In The US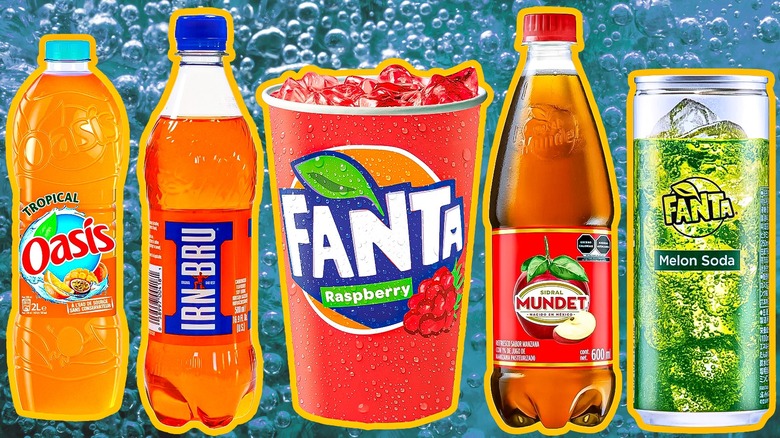 Static Media / Shutterstock
When it comes to soda, it's hard to argue with the flavor and quality you'll enjoy by drinking it from a soda machine. Fountain drinks taste so much better than prepackaged soda because of their freshness. Fountain drinks are mixed directly in soda machines before dispensing, which results in a crisp, more refreshing flavor. No McDonald's meal is complete without an ice-cold fountain drink, and the chain has historically offered plenty of options. Since the two companies started a mutually beneficial partnership in 1955, most fountain drinks served in McDonald's restaurants have been sodas or fruit-flavored beverages from the Coca-Cola family of products. 
McDonald's patrons in the U.S. may assume that every location serves the soft drinks they're used to seeing in their local restaurants. While most overseas locations offer easily recognizable options such as Sprite and original Coca-Cola, these restaurants' menus also include fountain drinks that McDonald's fans can't order in the U.S. Some of these beverages are uncommon flavors of familiar U.S. products which, due to issues with popularity, only exist in select foreign markets. However, many of these unique fountain drinks are regional specialties that demonstrate the character of their home countries. Here are some of the most interesting McDonald's fountain drinks that you'll have to book a flight to taste.
Irn-Bru soda (Scotland)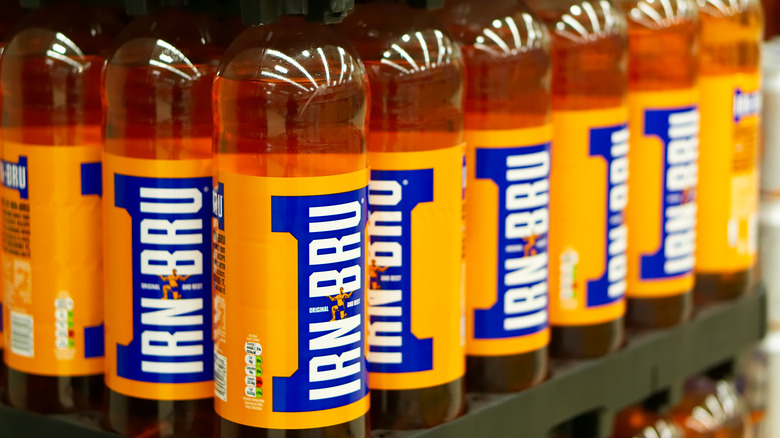 Loch Earn/Shutterstock
While fountain drinks like Coca-Cola and Pepsi are iconic in the U.S., a curious product called Irn-Bru soda reigns supreme in Scotland. The beverage first appeared in 1901 and served as a pick-me-up for Glasgow steelworkers. Over a hundred years later, it is still a popular choice among Scots, although few can agree on exactly what this soda tastes like. Attempts to define the flavor and have come up with everything from bubblegum to a mixture of orange soda and cream soda. There is also a joke that the soda tastes like girders, referencing the steelworkers who made it popular. 
Whatever the true answer is, the nationwide affinity for this beverage has kept it on the Scottish McDonald's menu for years. Unfortunately, as the online menu notes, this fountain drink is not available in every restaurant. Those who can find it can enjoy this classic soft drink in small, medium, or large sizes. Fast food lovers in the U.S. can't enjoy Irn-Bru in fountain drink form at McDonald's, but it is available for sale on multiple websites. However, the Irn-Bru sold in the U.S. doesn't look quite the same as the original recipe. Thanks to FDA bans, the company made changes to the food coloring lineup it uses for the American version. 
Fanta Melon (Japan)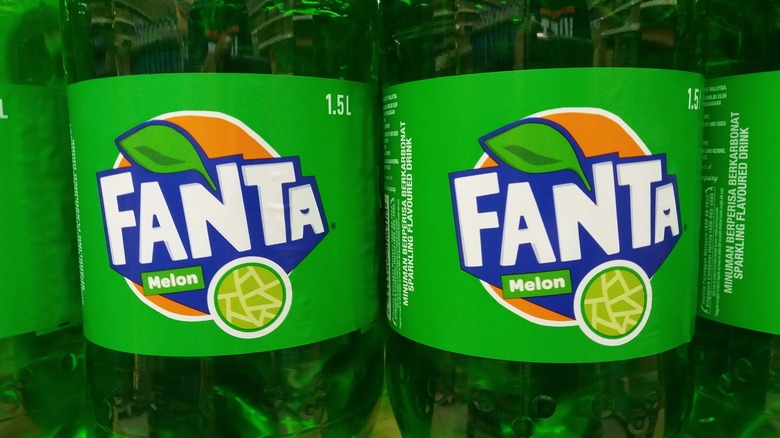 Zety Akhzar/Shutterstock
Since Fanta is part of the Coca-Cola family of brands, it is a common sight in McDonald's restaurants around the world. Fanta is nearly as old as Coca-Cola itself, with its origins dating back to Germany in World War II. Fanta has released many intriguing flavors over the years, some only available overseas. This includes Fanta Melon, a honeydew-flavored soda primarily sold in Japan.  It's not the only melon-flavored soda in Japan, but it's popular enough to be included as a regular fixture in the McDonald's fountain drink lineup. Just like in the U.S., Japanese McDonald's restaurants serve fountain drinks in small, medium, and large sizes. 
Although this soda is already special, adventurous soft drink fans have an even more interesting option to explore. Fanta Melon is also available in a cream variety, which offers a truly unusual take on the basic flavor. This unique fountain drink has creamy notes that complement its fruitiness and make the soda more dessert-like. The bottled cream melon soda is somewhat similar to another drink McDonald's serves in Japan: a McFloat Melon, which combines Fanta Melon with soft serve ice cream.
Kitl Raspberry (Czech Republic)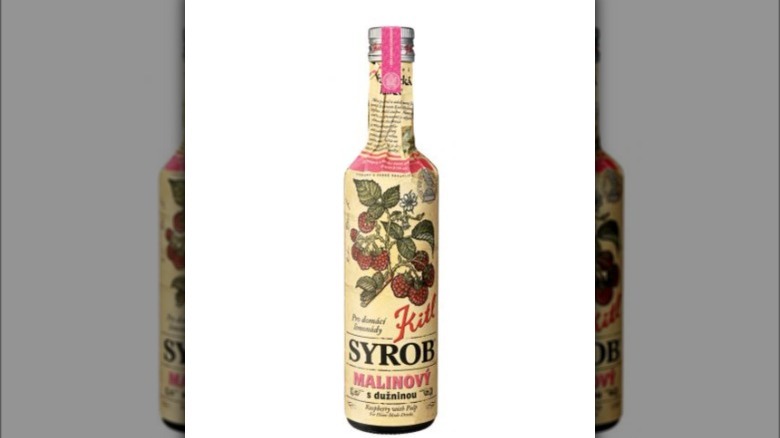 Kitl
The Czech Republic-based company Kitl began as a small business focused on creating products with healing properties. Today, the brand offers a variety of tonics and elixirs that promise to help a variety of everyday ailments. The company takes inspiration from Dr. Jan Josef Antonin Eleazer Kittel, an 18th-century healer from the region who is known for his herbalistic practices. Among the brand's many products is a collection of syrups featuring real fruit and relatively few other ingredients. Flavors include strawberry, grapefruit, lemon, and even cucumber. 
These syrups can be used in various beverages and cocktails, including a simple soft drink made with basic soda water. The raspberry version of Kitl syrup appears in this form on the menu for McDonald's restaurants in the Czech Republic. However, the brand's presence in the McDonald's fountain drink lineup isn't the only partnership between Kitl and the fast food chain. In 2022, Kitl adopted a room in the Czech Republic's first-ever Ronald McDonald House, which provides free accommodations for families of hospitalized children with serious conditions.
McFizz (various countries)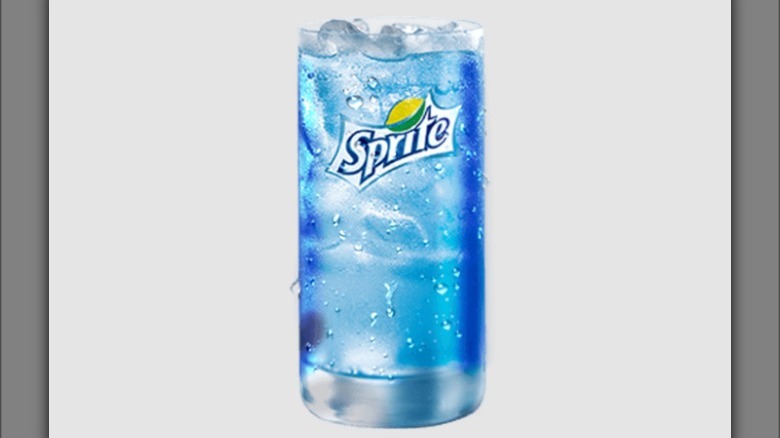 McDonald's
It's no secret that McDonald's Sprite tastes different than the store-bought version, making it a fan favorite for many fast food patrons. In several countries, the chain capitalizes on its particularly delicious version of Sprite by turning it into a McFizz. This simple fountain drink combines Sprite with flavored syrups, and the options vary widely depending on where you are in the world. For example, visitors to McDonald's restaurants in Egypt can enjoy a Blue Passion McFizz, which includes passion fruit flavoring.  
However, one of the best places to enjoy a McFizz is South Africa, where McDonald's offers three flavors: green apple, passion fruit, and watermelon. The watermelon flavor is even popular enough to have earned a segment on the South African morning television series "Expreso" (via YouTube).  Although U.S. patrons can't enjoy the fountain drink version of a McFizz, multiple social media users have posted recipe ideas for creating one at home. For example, a TikTok creator combined a can of Sprite Zero with a nonalcoholic watermelon cordial to make an easy copycat beverage.
Oasis (UK)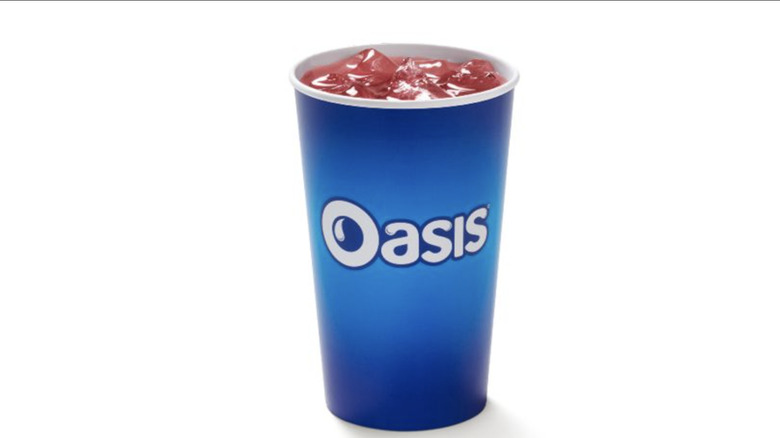 McDonald's
Europe isn't exactly a tropical oasis, but a non-carbonated soft drink called Oasis is popular in several European countries. The fruit-flavored drink first appeared in France in 1966 but is now sold on a wider scale. In the U.K. and Ireland, Cocoa-Cola distributes this beverage in Citrus Punch and Summer Fruits flavors. Other varieties have occasionally appeared, such as 2018's Oasis Aquashock, but these two classic flavors have stood the test of time. Like many Cocoa-Cola products, Oasis is also available in a zero-sugar version. On Instagram, the brand touts itself as the most popular fruit-based drink in the U.K.
Customers can sample the Summer Fruits flavor as a fountain drink at McDonald's restaurants in the U.K. Users on Influenster describe this soda's flavor as moderately sweet and berry-forward. The bottled version features strawberries and cherries on the label, but the ingredients also include redcurrant juice concentrate, blueberry concentrate, and several other fruit flavors. Although U.S. McDonald's fans won't find Oasis at the soda fountain, it's available for shipping through multiple international food stores online.  
Fanta Raspberry (New Zealand)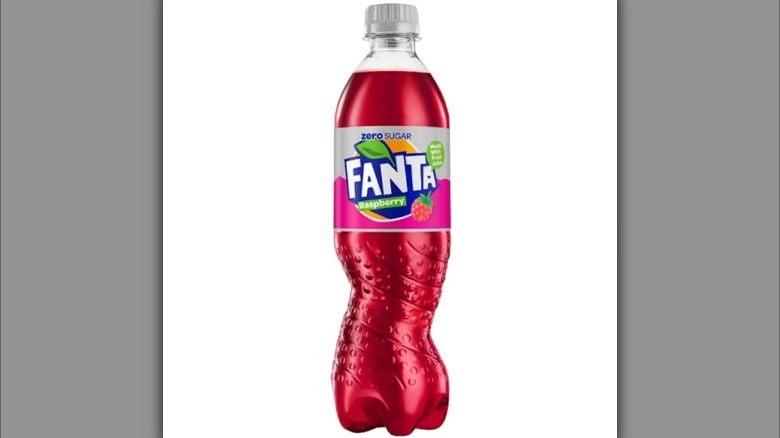 Fanta
Fanta Orange is the go-to flavor at McDonald's restaurants in the U.S., but New Zealand locations also feature a berry-inspired alternative: Fanta Raspberry. This brightly colored soft drink promises to offer a pleasant raspberry flavor, and many Reddit fans feel that it delivers. For example, one user created a thread proclaiming this soda is the ideal beverage on a hot day. Meanwhile, another thread implores fellow Redditors to help locate a bottled version to enjoy at home. 
Although the soda is also available in neighboring Australia, it isn't featured on that country's McDonald's menu as a fountain drink. In fact, despite how basic raspberry-flavored products may seem, Fanta Raspberry is tough to locate outside of this region. For example, U.S. customers definitely won't find it in McDonald's locations or even grocery stores. Unfortunately, for most soft drink lovers around the world, the only way to sample this Fanta flavor is by using Coca-Cola Freestyle machines.
Heaven and Earth Jasmine Green Tea (Singapore)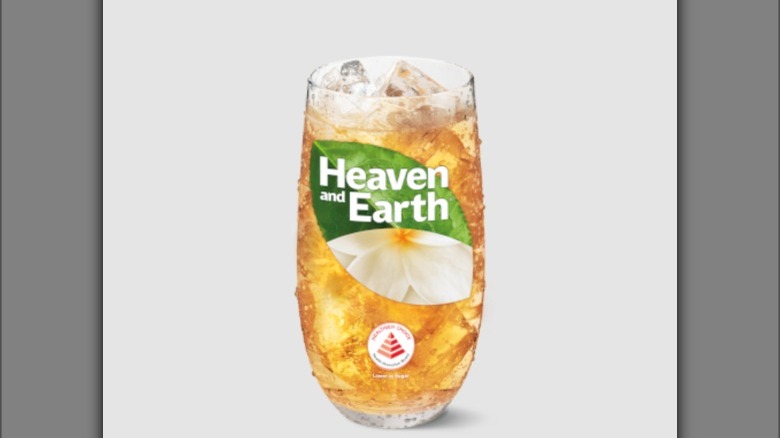 McDonald's
Since tea is among the most commonly purchased beverages in Singapore, it's only natural that the nation's McDonald's restaurants would have some variety of this drink at the soda fountain. The country's iced tea drinkers can find two types of Heaven and Earth tea on their McDonald's menu, but the brand's jasmine green tea is the most unique choice. Reviews on Abillion are mostly positive for this flavor, with several users enjoying its subtle sweetness. 
Unsurprisingly, Heaven and Earth tea is part of the Coca-Cola product family. The brand first launched in 2000 with a single flavor, but other varieties have slowly come to market over the years. Since these teas are only sold in Singapore and Malaysia, it's unlikely that U.S. consumers will be able to sample them at McDonald's anytime soon. Despite the longstanding partnership with Coca-Cola, McDonald's restaurants in the U.S. don't actually sell a Coca-Cola brand of iced tea. Instead, the chain's standard unsweetened and Southern-style sweet teas are both brewed from an orange pekoe-based blend.
Vinea (Slovakia)
Soft drink producers rarely focus on the nutritional value of their products, but Vinea was born out of a desire to create a more health-conscious alternative to traditional sodas. The grape-flavored soda originated in a wine production facility and — like wine — comes in red and white varieties. This unique but seemingly unassuming soda first hit shelves in 1974 and is still produced in its native Slovakia. Although the fall of Communism in the region threatened the soft drink's popularity, sales eventually recovered. In the early 2000s, Vinea was even the subject of a heated legal debate between two wine manufacturers, who fought over the rights to export their homeland's soda to other countries.           
Today, Slovak consumers can enjoy Vinea as a fountain drink at their local McDonald's alongside international options like Coca-Cola and Fanta. Although the fast food chain first came to Slovakia in 1995, it has only offered this soft drink since 2019. Fittingly, this local favorite is also available at McDonald's locations in the Czech Republic, which shared the name Czechoslovakia with Slovakia until the two separated into distinct countries in 1993. 
Fanta Exotic (Sweden)
Although most Fanta flavors have straightforward names, Fanta Exotic gives soda fans few clues about its taste aside from the fruit pictured on the label. The ingredients list includes three fruit juice concentrates: peach, orange, and passionfruit, which give it a sweet, tropical flavor. The soda also features real sugar as its primary source of sweetness, which sets it apart from some of the artificially-sweetened Fanta flavors sold worldwide. 
This soft drink is only distributed in Sweden and a handful of other Eastern European countries, making it one of the more challenging Fanta flavors for consumers to locate. However, Swedish consumers can easily find Fanta Exotic at the soda fountain of their local McDonald's. Although there are five Fanta flavors sold in Sweden, this variety is clearly one of the most popular. The drink is available in three sizes and is offered alongside Sprite Zero, Coca-Cola, and Fanta Orange. Despite its absence from the McDonald's fountain drink menu in the rest of the world, Fanta Exotic is readily available from online specialty foods markets and even Amazon.
Sidral Mundet (Mexico)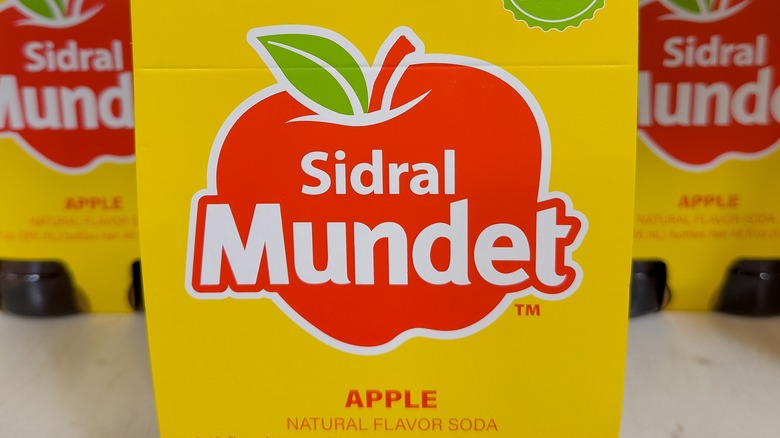 ZikG/Shutterstock
Apple-flavored products are popular worldwide, but one apple-based soda is especially well-liked in Mexico. Sidral Mundet has had a loyal fan base since it first appeared in 1902 and still provides a refreshing, classic apple flavor. Several Influenster reviews for the bottled version compare this soda's taste to apple cider, which makes it a great option for those who enjoy that traditional fall beverage. Many reviewers also like that the soda contains cane sugar instead of high-fructose corn syrup, while others praise it for being caffeine-free. 
Thanks to widespread love from consumers, Sidral Mundet is available as a McDonald's fountain drink in Mexican locations. The chain offers a sugar-free variety of the traditional soda alongside classic Coca-Cola, sugar-free Sprite, and several other beverages. Although an apple soda may not seem like a natural choice for McDonald's, the relationship between the fast food chain and this soda brand partially stems from the fact that Sidral Mundet has been owned by Coca-Cola FEMSA since 2001. This Mexican-based beverage company produces and sells Coca-Cola products throughout Mexico and other South American countries, including Sprite, classic Coca-Cola, and regional favorites like Sidral Mundet. 
Vanilla Coca-Cola (Australia)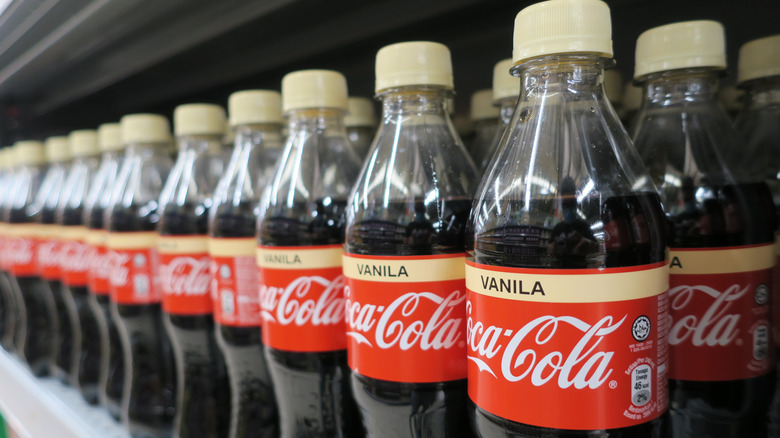 IZWAN IS/Shutterstock
For those who like their soda extra sweet, Vanilla Coca-Cola more than delivers. This soft drink has a smooth, sugary taste similar to an ice cream float. U.S. consumers are no strangers to this beverage, but it's uncommon in McDonald's restaurants. Diners were once able to find this soda variety via Coca-Cola Freestyle machines in select locations, along with many other soda flavors. Unfortunately, the COVID-19 pandemic led the chain to phase out most of these machines and other self-serve fountain drink options in 2020. 
Luckily for patrons in Australia, they can enjoy this delicious fountain drink anytime they visit a McDonald's — or "Macca's," as residents call it. However, it may not be around forever. According to 7News, McDonald's Australia removed the original Sprite from its menu thanks to growing consumer interest in other zero-sugar sodas like Sprite No Sugar. If this trend continues, the chain may swap out other sodas for their sugar-free counterparts, including Vanilla Coca-Cola. Given the social media turmoil after McDonald's dropped regular Sprite, patrons will likely be upset if this unique Coca-Cola flavor disappears.  
Fanta Guarana (Brazil)
Guarana is a fruit commonly grown in Brazil that has earned a somewhat controversial reputation. It is on the NCAA Banned Substance list because of its stimulant properties, which the organization ruled could give college athletes an unfair advantage during competitions. Nevertheless, guarana extract is a common additive in many energy drinks and weight loss supplements. Due to its popularity in its native Brazil, this caffeine-containing fruit has also found its way into the country's popular soft drinks, many of which feature the flavor front and center. 
Among these soft drinks is Fanta Guarana, a soda that is most commonly sold in Brazil. This soda was launched in 2017 and is unique because it contains only Amazon rainforest-sourced guarana. One Reddit user compares the beverage's sweetness level to strawberries or pineapple, with a taste that is difficult to compare to other sodas. To enjoy Fanta Guarana as a fountain drink, Brazilian fast food lovers can visit their local McDonald's, where it is available in three sizes. As in many other countries, Brazilian McDonald's restaurants also offer Sprite Zero, original Coca-Cola, and Fanta Orange.
Fruitopia Strawberry Passion Awareness (Canada)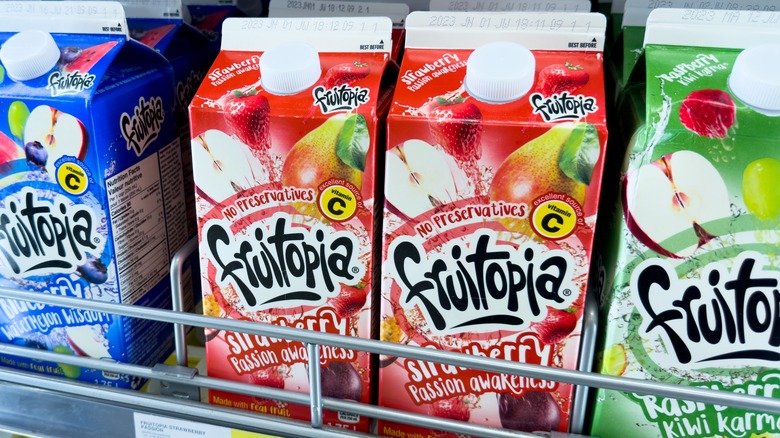 The Image Party/Shutterstock
In the U.S., those who grew up in the 1990s may remember Fruitopia juice for its unique flavor names and vivid, kid-friendly colors. When it first launched in 1994, the drink made Time magazine's list of the year's best new products and appeared on the McDonald's menu soon after its release. However, the highly competitive fruit-based drinks market can be fickle, and Fruitopia eventually fell victim to decreased sales. Coca-Cola finally decided to discontinue the brand in the U.S. by 2003, renaming four flavors and incorporating them into the more successful Minute Maid line of products. 
Although it has been two decades since this announcement, Fruitopia still lives on in Canada and is even available as a McDonald's fountain drink. The chain's Canadian menu includes Strawberry Passion Awareness, which combines strawberry, passionfruit, and other fruit flavors. However, Canadian diners who want a little variety can also enjoy the Orange Groove flavor. As for U.S. McDonald's patrons, we are left with only our nostalgia for this once-beloved fountain drink. Americans looking for a fruit-flavored, non-carbonated drink with their McDonald's meal can reach for Hi-C Orange Lavaburst, but it's just not the same as Fruitopia.