This Chinese Recipe Is A Flavorful, Boozy Alternative To Boring Hard-Boiled Eggs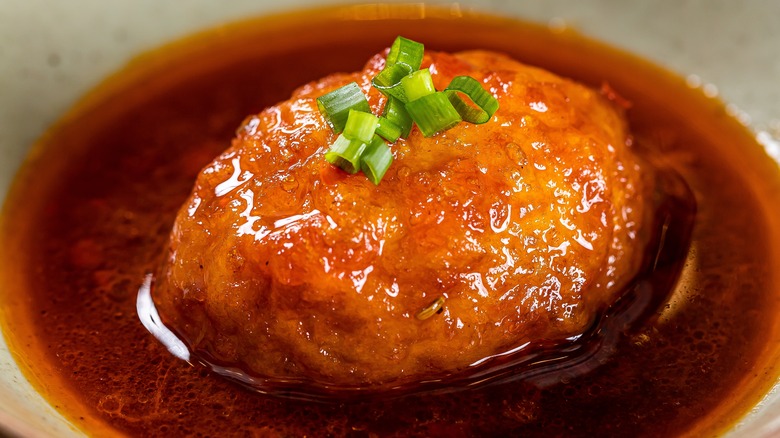 xiaoxiao9119/Shutterstock
Have you ever considered the culinary magic you can create by deep-frying a hard-boiled egg? Throughout Asia, this is a common way to enjoy eggs while infusing them with a crispy texture and endless savoriness. Dishes like Thailand's son-in-law eggs and Indonesia's telur balado also use this cooking technique, which works because of the egg's ability to absorb both oil and flavors. After learning about this egg-frying tip, you'll wave goodbye to those average salt and pepper-topped hard-boiled eggs.
In China, one popular recipe calls for you to fry the eggs and then cook them in a broth saturated with umami-tasting sauces and pungent herbs: a delicacy known as tiger skin eggs. Named for their golden, distinctly striped markings after being fried, these eggs are rumored to have been a favorite dish of the Ming Dynasty's first emperor, Zhu Yuanzhang. Today, a popular way to enjoy tiger skin eggs is with a can of Coca-Cola. However, instead of washing your eggy snack down with the soft drink, you douse them in it. Dumping a can of it into the pan adds a sweet flavor profile that makes it an especially popular meal with kids.
There are many recipe variations of this Chinese home cooking and street food staple, but if you'd prefer to swap out the Coke for something a little more boozy, adding beer is the secret.
How to make beer-infused tiger skin eggs
Crack open your favorite beer, because you'll be adding a full can of it to your wok for this recipe posted to TikTok by creator Jason Ortynski of Jort's Kitchen. In the video, he shares his own reimagined, beer-laced version of tiger skin eggs.
@jortskitchen

Why isn't this more popular? 🥚🌶️ This recipe is called "tiger eggs" and it's a method for eggs in China and delicious! The egg gets a skin after frying that holds into sauce really well. You can use any sauce you like, but this one is perfection. Recipe: 🔸6-8 hard boiled eggs 🔹1/2 cup soy sauce 🔸1/3 cup mirin 🔹1/3 cup rice vinegar 🔸1 1/2 tbsp gochujang 🔹4 diced Thai chilis 🔸4 diced garlic cloves 🔹1 full can of beer 🔸2 tbsp sugar 🔹Salt to taste #eggs #fyp #trending #easyrecipe #easyrecipes #chinesefood #foodtok #recipesoftiktok #foodtok
One key takeaway from this video is the slicing technique used on the eggs after they are hard-boiled. Making several shallow, length-wise cuts all around the eggs is necessary to prevent the egg from exploding in the pan, by allowing steam to escape after reaching high heat levels. This is also a great way to ensure the eggs soak up all the ingredients you'll be adding. Ortynski's tiger skin eggs are fried in oil, then coated in mirin, soy sauce, rice vinegar, and a spicy Korean paste called gochujang. If you haven't been to your local H-Mart to stock your pantry with some of these particular add-ins, a simpler combo you might try is soy sauce and oyster sauce. Fry them on all sides in 3-4 tablespoons of oil until the eggs develop their signature golden exterior, then add your sauces.
Toss in spices like ginger, diced Thai chilis, and garlic before choosing a type of beer to cook with, and pour the whole can in. On medium heat, add a pinch of salt and sugar while the sauce thickens, and top with sesame seeds and scallions. Now you've got some boozy tiger skin eggs fit for an emperor.