The Most Popular Grocery Store Items Of 2023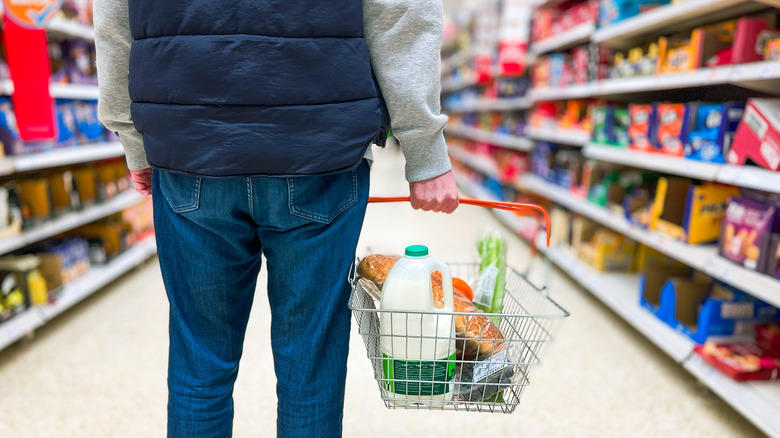 Coldsnowstorm/Getty Images
You likely noticed your grocery bill increased to some degree over the last few years. Starting with the pandemic, wide-ranging factors such as supply chain issues and the avian flu impacted grocery prices from 2020 on. Luckily, as of early summer 2023, the White House reported that grocery inflation is cooling, which may give you a little more wiggle room on your shopping list and more extra cash to indulge in trendy grocery items that aren't necessities. That said, necessity has still highly impacted grocery shopping habits this year, as can be seen in the items that graced shoppers' carts most frequently. Not surprisingly, staple food items like bread and milk took top spots on the grocery list for many households.
Beyond necessity, though, other factors that have impacted the most popular grocery store items of 2023 thus far have included convenience, evolving health habits, and climate and environmental concerns. Each shopper's grocery list is bound to vary, but there are undoubtedly some items that all of us tend to grab from one week to the next. Do your grocery habits fall in line with the rest of the country?
Vegetarian or vegan options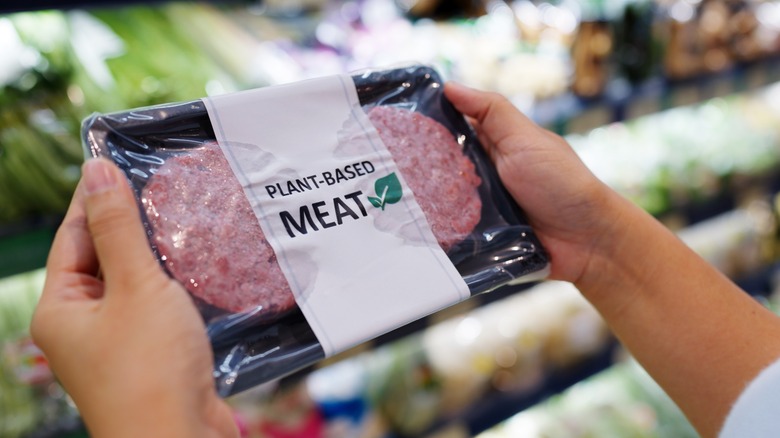 Chay_Tee/Shutterstock
There's no need to be a full-time vegetarian or vegan to enjoy abstaining from animal products and animal byproducts every once in a while. According to The Hill, as of 2022, vegetarianism is the most popular it's ever been, and more households are choosing to go meat and dairy-free on a more casual basis, too, with studies finding that about three-fifths of Americans eschew meat temporarily on a regular basis, if not altogether. It's easier to do so now than it used to be, thanks to the wealth of plant-based meat alternatives both in the grocery store and at your favorite fast-food chains.
All of these factors taken into consideration, it's no surprise that vegetarian and vegan options proved exceptionally popular at grocery stores this year. Research has found that nearly 30% of American grocery shoppers are actively reducing how much meat they eat, while almost 20% are doing the same when it comes to dairy products. A survey from the International Food Information Council further found that one-fifth of Americans eat meat alternatives on a weekly basis, while 22% eat meat alternatives on a daily basis.
Sustainable foods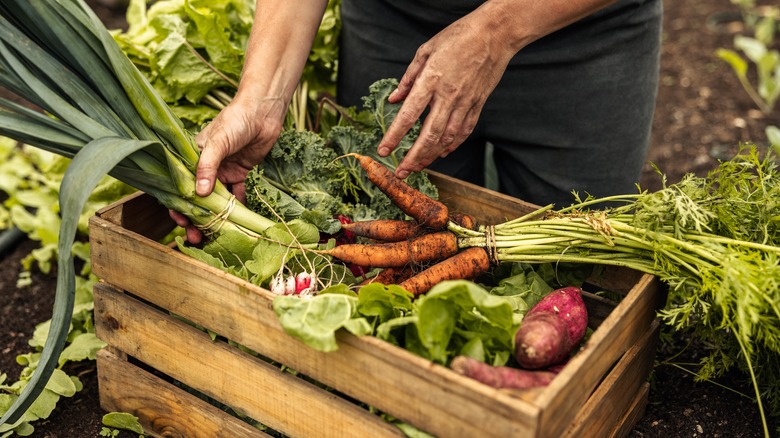 Jacob Lund/Shutterstock
As the Earth's population grows, so does the need for food production. The sustainability (or lack thereof) of the world's food system is a far-reaching issue. As the International Monetary Fund pointed out, current food systems produce about 25% of the world's man-made greenhouse gas emissions, and that number is expected to double by 2050. Meanwhile, climate change negatively impacts food production in a cyclical pattern; food loss is rampant, and nearly 10% of the world's population goes hungry each day.
Luckily, both grocery shoppers and grocers are taking notice. Reports have found that sustainability is a top concern for grocers in 2023, with more than half of shoppers noting grocery stores' sustainability impacts when they choose where to shop. Additionally, nearly 40% of shoppers say they'll pay about 20% more for sustainable grocery items. Likewise, a 2022 survey found that more than half of shoppers are more likely to buy grocery items that advertise a brand's sustainability efforts. In 2022, sustainable food grew into a $2 trillion industry.
Bananas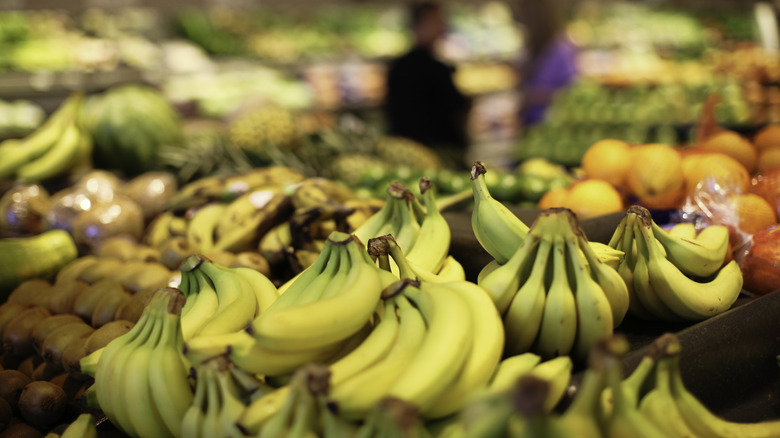 Instants/Getty Images
What's the one thing that ends up in more carts than any other food? Well, when it comes to items delivered by grocery delivery service provider Instacart, that would be bananas. In early 2023, Instacart announced that it had passed a monumental milestone, delivering one billion bananas total to its customers. Additionally, the brand noted that bananas have remained Instacart's most in-demand grocery item for more than a decade and that bananas are included in about 25% of all Instacart orders, though that number differs by state. The state with the highest number of orders including bananas is Iowa. If you're having trouble imagining just how many bananas a billion bananas are, it's apparently enough to form a banana stack that's more than 24,000-times taller than Mt. Everest.
Even if you don't buy your bananas on Instacart, though, bananas are still big business. According to Reader's Digest, in 2021, the United States imported $2.8 billion-worth of bananas, more than any other country in the world. And considering just how many delicious banana recipes there are, we can't say we're that surprised by this.
Throwback foods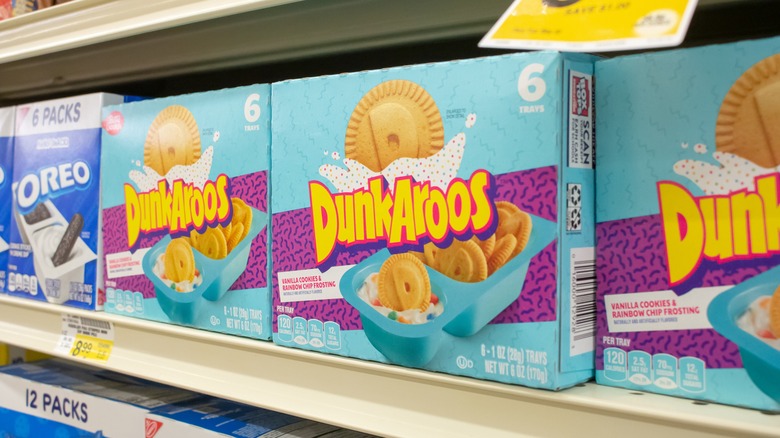 The Image Party/Shutterstock
Across shopping patterns overall, experts have found that shoppers crave nostalgia when it comes to new purchases. While your exact brand of nostalgia will differ according to your generation, no one can deny that the '90s are currently back in a big way. However, '90s throwback style doesn't stop with fashion — it also extends to food. Throwback foods are extra popular with grocery shoppers at the moment, and it's easier than ever to find childhood-favorite snacks in stores.
Nostalgic foods that made their way back to store shelves in recent history include General Mills' monster-themed cereals like Count Chocula and Franken Berry, Smucker's Uncrustables, Dunkaroos, Doritos 3D chips, Oreo Cakesters, and a range of snack cakes. However, Winsight Grocery Business noted that today's grocery shoppers aren't always settling for the exact same foods they remember from childhood. Some are demanding upgrades to nostalgic grocery items, so that they better align with their adulthood health and nutrition goals — think lower-calorie and organic ice cream sandwiches or probiotic sodas.
Rotisserie chicken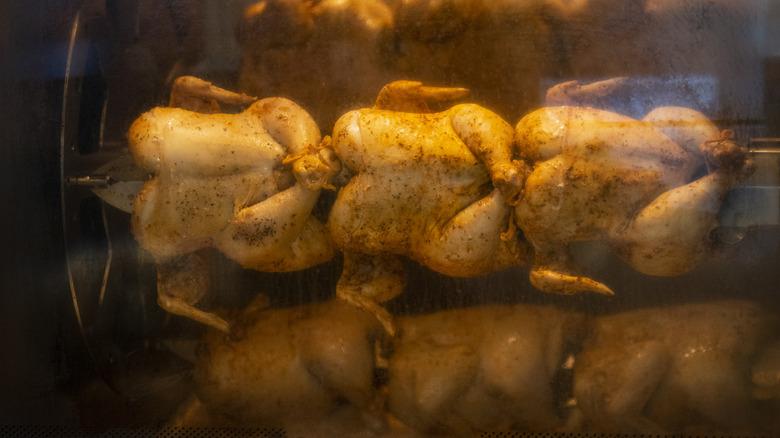 Bloomberg/Getty Images
If there's one item that you can buy in the grocery store that's ultra-convenient, it's a rotisserie chicken. Hot, delicious, and ready to go, you can eat it as is, add it to your favorite recipes, or hold onto the leftovers for other meals later in the week, and all for just a few dollars. Shoppers seem to love rotisserie chickens more than ever now, too. In 2022, Costco sold 117 million of its famed rotisserie chickens — an increase of more than 10 million from the previous year.
Why are rotisserie chickens so popular at the moment? As CNN reported, during multiple years of grocery prices continuously rising, rotisserie chickens are one of the only grocery items to consistently stay the same price, as stores use the (sometimes completely unprofitable) chickens to get customers in the doors and buying other, more profitable items. However, while Costco's rotisserie chickens may be a hot commodity, you can actually find a cheaper rotisserie chicken if you head to Costco competitor Sam's Club, where the chain sells the cheapest rotisserie chicken on the market.
Non-alcoholic beverages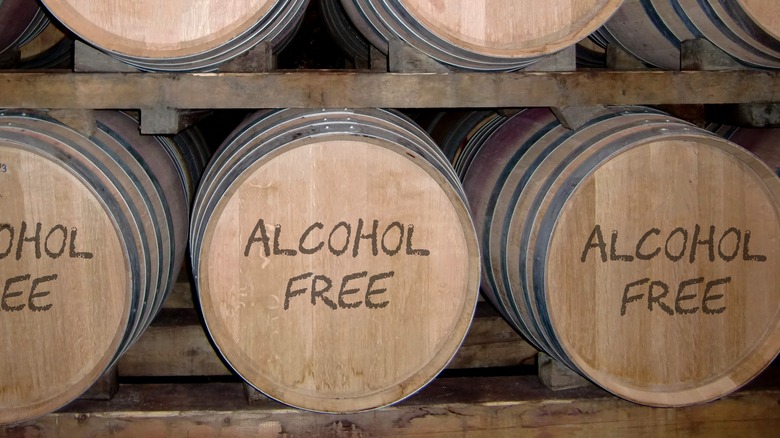 No-Mad/Shutterstock
With the sober-curious movement growing and more alcohol consumers stating that they would like to limit their consumption for myriad reasons, more non-alcoholic beverages are coming onto the market and finding their way into shoppers' carts. According to Nielsen IQ, between late 2021 and late 2022, non-alcoholic drink sales grew by more than 20%, pushing non-alcoholic beverages into a nearly $400 million industry. The most popular non-alcoholic beverage by far was non-alcoholic beer, followed by non-alcoholic wine, and, lastly, non-alcoholic spirits. Altogether, these non-alcoholic beverage sales are minimal compared to overall alcohol sales, but sales continue to grow, year after year, nearly doubling since 2018.
However, while non-alcoholic beverages are gaining traction and proving more popular than ever, shoppers hold these beverages to high standards. Research found that most sober-curious shoppers feel non-alcoholic beverages should taste exactly like their alcoholic counterparts, but they also feel that the non-alcoholic beverages should be cheaper than alcoholic beverages.
Instant noodles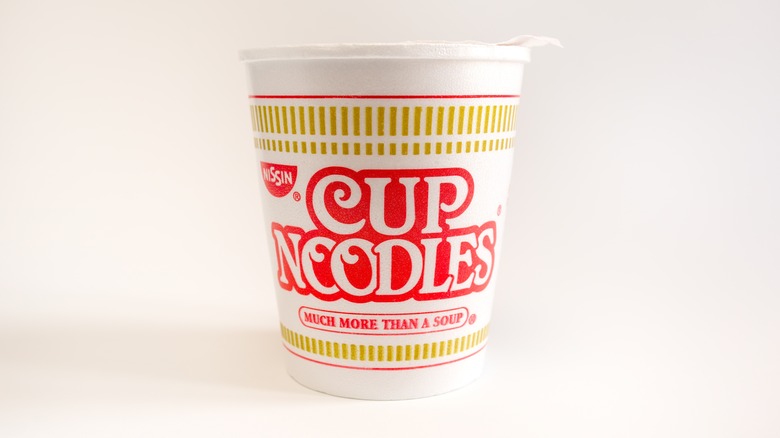 blueberry_pancakes/Shutterstock
For grocery shoppers in search of a dinner solution that's both convenient and affordable, instant noodles pulled through during the past year. While there was an initial ramen boom at the start of the Covid-19 pandemic (with Walmart's online ramen sales increasing by nearly 600% between February and March 2020 according to Bloomberg), the love for ramen continues to grow.
In the last part of 2022, Nissin, parent company of ramen brands Cup Noodles and Top Ramen, reported more than a 40% increase in year-over-year sales. The maker credited its unique offerings (Nissin has recently introduced everything from breakfast-flavored noodles to pumpkin spice-flavored noodles) and healthier options for the continued popularity. Overall, the global instant noodle market, in 2021, was calculated at $51 billion, with estimates that the market would grow to $81 billion by 2029. The estimation from Fortune Business Insights is based on the continued need for affordable and convenient foods in light of consumers' limited budgets and busy schedules.
Breakfast cereal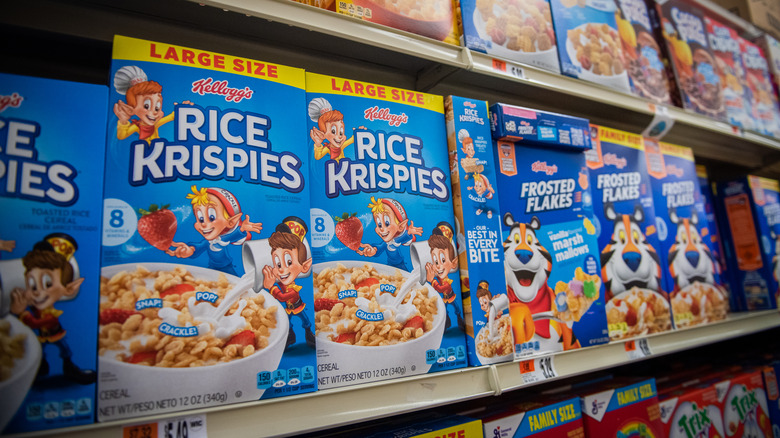 Bloomberg/Getty Images
It should come as no surprise that breakfast cereals were one of the most popular grocery store items of 2022, and that status is carrying on into 2023. After all, just about every household has at least one box of cereal in the pantry. Mintel reported that, in 2022, the overall U.S. cereal industry celebrated double-digit growth and that growth is expected to continue throughout this year. Mintel credited the food's accessibility, value, and convenience for its popularity.
Despite the continued popularity, though, there is some room for improvement. Mintel's research found that more than half of shoppers would like to buy breakfast cereal that comes in a resealable package. We've all probably dealt with a bag of Cheerios gone stale before its time because someone didn't close it properly. Additionally, nearly half of shoppers indicated they would like the cereal industry to move toward more sustainable packaging. A similar report from Expert Market Research found that more shoppers are looking for organic and "natural" cereals, and that they're continuing to put health needs first by looking for high-fiber and high-protein cereals.
Milk and dairy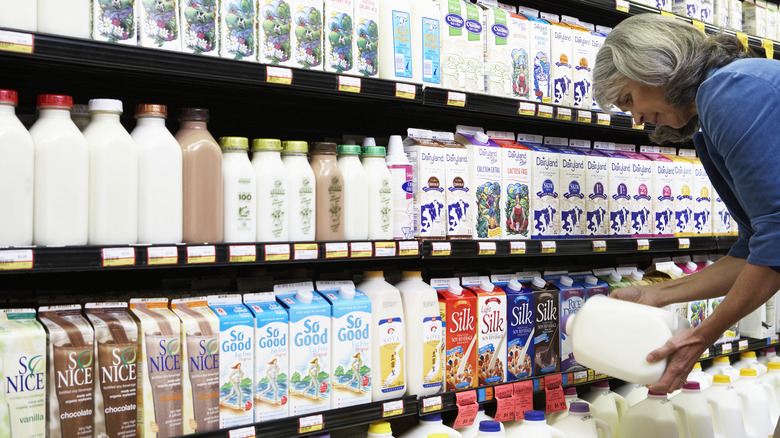 Noel Hendrickson/Getty Images
Despite more consumers looking for vegan options this year, plenty of others are still buying that weekly carton of milk during their grocery run. Milk is a top-selling grocery item for this year and, as of late 2022, overall dairy sales were up 20%, according to the International Dairy Deli Bakery Association. Dairy prices rose heavily in 2022, with prices increasing in the dairy category much more so than they did in many other grocery categories. From 2021 to 2022, milk rose in cost by over 11%. Why the continued demand despite the increased cost? One International Dairy Deli Bakery Association official told Supermarket News that it all comes down to consumers' love for dairy and how often dairy is used across all meals.
Milk and dairy don't come without their challengers, though. Dairy alternatives are expected to become increasingly popular throughout the next four years, with the dairy alternatives market nearly doubling in value between 2022 and 2027 thanks to environmental and health concerns, as well as demands from lactose-intolerant shoppers.
Pasture-raised and grass-fed meat and eggs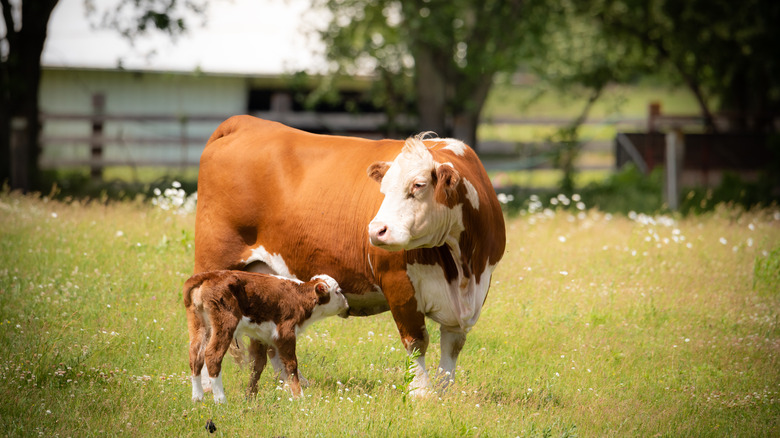 Debra Anderson/Shutterstock
Going hand in hand with the increase in consumer interest in sustainable foods, grass-fed and pasture-raised meat and eggs are also getting more attention. Pasture raising is typically seen as more sustainable than traditional factory farming methods and that pasture-raised meat and eggs are typically viewed as healthier than factory farmed products. Not sure about the difference between pasture-raised and grass-fed? "Grass-fed" means the animal eats grass or hay its entire life; "pasture-raised" means the animal eats grass or hay on an actual pasture for at least 120 days of the year.
The growth of pasture-raised and grass-fed meat and eggs' popularity, though, is nothing new. In 2016, the American Pastured Poultry Producers Association reported that pasture raising was growing in popularity among poultry farmers, if not consumers. By the end of 2020, organic grass-fed meat sales had risen significantly in response to the Covid-19 pandemic, according to Supermarket Perimeter, which noted that demand was outpacing supply at the time. Between 2020 and 2021, the U.S. grass-fed beef market rose by 5% and that growth continued into 2022.
Deli-prepared foods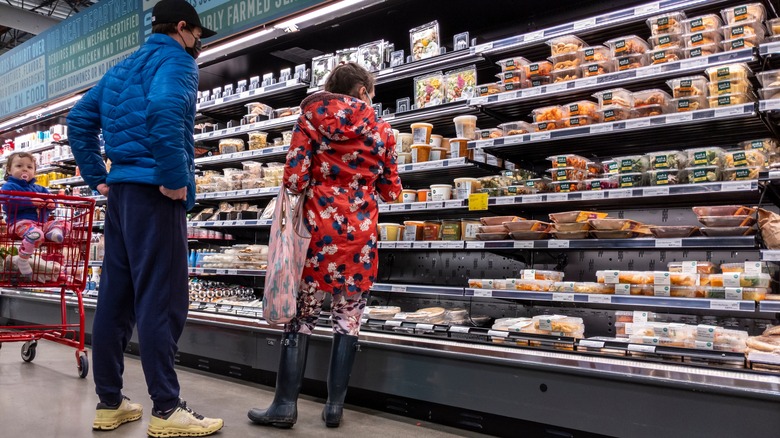 Colleen Michaels/Shutterstock
The deli-prepared foods category typically includes heat-and-eat or cold items that you would purchase in a store's ready-to-eat or deli section. As is the case with so many of the year's most popular grocery store items, these foods have become increasingly popular with shoppers seeking convenience over all else. As such, grocery store refrigerated entrée sales have risen more than 30% since 2021.
Today's consumers, though, aren't just looking for a prepped, semi-fresh soup, pizza, or side dishes that they can simply heat in the oven or on the stovetop for a quick dinner. Instead, roughly 60% of shoppers specifically want healthier deli-prepared food options. Some are even happy to spend a little extra time prepping their deli-prepared foods, whether that be via stir-frying or with a sous vide setup. Additionally, it's expected that deli-prepared foods that feature international flavors will perform particularly well in the coming years. 
Bread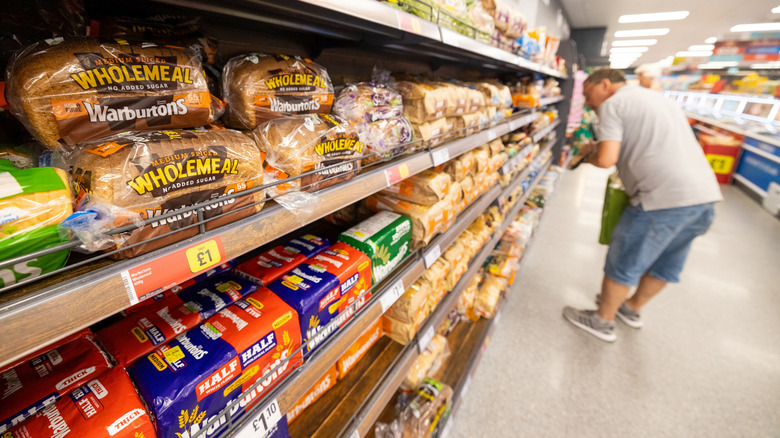 Bloomberg/Getty Images
There are just a few grocery items that you pick up each and every time you're at the store — the types of items that you specifically stock up on when you think you won't be able to get to the supermarket in a while — like bread. It's no surprise bread is currently a most-popular, top-selling grocery item. However, in terms of market growth, it's not your plain-Jane loaf of white bread that's performed best this year. Instead, specialty and healthful breads are taking the spotlight.
Reports show that top-performing bread options at the end of last year included ciabatta and focaccia, and that consumers are looking for specific types of bread including organic, non-GMO, and gluten-free. Additionally, brands are delivering with "clean" bread options made with minimal, recognizable ingredients, as well as fortified and veggie-packed breads. Bread isn't the only bakery item gaining traction, though. As of January 2023, bakery items such as cookies, croissants, and cakes were all performing positively, with overall sales growth.
Chips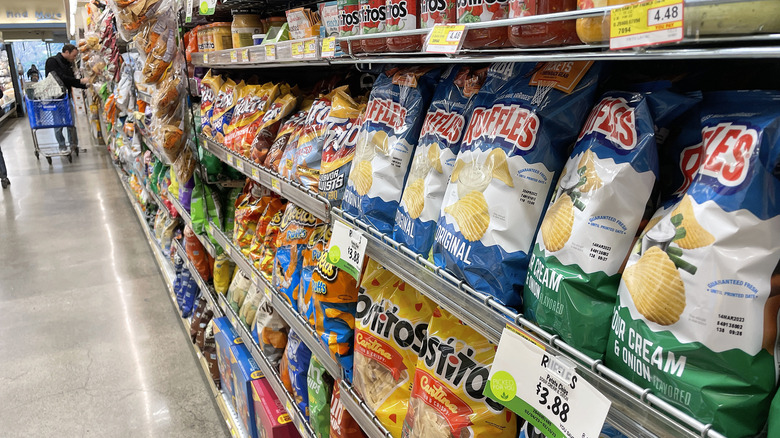 Justin Sullivan/Getty Images
Potato and corn chips are a consistent most-popular grocery choice, but some chips are more popular than others. The Kantar Brand Footprint report lists the most-chosen brands at grocery stores around the world, across a range of food items. Among the top, most-chosen brands for 2023 are two chip brands: Lay's — the fourth most-chosen brand overall — and Doritos — the 24th most-chosen brand overall. While Lay's can lean on its classic, all-American appeal, Doritos stands to further its popularity this year as it taps into the ever-growing nostalgic foods trend by giving 3D Doritos fans a new flavor sure to appeal to every grocery shopper's inner child – nacho cheese.
Otherwise, it seems like the Lay's Classic Potato Chip recall that occurred in May 2023 hardly impacted the brand's popularity. The recall affected several New England states and was issued due to "undeclared milk ingredients" that could have proved life-threatening for those with milk allergies.
Soda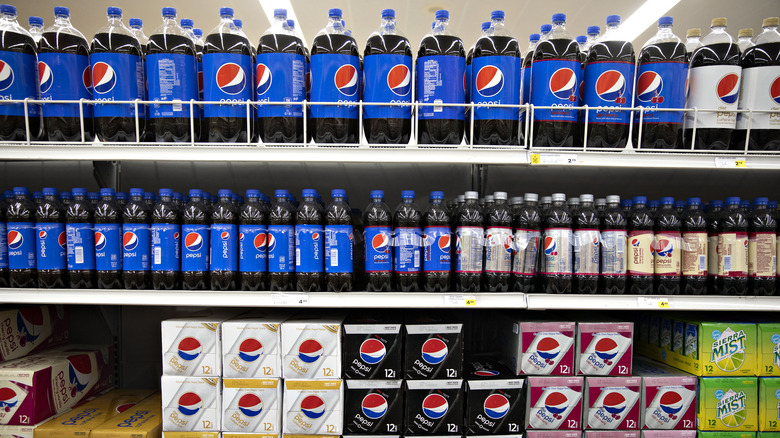 Bloomberg/Getty Images
Another non-surprise among the most-popular grocery items? Soda. It's one of those items that many people grab a couple cases of whenever a get-together rolls around. In fact, the Kantar Brand Footprint report, which ranks brands you'll find at grocery stores all over the world by their popularity, lists several soda brands among its top, overall grocery store items. The rankings are based on brands' CRP (consumer reach point) performances and number of times they are chosen by consumers. In first place: Coca-Cola. Pepsi came in fifth place, while Mountain Dew came in at 18th and Sprite came in at 19th.
While these brands remain supremely popular, though, consumers aren't interested in just any ol' soda. Recent research shows that more people want low or zero-calorie carbonated beverages, as consumers are increasingly concerned about the negative ways soda can impact their health. To address this, some brands are now infusing their carbonated beverages with vitamins, prebiotics, or probiotics, and some are focusing less on carbonated beverages like soda and more on healthful beverages like tea.