What McDonald's Standalone McCafe Coffeehouses Are Really Like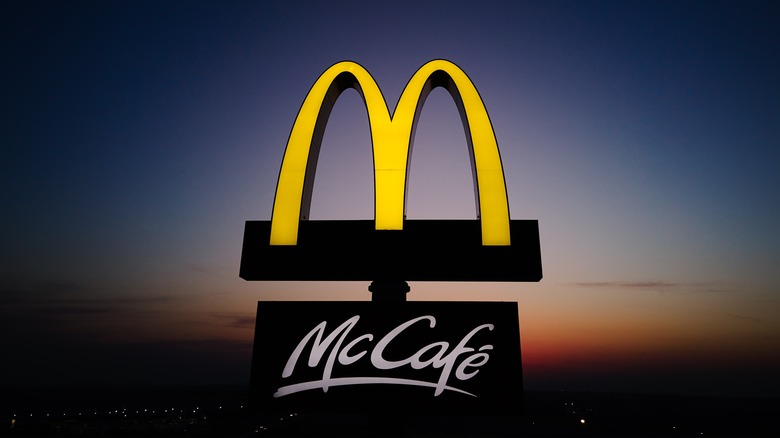 Lazy_Bear/Shutterstock
Coffee is one thing that'll never go out of style, and McDonald's is finally catching up to the latest trends. While McDonald's has long been known for its burgers and fries, it upped its stance in the coffee game in 1993. That's when the fast food company opened its very first standalone coffeehouse in Australia, which it deemed the McCafé. Since then, standalone McCafé coffeehouses have gone through a rollercoaster of business ups and downs. Even then, McCafé still manages to stand high in a sea of Starbucks, Dunkin', and Tim Hortons locations that are now seemingly everywhere. Curious to know what these spots are really like? Don't worry, as we've got the beans behind the scenes. 
From its modern and cozy ambiance all the way down to what it's really like to work as a barista behind the McCafé counter, there's a lot you don't know about McDonald's coffee and its standalone McCafé coffeehouses. Luckily, you're in for a magnifying reveal. McCafé is here to shake up your perception of what a fast food giant can bring to the coffee experience. Here's what McDonald's standalone McCafé coffeehouses are really like. 
The origins of McCafé coffee shops are in Australia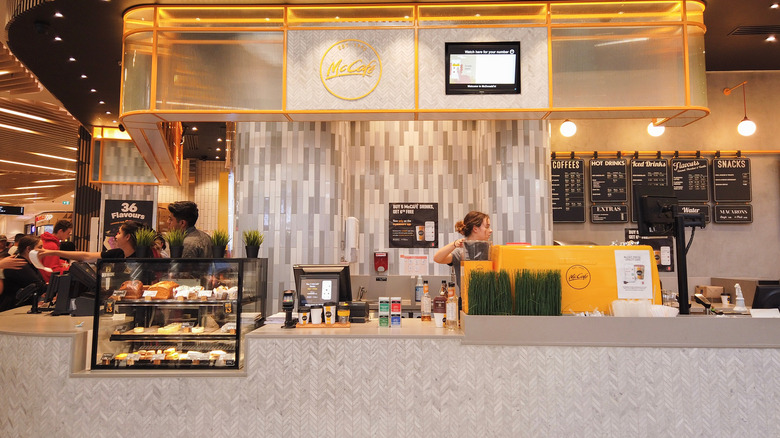 Mohd Syis Zulkipli/Shutterstock
The '90s were a time of coffee-fueled fervor in Australia, with freshly-brewed blends tantalizing coffee lovers around the country. In 1993, McDonald's found a way to tap into that energy by introducing a standalone McCafé coffeehouse. It was the fast food giant's caffeinated answer to the growing demand for high-quality coffee in the market. Australia was just the beginning. As Alan Feldman, the then-president of McDonald's, explained to Entrepreneur in 2001, "We are aggressively looking for ways to grow our business under the Golden Arches, and McCafé gives customers another reason to visit McDonald's."
That reason spread quickly, and soon McCafé shops opened in 17 countries and almost 300 locations worldwide. Things didn't stop there, of course. By 2018, the McCafé reach included 26 markets in Europe, with an estimated 850 units in Germany alone (via Statista). As of 2023, McCafé serves up more than 630,000 cups of coffee daily. Talk about dedication! While standalone McCafés have had varying levels of success in other markets, Australia was where things really began to blossom. 
As Lancy Huynh, brand manager for McCafé Australia told Franchise Executives, McCafé is an independent brand that was "created by coffee lovers for coffee lovers." The chain operates independently within the McDonald's system, allowing it to forge its own identity in the world of coffee. This independence has led to quite a success as McCafé is one of the biggest coffee chains in Australia as of 2023.
It creates a modern and cozy ambiance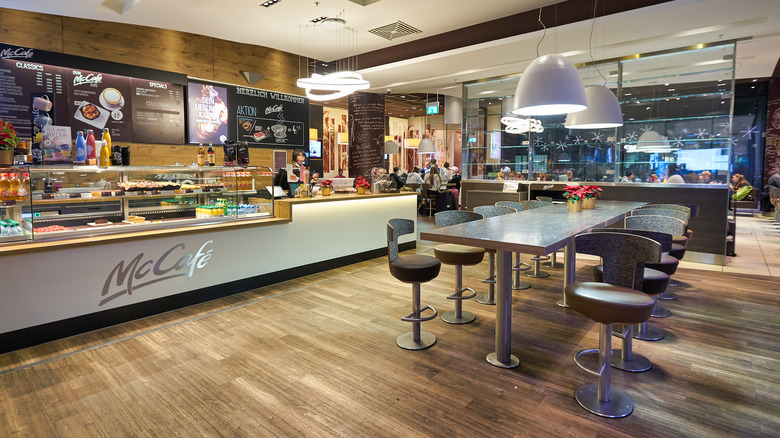 Sorbis/Shutterstock
Drawing its design inspiration from the European roots of coffee shops, McCafé is committed to creating a refined and elevated coffee experience, challenging Starbucks by offering a space that's both visually appealing and relaxing. Whether you're seeking a cozy corner to curl up in with a book, want to catch up with friends over a steaming cup of coffee, or wish to quietly contemplate life's moments, McCafé might be able to provide that setting. That's because the ambiance at any given McCafé location has been crafted to create a cozy experience, with warm color schemes and neutral tones dominating the visuals. 
Comfortable seating arrangements also add to the ambiance. Like in most coffee shops, the seating is arranged to create zones within the cafe, with larger tables for groups or meetings and smaller ones for solo customers. Some McCafés also feature more unique decorations that include vintage French posters, lace curtains, and mahogany and granite accents that add additional character and charm.
The McCafé menu forgoes burgers and fries for cafe chic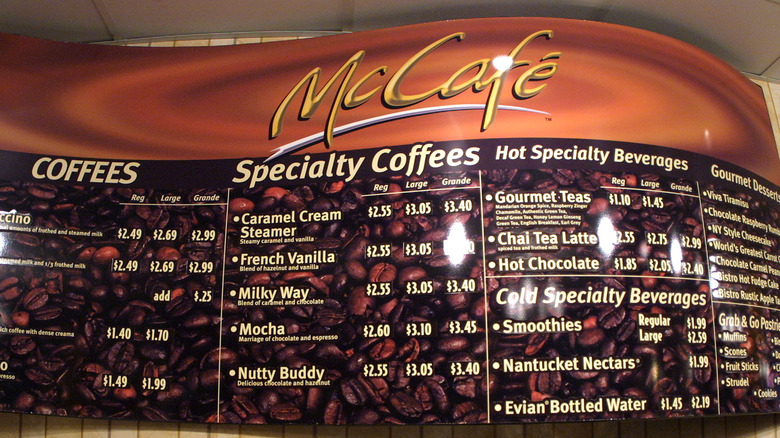 Tim Boyle/Getty Images
While McDonald's has become well known for its Big Mac and fries, that wasn't going to cut it in the chain's standalone coffee houses. In 2015, McDonald's Canada began testing a new concept: McCafé locations that served health-focused foods, including salads made with ingredients like quinoa and kale. According to John Betts, then the President and CEO of McDonald's Canada, the goal was to create a standalone cafe destination that would offer a complete menu customers had been asking for. As Betts told Business Insider, the coffeehouses' menu would allow McDonald's to "build on our strong coffee credentials and create even stronger connections with our brand." 
The menu at the McCafé locations included quinoa edamame mandarin salad and a kale and Brussels sprouts salad served with mixed veggies. The cafes also offered classic grilled cheese on stoneground multi-grain bread, an apple and brie croissant with honey, and pastries and desserts like the chain's Apple Fritter, consistent with the classic McCafé menu. Additionally, when it comes to coffee, expect the classics with a McDonald's twist. The brand has put significant effort into building its coffee credibility, and in addition to serving hot coffee, it offers espresso-based beverages, real fruit smoothies, and iced coffee drinks.
The quality of the coffee and the food is pretty decent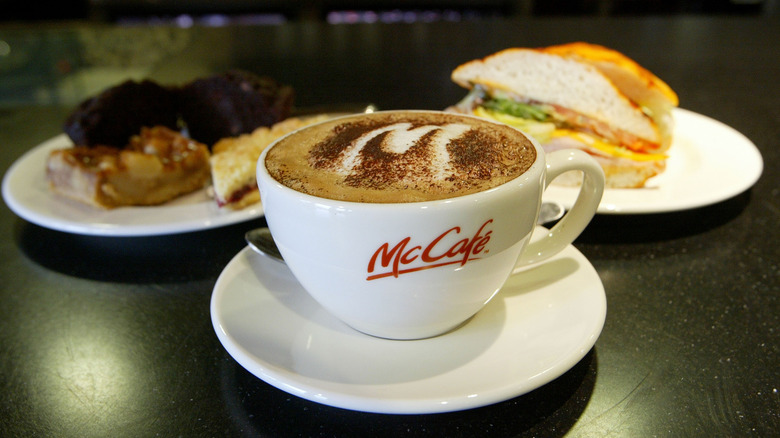 Justin Sullivan/Getty Images
When it comes to the food, the coffee, and everything else offered with the McCafé package, reviews often note that the McCafés are worth a visit. As one Redditor wrote, "I've always preferred their coffee over Timmy's," though quite a few commenters were more excited about the all-day Egg McMuffins that are served up at their local McCafé spots. Another user is especially happy about the consistency of visiting a McCafé spot, saying, "The cup I buy today tastes exactly like the one I got yesterday and exactly like the one I'll get tomorrow." 
Over on TripAdvisor, customers have generally positive thoughts about McCafé at Union Station in Toronto. One customer mentioned that "Great coffee and surprisingly good grilled cheese sandwiches!" Another reviewer commended the busy staff for their exceptional customer service, stating, "The manager was actively involved" and ensured everything went smoothly. This positive feedback suggests that the coffee and food, along with the service, were more than up to the customers' expectations.
McCafé tried and failed to make it in the US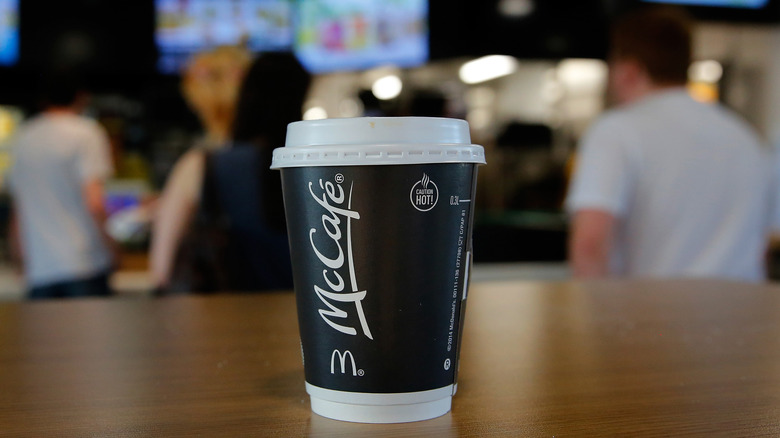 Bloomberg/Getty Images
McDonald's attempted to introduce the McCafé concept in the United States with a standalone shop in 2001 in Chicago. The intention was to diversify the company's offerings and find new sources of growth, but it just wasn't successful despite the success of the McCafé concept in other markets, such as Australia and Canada. What went wrong? While McDonald's had achieved significant growth overseas, its expansion in the United States had hit a saturation point. The upscale McCafé concept was meant to get McDonald's into the coffee market, but it soon became clear that there were challenges to overcome.
Overall, McDonald's brand identity in the U.S. was a hindrance to the success of the McCafé concept. The Motley Fool expressed skepticism about the effectiveness of McDonald's brand in the new coffee market, and especially whether Americans would accept the McCafé concept considering the larger chain's rather firm footing in fast food fare and cheap convenience. Ultimately, McDonald's chose to focus on integrating the McCafé brand within its existing U.S. McDonald's locations rather than creating standalone coffee shops.
McDonald's plans to expand its McCafé coffee shops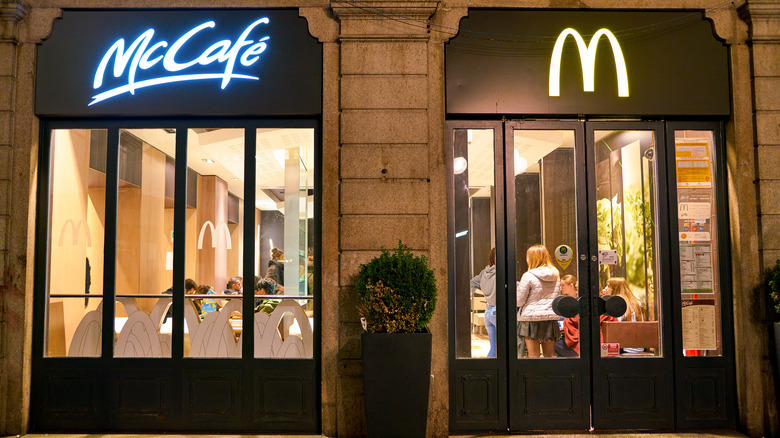 Sorbis/Shutterstock
McDonald's is taking significant strides to expand its McCafé chain both in China and Europe, as coffee continues to gain popularity in these regions. As of 2020, the company planned to invest 2.5 billion yuan (or about USD $381 million) to ensure that every McDonald's outlet in China has a McCafé, with a goal of opening 4,000 in-store café locations on the Chinese mainland by the end of 2023.
In Europe, McDonald's is targeting Starbucks' position as the top coffee chain by opening standalone McCafé locations in existing restaurant franchises, a cost-effective approach that allows the company to undercut competitors on price. By 2009, European franchisees reaped the benefits of the addition of a McCafé, with reports indicating that store revenues can jump a rather staggering 20% to 25% after adding a new café. In France in 2022, McCafé had become the fastest-growing coffee chain in the nation. With its pricing strategy and focus on appealing to women and families with children in particular, McDonald's is set to expand its coffee ambitions even further.
It prides itself on brewing un-snobby coffee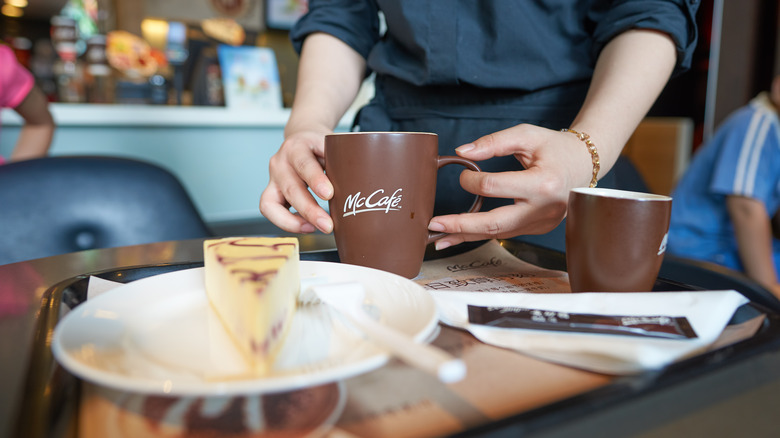 Sorbis/Shutterstock
Making unsnobby coffee has been one of the defining characteristics of McCafé since its inception. In 2008, McCafé launched an ad campaign to challenge the exclusivity often associated with coffee culture. The spots aimed to break down the perception that great coffee had to be expensive or only available in high-end establishments. If anything, this was just another swing at Starbucks. McCafé wanted to emphasize that good quality coffee could be enjoyed by everyone, regardless of their background or budget. These efforts allowed McCafé to create a unique identity by providing high-quality coffee without the accompanying snobbery or high prices.
Despite the fact that they are operated by McDonald's, standalone McCafés continue to distinguish themselves with the same commitment to quality and inclusivity that characterized that original ad campaign. The brand's success in maintaining a distinctive identity has inspired similar initiatives from competitors, but McCafé's ability to differentiate itself continues to provide a significant market advantage.
McCafé uses its own brand of syrups and flavor shots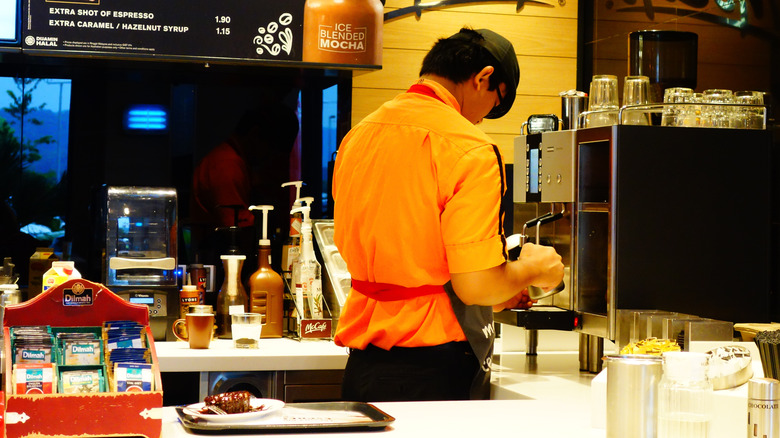 arfa adam/Shutterstock
One of the ways standalone McCafés differentiate themselves and enhance the coffee experience is through their exclusive range of syrups and flavor shots. Unlike other coffee chains that may rely on generic syrups, McCafé offers a dedicated brand of flavors to elevate customers' beverage choices, including signature syrups like French Vanilla, Hazelnut, and Caramel. These unique flavor options allow customers to customize their drinks according to their preferences, providing a personalized touch to their coffee experience.
By creating its unique range of syrups and flavor shots, standalone McCafés add an extra layer of variety and exclusivity to its beverage menu via these proprietary syrups and flavor shots. It can easily help customers to enjoy a truly unique beverage when they visit. This attention to detail not only enhances the overall coffee experience but also reinforces McCafé's commitment to providing a distinct and enjoyable coffee culture that caters to individual taste preferences.
McCafé doesn't roast its beans in house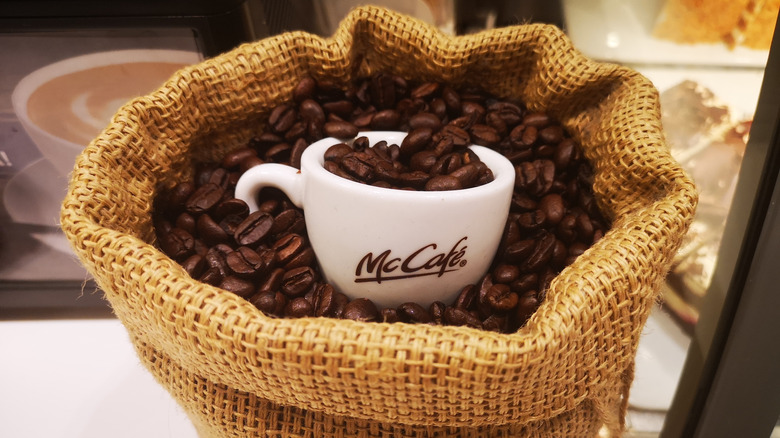 Lady Beautiful/Shutterstock
While McCafé coffeehouse employees don't roast their store's coffee beans in-house, the company still claims to take its coffee seriously. The coffee beans used in McCafé beverages are primarily sourced from Latin America through well-known and generally well-regarded coffee companies like Green Mountain, Newman's Own, Gavina Gourmet, and Seattle's Best. Sourcing coffee beans from reputable suppliers allows McCafé to ensure consistency and quality in its coffee. Additionally, McDonald's has published an interactive map that allows customers to track their coffee beans. This initiative provides McCafé customers with more transparency and reinforces the company's commitment to sourcing high-quality coffee.
When it comes to brewed coffee, McCafé typically uses a medium roast 100% arabica blend. For this option, pre-ground and pre-packaged coffee is used to ensure consistent taste and easy availability. However, when it comes to McCafé's espresso drinks, the story of the beans is a bit different. While the espresso beans aren't roasted in-house, employees do grind the beans fresh for each order McDonald's states that the espresso blend used in its McCafé locations is brewed fresh every 30 minutes. Furthermore, the packages of ground coffee have a special valve that the chain claims will ensure that no flavor is lost during storage.
If you're a McCafé barista, prepare for a fast-paced environment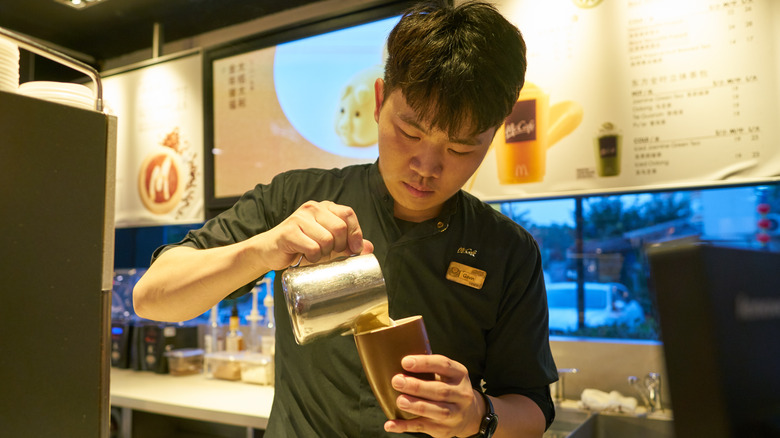 Sorbis/Shutterstock
At McCafé shops, baristas play a vital role in ensuring that customers receive not only quality coffee drinks but an exceptional customer service experience. As one Redditor wrote of their time training at a McCafé, "The training we receive is very thorough, and the managers make sure we're doing everything right, always pushing us to improve and giving us helpful feedback." 
While the work environment can be busy, on Indeed, baristas explained that, at McCafés, they are trained to manage time effectively to maintain the smooth operation of the store, ensuring that hundreds of orders are served promptly. The emphasis on productivity and efficiency can also allow baristas to learn important skills in customer service, time management, and maintaining quality during busy rushes. This also includes the opportunity to gain valuable skills and knowledge in the coffee industry, from understanding the differences between various coffee and espresso drinks to learning specialized brewing techniques. As entry-level positions, barista jobs can serve as stepping stones for anyone who is interested in pursuing a career in the broader hospitality industry or specialty coffee market.