The Best Restaurants That Cook In Front Of You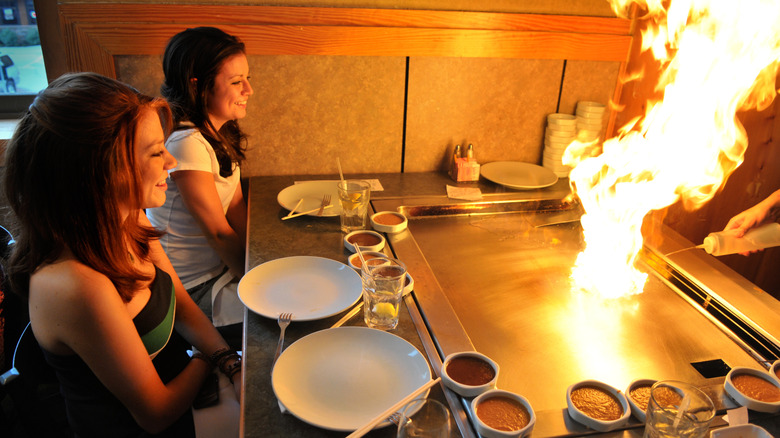 Dlewis33/Getty Images
Let's be honest — while fast food and Chinese takeout have their place; there's a whole world of culinary delights waiting to be explored. From decent places to downright fantastic ones, and then those hidden gems that simply blow you away. We're talking about more than just your average meals — these are the kind of platefuls that transport you to a whole new universe. It's not just about the taste; it's a visual feast as well, with sizzling and flipping right on the grill in front of your eyes. Teppanyaki and Hibachi cooking styles come to mind, and they're spot on.
Dining at a restaurant where your food is cooked right in front of you feels like having a VIP pass to a magic show. You not only witness the origins of every ingredient in your meal, but you also get to experience the entire culinary performance in real-time. It all comes down to two types of food lovers — those who revel in food theatrics and those who prefer a simpler experience. If you're someone who adores having dinner served with a side of entertainment, we've got some real gems to share with you. Sure, Benihana is on our untold list but trust us, there's so much more to discover. So buckle up. We're diving into the best restaurants that offer you a front-row seat to your meal's journey from pan to plate.
Benihana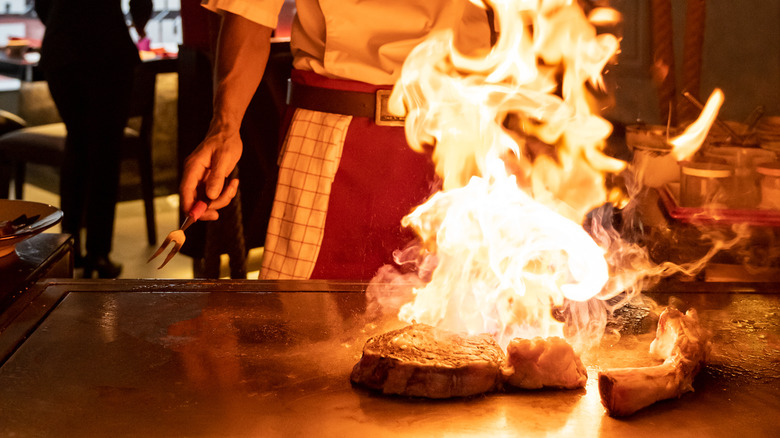 Vichie81/Getty Images
So, you've heard about Benihana, right? If not, let's fill you in. It's this super popular chain of Japanese steakhouses where dinner gets a side of drama. Not the teary soap opera kind but the kind that makes you say, "Wow, did that just happen?" The stars of Benihana's are, without doubt, the charming and talented chefs. They're not just cooks; they're entertainers, magicians, almost. They whirl knives, twirl spatulas, and flip prawns, turning cooking into a full-blown show. You'll feel like you've grabbed front-row tickets to a live cooking performance that's partly a circus act, partly a magic show, and wholly entertaining.
And the menu? It's on another level. We're talking about a spread that goes from yummy spicy hibachi chicken to fancy filet mignon with mushrooms to even fried rice that starts with an all-too-memorable onion "volcano" that blows out steam to a full-fledged flavorful rice meal. If you're looking for traditional Japanese cuisine, you might want to try it elsewhere. But if you're in for some fun and a little food adventure, then, Benihana's is where the party's at. You'll walk out of there not only with a full stomach but, quite possibly, a cool new party trick to show off too.
Gyu-Kaku
Gyu-Kaku is a place that's bringing Japanese BBQ or "Yakiniku" to the global stage. Gyu-Kaku, translating to "Horn of the Bull" in English, is a haven for foodies, especially those who enjoy an interactive, hands-on dining experience. As the exclusive Japanese barbecue restaurant around the globe, their tables come with a unique feature — a built-in grill for diners to cook their meals to perfection. Their menu is a visual feast of a wide array of meats and dishes. You can cook delicate slices of Toro Beef that simply melt in your mouth. Or get adventurous with the flavor-packed Beef Tongue. And let's not forget the popular Bistro Harami Steak and Garlic Noodles, which are crowd all-time favorites.
Aside from the food, Gyu-Kaku gets high praise on OpenTable for more than just its menu. Their staff is noted for being amiable, contributing to an overall fantastic and welcoming atmosphere. This restaurant is more than just a place to eat; it's a place to gather with friends or family for a unique dining experience filled with laughter, conversation, and unforgettable flavors. So, if you have a penchant for curated culinary adventures and yearn for an immersive dining excursion, Gyu-Kaku's Japanese BBQ is the place to be. You'll walk out with a happy belly and an experience that's nothing short of delicious fun.
Flame
If you're in New York City and on the hunt for a dining experience unlike any other, Flame is where you should head. This premier hibachi restaurant takes your dinner from a meal to a performance. With a chic, yet welcoming decor, it serves a combination of lovely ambiance and culinary expertise that's hard to resist. So, as you take a seat among the city's fast-paced rhythm, you're in for a spectacle to be seen and entertained by. 
With a diverse menu offering Lunch Specials, Brunch Specials, and even Asian Bistro, Flame has a lot to offer. The starters, like Pan Fried Pork Buns, set the bar high. Then, the main courses — think succulent Hibachi New York Strip Steaks and even Hibachi Kiwi Short Ribs — kick the dining experience into high gear. As a sweet ending to your meal, an eye-catching sparkler dessert is perfect, especially for celebrating a special birthday. All in all, Flame offers an engaging, exciting experience, serving up not only delectable dishes but also memories to cherish.
Fire & Ice
Perched in the scenic surroundings of Lake Tahoe, Boston, Anaheim, and soon-to-be San Francisco, Fire & Ice is an interactive grill and bar that redefines the "cooking in front of you experience" for its diners. Their unique approach combines the excitement of cooking with a versatile menu, creating an atmosphere full of lively energy and culinary creativity. Imagine a place where food enthusiasts come together to experience the perfect union of culinary entertainment and flavorful delights — that's the experience Fire & Ice offers at all its locations.
From the moment you arrive, the journey at Fire & Ice is tailored by you. The experience starts with selecting from a diverse array of fresh ingredients encompassing a wide range of flavors, from Asian and American to Latin and Italian. Everything is at your fingertips to create your unique combination as you hand it over to the expert grill masters. As they skillfully cook your dish on their massive grill, you're treated to a display of culinary theatrics that's both entertaining and impressive. Whether your cravings lean towards succulent steak, fresh seafood, hearty pasta, or a sumptuous vegetarian creation, you're given the creative control to make any food fantasy come true.
Odo
At Odo, each course is a work of art — visually stunning and designed to awaken the senses. A contemporary hidden gem within the bustling city, this Japanese restaurant offers an exquisite Kaiseki-inspired tasting menu that embodies the pinnacle of culinary craftsmanship, collaborative artistry, and a philosophy of culinary innovation. Spearheaded by the talented Chef Hiroki Odo, who previously honed his craft at the renowned kaiseki restaurant Kajitsu, the menu changes seasonally to ensure the freshest and highest quality ingredients are at the core of each dish. 
Every dish is a testament to Chef Odo's commitment to flavor balance, reverence for Japanese culinary traditions, and innovative cooking techniques. The dining journey at Odo can include offerings like the Sakizuke (an appetizer paired with a seasonal cocktail), a Hassun (showcases a variety of flavors and techniques), the Nimono (a simmered dish), and the Shiizakana (a substantial dish like a hot pot, for instance). The multi-course menu may also feature nourishing soups, fresh-caught sashimi, meticulously crafted sushi, and exquisitely marinated meats. With its intimate fourteen-seater location situated right by the kitchen and endearing kitschy chicken plates cradling its dishes hostage, Odo stands out as a cut above the rest. Undoubtedly, Odo represents the epitome of culinary finesse, providing its patrons with an unforgettable evening of discovery and indulgence.
Norigami
Norigami, nestled in Winter Garden, Florida, is a unique culinary offering that captivates diners with its exceptionally intimate "cook in front of you" concept. Occupying a quaint eight-seat sushi bar in the Plant Street Market, Norigami is the brainchild of accomplished Chef David Tsan. Renowned for his fine exquisite traditional, and innovative sushi presentations, Norigami provides a novel and intimate sushi experience where diners can witness the artful dexterity of sushi preparation. The visual appeal of this culinary theater is harmoniously complemented by a menu abundant with fresh sashimi, nigiri, and enticing sushi hand rolls, all presented with artful creativity on napkins, further enhancing the colorful experience. 
Further deepening the dining journey, Norigami features a ten-piece omakase option. This chef-driven dining style invites patrons to entrust their gastronomic adventure to the expertise of the chefs, presenting an opportunity to savor Tsan's culinary creativity. Enriched by a carefully watchful and accommodating chef who ensures you don't overdo the wasabi or soy sauce; it's an up-close encounter with the delicate artistry intrinsic to Japanese cuisine. With its distinct blend of personalized dining and exceptional quality, Norigami comfortably carves out its niche within the very personal, tailored food scene of central Florida.
Sushi Suite 1001
Tucked away in New York City's esteemed Hotel 3232, Sushi Suite 1001 offers a unique culinary journey, offering an unparalleled omakase experience in an intimate, four-seat sushi bar accessible only to those with the keys to enter the unmarked hotel suite. Led by sushi maestro Chef David Bouhadana, Sushi Suite 1001 provides an intimate dining setting where guests can fully immerse themselves in a nuanced 60-minute culinary journey featuring 17 courses of traditional Edomae-style sushi.
Among the tailor-made offerings, guests can savor a procession of expertly crafted nigiri and hand rolls, each piece highlighting the freshest seafood and the chef's precision. Characterized by meticulous preparation and extravagant flavors, each dish showcases the chef's profound expertise in sushi-making, featuring favorite menu items like Fatty Tuna, Tamago, Snapper, and even Big Mac. The extraordinary culinary performance is complemented by a mini sake bar that perfectly harmonizes with the succession of sushi servings. A delight to the senses, Sushi Suite 1001 amplifies the customary dining experience into an immersive sushi voyage, providing a privileged glimpse into the intricate world of sushi craftsmanship.
Morimoto
Morimoto in Las Vegas' MGM Grand, helmed by the acclaimed Iron Chef, Masaharu Morimoto, offers an awe-inspiring culinary journey through its peerless menu and spellbinding ambiance. The menu is a testament to Morimoto's creativity, tantalizing guests with dishes such as Wagyu Beef Carpaccio, Sticky Ribs, Toro Tartare, and the enticing Pork Belly. While Morimoto offers traditional table seating, the restaurant's bar or teppan grill is the place to be if you wish to witness culinary artistry in action. Beyond its noteworthy menu, Morimoto allows guests to step into the captivating world of live culinary craftsmanship, where Morimoto himself is often in-house, shaking hands, and engaging with guests.
The allure of Morimoto extends beyond the culinary experience to encompass a profound sense of cultural tradition and understated modern aesthetics, with innovative twists on American classics like its Morimoto Pork Chop and Applesauce. The restaurant's innovative design, inspired by Japanese craftsmanship and modern architecture, also sets an immersive backdrop for your dinner. The intimate glow of the dining room is punctuated by black-and-white photography by Yasumichi Morita, making each visit unique and memorable. Ultimately, each visit to Morimoto promises excitement, enriching tastes for every palate, and a symphony of flavors that leaves an indelible mark on both Las Vegas natives and tourists alike.
Tanaka of Tokyo
At the heart of the aloha spirit in Hawaii lies Tanaka of Tokyo, a distinguished dining establishment that thrills with its unique culinary offering. Renowned as one of three prime venues for authentic Teppanyaki, Tanaka of Tokyo's three locations exude a vibrant yet comfortable Japanese ambiance, reflecting the warmth and hospitality of the islands, and was rightfully voted Hawaii's Best Japanese Restaurant in 2022. Celebrating the islands' natural bounty, the culinary experience at Tanaka of Tokyo embarks on a rich exploration of Hawaii's finest ingredients. The chefs astound with captivating live cooking performances, skillfully transforming fresh, local products into a plethora of delicacies on the searing Teppanyaki grill.
The menu is a diverse tableau, boasting succulent Beef Tataki, fresh seafood like Ahi Poke, and an enticing array of vegetarian options such as Tofu Steak and Teppanyaki Vegetables, ensuring a gastronomic journey that caters to diverse tastes. Yet, the charm of Tanaka of Tokyo lies not just in its spectacular cuisine but also in the experience it provides. The restaurant, with its attentively designed space and welcoming service, promises an unmatched dining experience. Each member of the Tanaka staff plays a crucial role in this grand gastronomic performance, adeptly guiding their 'honored guests' through the menu's intricacies, sharing anecdotes and insights about the Teppanyaki tradition to ensure that each meal becomes a memorable and delightful experience.
Jinya
Immersing yourself in an authentic ramen experience can indeed be transformative, and there's no better stage for this gastronomic rhapsody than Jinya Ramen Bar. With locations at the heart of several states across the US, from Washington to Florida, Jinya offers an authentic taste of Japan's soulful culinary heritage amidst contemporary settings. Enveloped in a dark yet cozy ambiance, guests are instantly captivated by the comforting allure of simmering broths and rising steam, carrying enticing aromas of traditional spices, ingredients, and succulent meats. 
For a genuine experience of the artistry that goes into each bowl, pull up a chair at the ramen bar. To truly witness the artistry that goes into each bowl, pull up a chair at the ramen bar. It's nothing short of a theater where practiced hands work harmoniously, treating each ingredient with care, and seeing the transformation from raw to a skillfully assembled, drool-worthy bowl of ramen is entrancing. The Jinya experience transcends mere observation of culinary magic. It's in the first sip of the rich broth, painstakingly simmered for over twenty hours to achieve a depth of flavor that is both complex and comforting, and in the bite of the expertly cooked noodles, springy and satisfying. The menu offers an array of choices, from Tonkotsu Black ramen with its exclusive pork broth to the fiery Spicy Chicken Ramen, catering to every ramen enthusiast where ramen is truly all the craze.
Nakato
Whether you're a local or visitor to Atlanta, Georgia, embarking on a journey to Nakato is synonymous with teleporting to a world of refined Japanese culinary heritage. For over 45 years, Nakato has been a beloved fixture in Atlanta's dining scene, teleporting guests on a culinary odyssey to Japan without leaving the city. Stepping into Nakato offers a captivating glimpse of Japan's rich culture and culinary arts. The minimalist decor mirrors the elegance of traditional Japanese aesthetics, and the welcoming atmosphere instantly draws you in. 
The restaurant offers two primary dining areas, each providing a unique immersive experience. In the Hibachi area, expert chefs put on an entertaining live culinary show brimming with energy. At the same time, the Sushi Bar offers a soothing ambiance, allowing you to watch as masterful chefs shape bites of art. For an exclusive dining experience, Nakato offers private omakase dining with Chef Yoshifusa Kinjo in private Tatami rooms and traditional Tea Rooms. Whether it's the Sushi, Teppanyaki, or the Hibachi, every dish reflects the delicate balance inherent in Japanese cuisine, where chefs delight the guests. With an array of carefully curated dishes, from tender, exquisitely prepared sushi and sashimi offerings to mouthwatering Hibachi-grilled meats and veggies, Nakato ensures that every culinary quest finds its satisfying conclusion.
Dokodemo
Mere blocks away from the pulsating heartbeat of New York City's streets, Dokodemo becomes an urban refuge, a portal to the East known for its mastery of Japanese street-style cuisine. Upon stepping into Dokodemo, the muted decor and warm ambiance envelop you in a cocoon of comfort, evoking the charm of a small, tucked-away eatery in Tokyo. Dokodemo, spearheaded by former investment banker, Shin Takagi, started during the "most uncertain" time of his life when he worked on original recipes seven days a week. 
Ultimately, his passion project evolved into a Japanese fusion street food success story. A glimpse into the open kitchen reveals chefs working in a harmonious frenzy, crafting each dish with a blend of precision, passion, and panache. At the heart of Dokodemo's appeal is its down-to-earth menu, which primarily focuses on Yakisoba and ramen rice, accompanied by other beloved Japanese street food favorites. In addition to the Yakisoba, the handmade Okonomiyaki, or Japanese savory pancakes, are also a major crowd-pleaser. Transforming from a personal passion project into a veritable success story, Dokodemo not only satisfies the cravings of Japanese street food aficionados but also intrigues adventurous food lovers throughout New York City.