TikTok's Viral Costco-Themed Birthday Cake Is A Fandom Masterpiece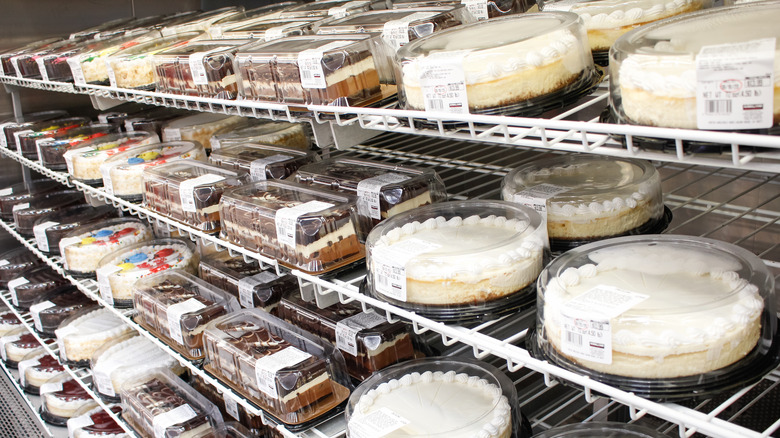 The Image Party/Shutterstock
There are some people who love Costco, and then there are people who are Costco-obsessed. Certain items like the chain's fan-favorite frozen pizza and the $1.50 hot dog and soda combo satisfies loyal customers, but some people's fandom reaches new levels. We've heard of people getting birthday cakes as an homage to their favorite sport or music idol, but now, someone has gotten a cake honoring their favorite store, Costco. CakesByAle on TikTok shared a video of a custom birthday cake centered around the retailer.
The cake was decorated with some of Costco's signature items, like its food court hot dogs and pizzas. One of the decorator's favorite items was the miniature fondant replicas of Costco's Pepsi soda cups. The two-tier cake was topped with an oversized shopping cart and decorated with a Costco membership plaque. Anyone who has shopped at Costco knows you need your receipt checked, literally, before leaving, so of course, a fondant receipt had to make an appearance on the cake. In a nod to the birthday boy, the yellow scribble said Happy Birthday, complete with a smiley face.
If you can't get a custom cake, head to Costco
Costco fans and shoppers were in awe over @Cakesbyalejandra's video showing the entire cake decorating process. Several people speculated that the customer's father simply asked for a Costco cake, and his daughter took it to the next level by ordering a custom Costco-themed cake. The cake decorator chimed in, writing, "Dad said "I want a Costco cake" and his daughter said bet." Many others agreed that this would be the perfect retirement cake for people who've dedicated their lives to the retail giant.
If you can't get a custom Costco cake but still want to celebrate your love for Costco, you can get the cake directly from the store. If you wish to order a cake, you'll have to go to the store or call in, as there is no online ordering. The store needs at least 2-days notice and offers a selection of designs to choose from, or you can customize your cake. Be wary if you are custom ordering, as Costco did go viral for messing up a customer's simple cake. Instead of making a blank cake with a red border, the chain copied the customer's drawing right onto the center of the cake. No matter what's on the outside, you can enjoy a white cake with vanilla buttercream or chocolate cake with chocolate buttercream.