Taco Bell's Grilled Cheese Dipping Tacos Are Back With A Beefy Upgrade
Taco Bell is bringing back its Grilled Cheese Dipping Tacos with a new protein. The chain is introducing an all-new filling of shredded beef slow-cooked in a spice blend, jalapeño sauce, and a cheese blend of cheddar, mozzarella, and pepper jack. It's served with two dipping sauces: nacho cheese sauce and a zesty red sauce.
The franchise is excited to introduce its braised shredded beef nationwide, an offering it has been working on for years. Another big component is the three-cheese blend, which is melted on the inside of the taco and grilled onto the outside of the white corn shell. Taco Bell is doubling down on the cheesiness and giving customers the chance to triple down when they dip their taco in nacho cheese sauce.
Though it's been long in the making, this menu item is a step in a new direction. Taco Bell successfully tested its Grilled Cheese Dipping Tacos in 2022 at select locations in Minnesota and Tennessee. The taco giant initially offered two fillings for the taco, seasoned beef and shredded beef, stuffed and coated with melted cheese. Some who tried the tacos during their test run found them greasy, though the consensus was mostly positive, and social media users vowed to order them again.
After a successful test-run, the new tacos are going national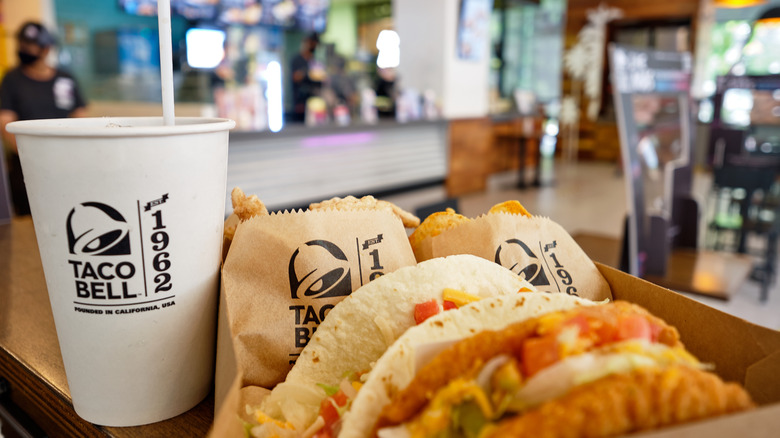 KULLAPONG PARCHERAT/Shutterstock
If Taco Bell's Grilled Cheese Dipping Tacos sound like a fast-foodified birria taco, you're onto something. Taco Bell took inspiration from traditional Mexican comfort food. The original version is stuffed with spicy birria brisket, a stewed dish from Jalisco, and served alongside a flavorful consomé for dipping. Cilantro, lime, and radish usually add an addicting dose of freshness to the rich, meaty tacos.
Naturally, as birria tacos became popular in the U.S. and beyond, a cheesy "Quesabirria" version caught on, too, turning the dish into an Instagram and TikTok trend that had people lining up at food trucks. Taco Bell was not to be left out and started developing its version of the brisket taco. While the Grilled Cheese Dipping Tacos share some similarities with the chain's Grilled Cheese Burrito, the new item is the only offering that contains the slow-braised shredded beef, which may return after the limited run.
Those who missed them in 2022 can find the Grilled Cheese Dipping Tacos, starting at $3.49, at their local Taco Bell soon. They will be made available nationally for a limited time, beginning August 3.