You Should Give Canned Baked Beans A Tex-Mex Twist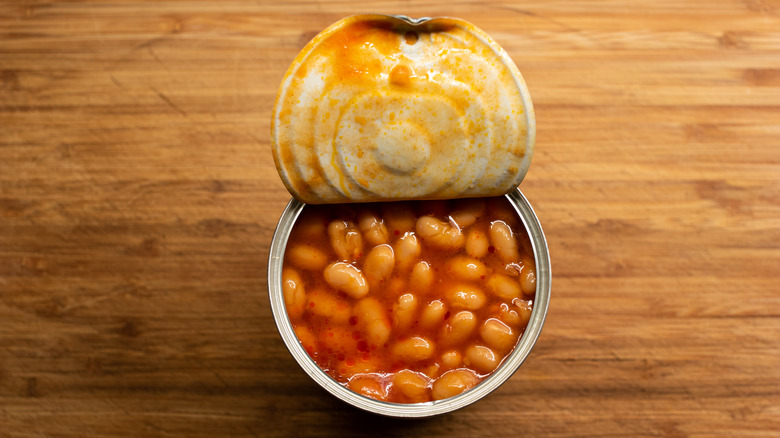 Octavian Lazar/Shutterstock
Baked beans are an undisputed campfire classic, as they work well with ice-cold beers and other cookout staples like kraut-smothered bratwursts or a slap-happy sloppy joe. They might even be the American cowboy's quintessential side dish. However, as tasty as the prototypical pairings are, the smoky-sweet flavor of a can of baked beans can also be transformed into a Tex-Mex medley.
Tex-Mex flavors are a tapestry of smoky meats, spicy peppers, tangy salsas, and creamy sauces — a perfect match for the smoldering aroma of a simple can of baked beans. The best part of jazzing-up baked beans is that opting for the canned goods expedites the cooking process and makes a beginner-friendly side dish anyone can hack. Just heat your beans and cook them with a few extra ingredients.
For a proper Tex-Mex twist, the spices and produce you pick make all the difference. Dice some fresh jalapeños or serranos for an ultra-spicy kick, or try green or red peppers for a zesty punch that is gentler on the tastebuds while still imparting your beans with this cuisine's signature punch. To add depth, use spices commonly found in Tex-Mex cuisine, such as cumin, chili powder, smoked paprika, and garlic powder. Top with cilantro and a blend of Mexican cheeses. If desired, add some homemade guacamole for a creamy, herbaceous finish. Or keep it simple by drizzling a squeeze of lime juice atop your freshly-cooked beans.
Try these entrées with Tex-Mex baked beans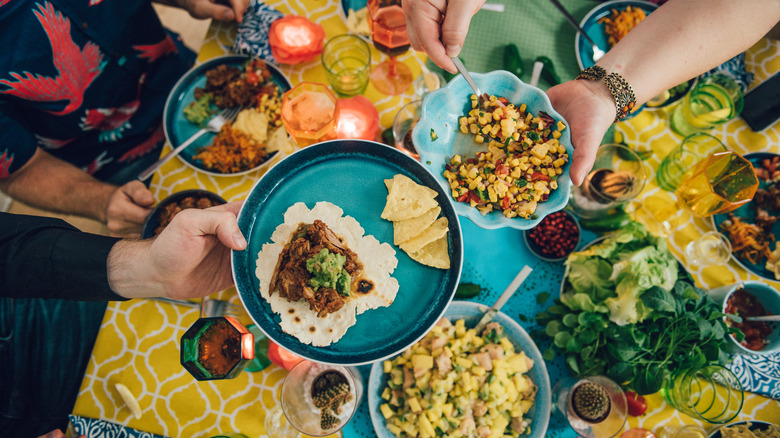 Knape/Getty Images
Now that you've whipped up a batch of tasty Tex-Mex-inspired baked beans, you'll likely want to pair it with something. Fajitas, anyone? Some marinated grilled chicken, beef, or shrimp fajitas with sautéed onions and peppers make a perfect partner for your beans. If you're short on marinade ideas for your protein, try a mixture of lime, oil, cumin, coriander, oregano, Worcestershire, and hot sauce. This classic entrée creates a well-rounded feast for the whole family to share.
While great as a side dish, you don't have to limit yourself to using them that way. Cheesy quesadillas filled with your choice of meat and veggies are another great option to work alongside a hefty portion of baked beans — but you could also put them inside the quesadilla. The same goes for a batch of tacos: Stuff some tortillas with ground beef, cheese, and veggies, then dunk your tacos into the beans or use them as a topping. 
For a different route, season some pork chorizo and simmer it with your baked beans to create a one-pot-inspired meal that will take you straight to El Paso with each spoonful. No matter how you make Tex-Mex baked beans, have fun — and remember, the spicier, the better!