Beetroot Hummus Toast Recipe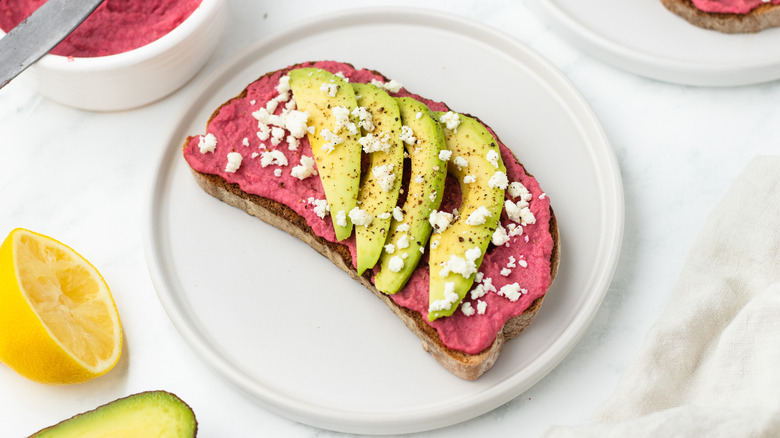 Catherine Brookes/Mashed Staff
You may be familiar with avocado toast, the "bougie" breakfast staple of the millennial crowd. But in reality, avocado toast isn't bougie at all. In fact, it's just plain tasty and has a perfectly simple formula to change in delightful new ways. Enter: beetroot hummus avocado toast. Bright red beets lend their color beautifully to classic hummus, giving popular avocado toast an even more Instagram-worthy appearance. "I love the vibrant pink shade of the hummus!" shares recipe developer Catherine Brookes. "The beetroot is definitely the star ingredient here, giving the hummus that gorgeous color and a slight sweetness and earthiness." 
But the appearance isn't all there is to love about this quick recipe. "It's so easy to make — and a fun one to serve to guests or for a slightly fancier lunch or snack," Brookes says. It doesn't hurt that it only takes about 10 minutes to make, too, and only requires 2 kitchen tools that most home cooks have on hand: a blender and a toaster. So go ahead and grab your ingredients (and your camera — gotta snap those pics) to whip up this tasty treat.
Gather the ingredients for beetroot hummus toast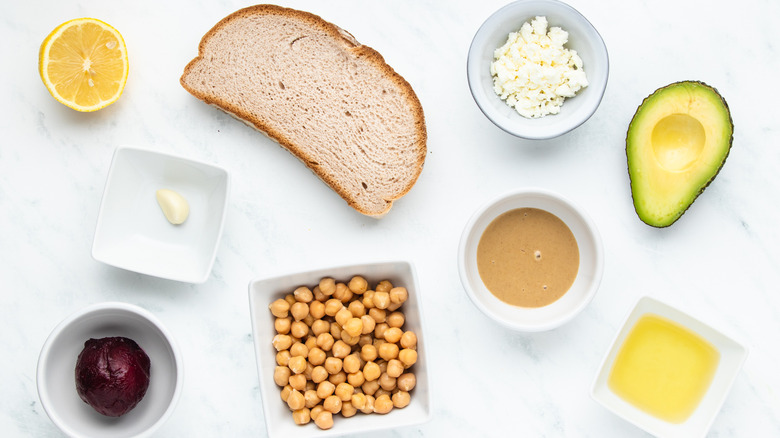 Catherine Brookes/Mashed Staff
If you've ever whipped up plain hummus before, most of the ingredients in this recipe are similar. You'll need chickpeas, garlic, tahini, lemon, olive oil, and salt. Other than that, just buy some precooked beets from the store, or boil or roast your own beetroot. And to assemble the toast, you'll need sourdough bread, feta cheese, and an avocado. 
Have extra ingredients on hand? Brookes says that the hummus keeps well in the fridge, so you can always double or triple the recipe and store some of the dip in the fridge to use at a later date.
Blend the chickpeas, beetroot, and garlic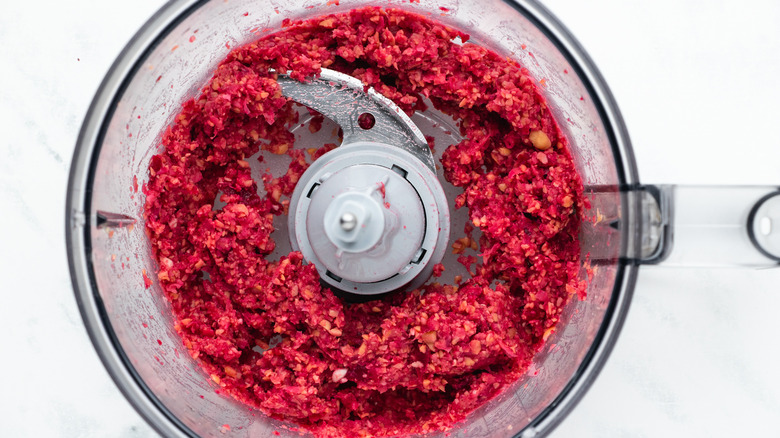 Catherine Brookes/Mashed Staff
First up, you'll want to blend the chickpeas, beet, and garlic together. Put them in a food processor or blender and blitz until well combined — they don't need to be smooth just yet.
Add the remaining ingredients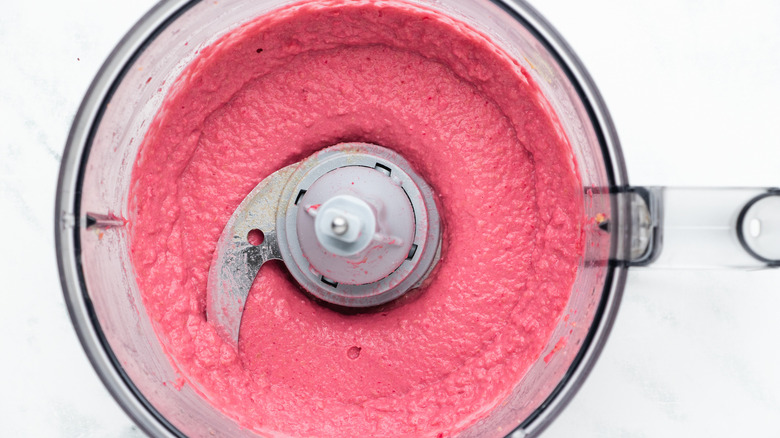 Catherine Brookes/Mashed Staff
To finish whipping up the hummus, add the tahini, lemon juice, olive oil, and some salt to the food processor. Blend it all together until it has a creamy and smooth texture, which should take about a minute. 
Of course, everyone has different preferences when it comes to the thickness of hummus, so if you want yours to be a little thicker or thinner, it's easy to make adjustments. "To make the hummus thicker, reduce the olive oil to 1 tablespoon, and for a runnier hummus, you can up it to 3 tablespoons," Brookes says. 
Toast the bread and spread it with hummus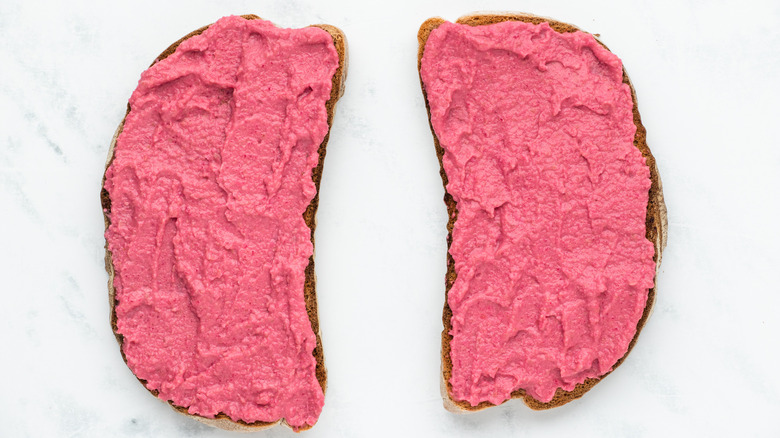 Catherine Brookes/Mashed Staff
Go ahead and toast your sourdough bread before spreading the hummus across the top. Brookes uses a standard toaster for her bread, but says you could also rely on other ways to make toast, such as the broiler or a buttered skillet.
Finish building the hummus toast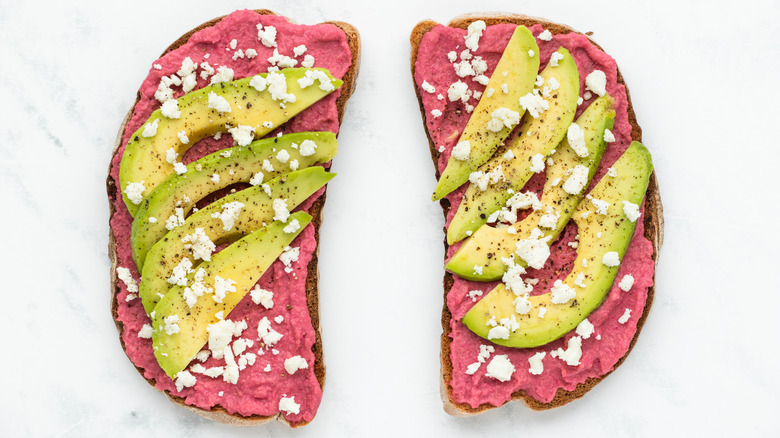 Catherine Brookes/Mashed Staff
All that's left to do is build your open-faced sandwiches. With the hummus spread across the top, simply add slices of avocado and sprinkle it all with crumbled feta cheese. That said, if you're not a fan of feta, it's not your only option. "You could always swap the feta for goat cheese, mozzarella, or even a little grated Parmesan," Brookes suggests. 
Now, all that's left to do is enjoy your cafe-worthy toast at any time of the day. "I think it could definitely pass as a breakfast, lunch, or snack! Perhaps 1 slice for a snack and 2 for a meal," Brookes says. 
Beetroot Hummus Toast Recipe
Blending your hummus with a cooked beet infuses the spread with maximum flavor and color. Put it on toast, and your beautiful snack is served.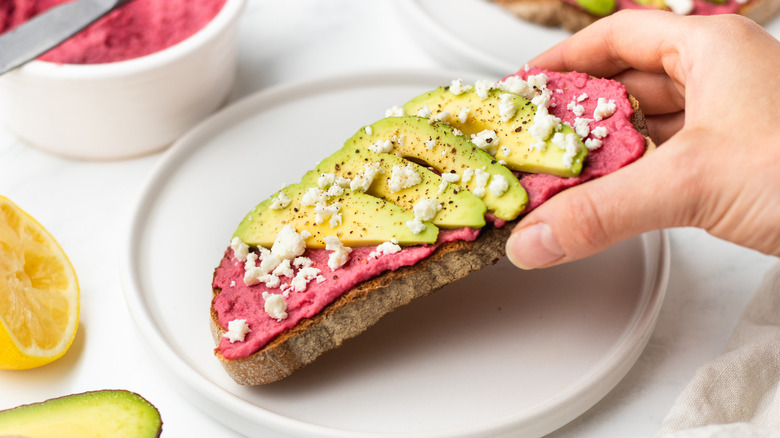 Ingredients
1 (7-ounce) can chickpeas, drained
1 cooked beetroot, peeled
1 clove garlic, peeled
1 tablespoon tahini
Juice of ½ a lemon
2 tablespoons olive oil
Salt, to taste
2 slices sourdough bread
½ avocado, sliced
1 tablespoon crumbled feta cheese
Directions
Add the chickpeas, beetroot, and garlic to a food processor and blitz until combined.
Add the tahini, lemon juice, olive oil, and salt to taste. Blend until smooth and creamy, about 1 minute.
Toast the sourdough and spread the hummus generously on top.
Top with sliced avocado and crumbled feta cheese, and serve.
Nutrition
| | |
| --- | --- |
| Calories per Serving | 807 |
| Total Fat | 32.8 g |
| Saturated Fat | 5.5 g |
| Trans Fat | 0.0 g |
| Cholesterol | 6.8 mg |
| | |
| --- | --- |
| Total Carbohydrates | 107.0 g |
| Dietary Fiber | 15.2 g |
| Total Sugars | 14.1 g |
| Sodium | 1,213.4 mg |
| Protein | 26.4 g |