The Bougiest Taco Bell Location Features An Elegant Baja Blast Fountain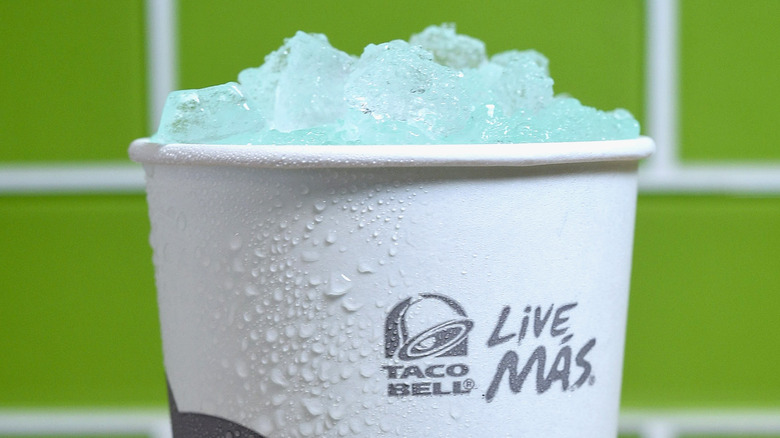 Joshua Blanchard/Getty Images
For many fans, rolling up to Taco Bell and not grabbing a bubbly, jewel-toned Baja Blast to complement a Mexican-inspired meal is unthinkable. Since the fast food chain's formerly exclusive, tropical lime flavor of Mountain Dew originally appeared in 2004, it's become so popular that big retailers load up their shelves with it every summer. But when your summertime stash runs dry, it might be time to revert back to Taco Bell's in-store soda fountains to get your Baja Blast fix. For locals who live in the Detroit suburb of Grosse Pointe, "soda fountain" means something a little different at Taco Bell than it does for the rest of the U.S.
Earlier this year, the city opened a new Taco Bell location in Grosse Point that has a working fountain outside, causing visitors to grin from ear to ear. At the top of this unique outdoor décor spectacle is a sculpted hand firmly clutching a large cup of soda. Of course, this isn't just an artistic homage to your average soda — it's a monument to Mountain Dew Baja Blast. Streams spew from the cup's straw and cascade down the fountain, making it both fun to gaze upon and thirst-inducing as you wait in the drive-thru queue. Before you spin your wheels trying to figure out how Taco Bell managed to pull this off, you should know that it's most definitely just teal-colored water and not actual Baja Blast. The fixture's pipes probably wouldn't enjoy that sugar as much as we do.
The location's deluxe vibes are matched with high-tech convenience
We've got to hand it to Taco Bell — an elegant-looking fountain is a pretty fancy move. Those just learning about the Baja Blast fountain on TikTok are deeming it a sight to behold and planning their next visit just to see it in all its glory. Excited users are marveling with comments like "Elite status" and "At long last! The fountain of Blast!"
Although, it's got us wondering if there's anything else inside this new Grosse Point location that is equally grand. One verified Taco Bell employee confirmed on Reddit that the store is easy on the eyes, carry-out only, has a patio area, and features six self-serve kiosks where customers can place their order. For a Taco Bell, we'd say that the addition of this location's touch-screen ordering system is fancy enough to make the Baja Blast fountain outside a good fit.
AI in the fast food industry is slowly but surely becoming the new norm, so for hungry Michigan-based visitors who are on-the-go, this could be a step in the right direction in terms of convenience. Speaking of the new norm, it's currently unknown if all Taco Bell locations plan to install a Baja Blast fountain. Based on the overflowing online positivity to the very first of its kind, it's safe to say they would be a welcome upgrade.