Ree Drummond Opens Up About Her Family's Loss And Her New Cookware Line - Exclusive Interview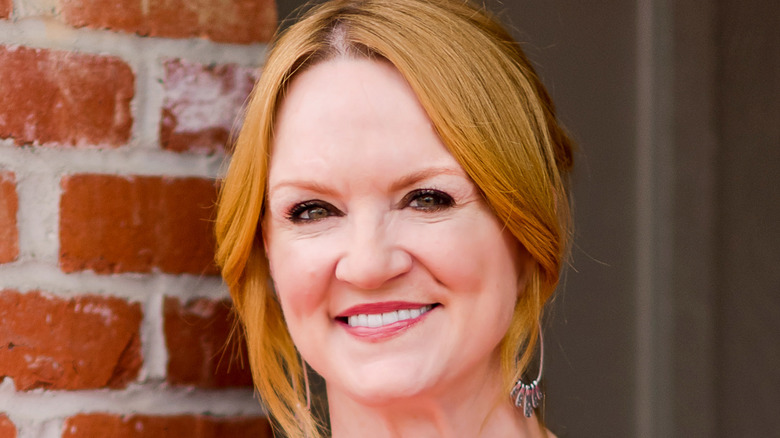 The Pioneer Woman
Ree Drummond has been a mainstay on the food scene ever since she started writing her wildly popular blog titled "The Pioneer Woman" in the mid-2000s. With her down-to-earth style and keen sense of humor, Drummond initially began writing about what it was like to live on an Oklahoma cattle ranch with her family and later began giving cooking instructions on how to make some of her favorite recipes. Her vulnerable writing style and beautiful photography became a massive hit with readers, with the blog receiving a staggering 23 million page views per month at its height.
That incredible success led Drummond to receive television offers to be on the Food Network, negotiate book deals, create a clothing line, and, naturally, for her to have her very own cookware line. She told us in an exclusive interview that her most recent partnership with Walmart features everything from bakeware to cutlery that is pretty to look at, functional, and high quality. We also spoke with the "Big Bad Budget Battle" host about how everyone was doing after recently losing their adored basset hound Walter, how her husband Ladd is recovering after his accident on the farm last year, and what fans can expect to find in her next cookbook that comes out this fall.
How she's doing after the death of their longtime family pet and how Ladd is doing after his injury
First and foremost, I'm so sorry to hear about the passing of your beloved dog Walter. How is everyone doing?
Thank you so much for asking about him. It has been really sad for the family, as Walter has been a part of our family for so many years and is tied to every memory we've had around our homestead. He grew up with the kids, and he was a lump of kindness and love. I'm in that stage where I tear up thinking about him, but there's something to be said for knowing that it was definitely his time to go ​​— and it was a peaceful passing for him. He was the best!
Being on the farm looks like fun, but also like it can be a tough place sometimes. I saw that your husband was injured again last year by a cow. How's he currently doing?
Ladd's doing great! The bright side is that after breaking his neck in 2021 and having surgery, any other bruise, cut, ache, or pain seems minor in comparison. Yes, ranching definitely can be an injury-rich environment. Fortunately, Ladd and his brother generally avoid serious injuries since they've been doing this since they were little. The biggest ache and pain these days is just due to wear and tear ... and age. I can say that because I'm two weeks older than Ladd.
How her new cookware line is unique from others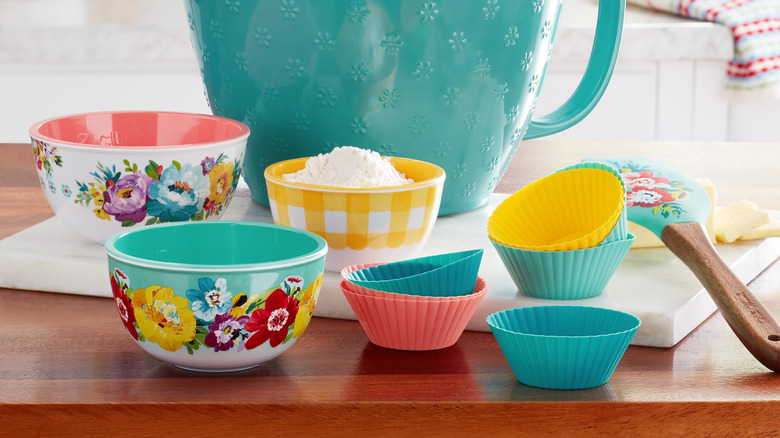 Walmart
Congratulations on your new cookware! Can you tell us more about what customers can expect from the current line?
Thank you so much! The new collection is filled with the colors and patterns I love, but everything is very functional and can really hold up to serious cooking and baking. My brand new teal speckle bakeware is high on my list of favorite things in the new line. It's durable and nonstick, and the teal color stands out among other bakeware. Whether it's a sheet cake or chocolate chip cookies, the bakeware has really made baking fun for me in recent weeks. It's always highly giftable. I also love the PW knife sets and cast aluminum cookware. Everything in the collection is being used in my own kitchen. I have to love it, or it doesn't make it in.
Why did you want to make them in bright bold colors and floral designs?
I am drawn to color. I always have been. I have joked that my biggest nightmare is the color gray, but what I mean is that I resist neutrals and my eyes crave pops of vivid, saturated color. I live on a ranch, where there is a lot of wood, leather, and dirt, so it could be that I am always looking for the balance to that, and I love the colors I see in nature — bright blue skies, orange/pink sunsets, the green of the new grass in May. As for florals, I have loved them all my life. In college, I remember wearing Adrienne Vittadini dresses and short sets — the florals were big, bold, and unapologetic. My love for florals hasn't waned.
What makes your pans and cutlery different from what's currently on the market?
What sets The Pioneer Woman line apart from other brands is the combination of the aesthetic, which is vintage-inspired and full of mix-and-match patterns and colors, and my love of cooking. At the end of the day, I want my cookware, dinnerware, and gadgets to look great, but if they don't work well and stand up to the daily grind of a home cook, it doesn't make much sense. I always want to strike the balance of "pretty" and "functional/high quality;" both things are always on my mind.
Which family occasion are you most looking forward to using the new cookware you created?
Summer has been so busy — kids have been home from college, Ladd and I have been working on a house project, I've finished up my cookbook, and I've had a lot of things going on at The Mercantile. Ladd's summer schedule on the ranch has been wild — the past two months, he's been getting up at 3:45 a.m. several mornings a week. What I'm most looking forward to is settling into the pace of fall, and using my cookware to cook my favorite fall and holiday foods and create, test, and taste some new ones.
How she helped prep the food for her daughter's wedding and other smart cooking tips
I saw that you made the entire menu for your daughter's wedding, which is impressive. What was that like, and what's your best advice for those that are serving dishes or meals to a big crowd of people?
Well, to clarify — I worked with our chefs at The Mercantile to create the menu for Alex's wedding, but I left the execution in their capable hands. It all went so well, and unlike my own wedding in 1996, this time I ate and ate and ate, and enjoyed every bite. 
When it comes to cooking for a big party, holiday meal, or event, though, I always give the same advice. Make a detailed list of each dish and the steps involved. Then, figure out what you can do a week in advance, then six days in advance, then five days, then four, and so on. Prepping ahead of time — from freezing appetizers to dicing vegetables to making pie crust to peeling potatoes — can make all the difference in the world. I always do this, whether it's Thanksgiving dinner or a dinner party for twelve. It's amazing how many elements of a meal can be prepped several days ahead of time. Leave the freshest things for the big day.
With prices recently increasing at the grocery store, what are your go-to ingredients to buy on a budget that still produce delicious results?
I love shopping the meat counter for family packs, whether it be a dozen sirloin steaks or 24 bone-in chicken thighs. They are often packaged in bulk at a discount, and the second I get home, I break down the packages and freeze what I won't need over the next couple of days. I also buy pantry staples in bulk ​​— things like dried beans, rice, and pastas. Those things last forever, and you can use them to make your protein go farther. I'm also a big believer in large packs of frozen vegetables like broccoli, green beans, butternut squash, etc. Those kinds of veggies don't lose much nutritive value in the freezer, and it's often less expensive than fresh.
Your cinnamon roll recipe is a big hit with fans, do you have any helpful tips for how to make them come out perfect every time?
My first piece of advice is to make my cinnamon roll recipe! Seriously, it's pretty foolproof, even if you think you aren't good with yeast. The other tip I have is to go crazy with the filling — add so much butter, sugar, and cinnamon, that it seeps out a bit when you roll the dough up. You need all of that gooey goodness in there. Finally, absolutely douse the baked rolls in the icing. They should be swimming in it when you first add it. It will gradually soak in over time, and it makes the whole eating experience ultra decadent. Make the rolls just once. No one has ever regretted it!
The best advice she's ever received and details about her new cookbook
You've worked with some incredible chefs over the years. Have any given you sage advice and what was it?
The pretty consistent advice I've always gotten is to have good knives above all else. I have absolutely found that to be true — if your knives aren't good, sturdy, and sharp, everything you try to prep, slice, or carve will be more difficult. I designed my knife sets to include the shapes of knives I reach for the most, and I've made sure the quality is all there! I love the PW knife sets so much.
You have a new cookbook called "Dinner's Ready" that comes out in the fall. Can you tell us a bit more about what readers can expect to find within its pages?
Yes, I'm excited about the new cookbook! The overarching theme is quick and easy recipes that readers can make for dinner tonight — not next week, or next month, tonight! As a home cook, deciding what to make for dinner on a nightly basis has always been somewhat of a puzzle to solve. This cookbook gives home cooks fast, easy solutions so they can get in and out of the kitchen faster without sacrificing delicious food. Most of the recipes are fast and very achievable. It's one of my favorite cookbooks to date!
The Pioneer Woman® Summer Cookware, Bakeware and Gadget Collections are available now exclusively at Walmart.com.
This interview has been edited for clarity and formatting.