A Tortilla Is The Perfect Vehicle For Homemade Pizza Rolls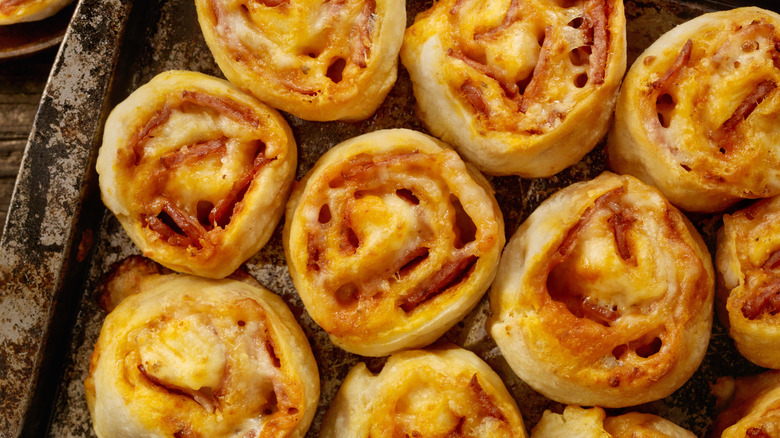 Lauripatterson/Getty Images
Pizza rolls are the '90s food trend that takes one of the best culinary achievements — pizza — and stuffs it into a tiny bite-sized portion. While many recall the craze that swept the nation when frozen pizza rolls first rolled out and rapidly became the freezer staple they are today, this snack has continued to evolve as people discover DIY takes on the classic recipe.
One TikTok creator crafted an excellent low-commitment method for creating a version of pizza rolls — more of a pizza roll-up — at home without the hassle of making dough from scratch, stuffing individual morsels, or placing an expensive takeout order. To recreate the TikTok recipe, place your pizza toppings, such as pepperoni, sausage, or anything else you want to use to garnish your rolls directly onto a hot pan, add cheese, then top with a corn or flour tortilla.
After the ingredients meld together, the cheese acts as a gooey, glue-like substance, allowing everything to stick together in one beautiful amalgamation. This should help you flip the pizza upright with relative ease before topping it with pizza sauce and a healthy sprinkle of Italian seasoning if desired. From there, it's as simple as rolling the pizza into a pinwheel and slicing it to eat! 
Why tortillas are a great choice for homemade pizza rolls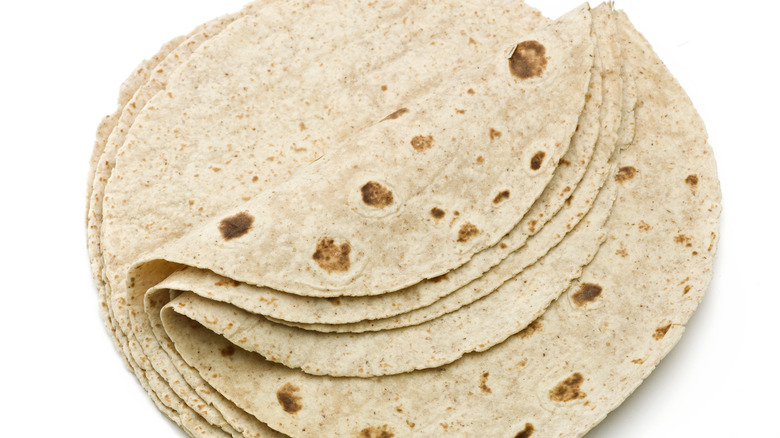 Juanmonino/Getty Images
While traditional pizzas are built atop a layer of dough, traditionally leavened using yeast, a tortilla is an excellent substitution for a quick and easy home recipe. The flatbread base functions similarly to pizza dough, minus the cook time and heft. In essence, this dish takes a spin on traditional pizza and inverts it into something resembling a quesadilla, akin to Taco Bell's hit Mexican pizza.
TikTokers who watched the video seem to agree, as the post has thousands of comments from astounded home cooks. One comment reads, "genius! perfect for those times when I want pizza but not the work of pizza!" Another commenter calls this hack a "Game changer." This recipe also solves a too-common dilemma, as one person writes, "well, guess I know what's for dinner."
A tortilla also provides a better serving size for a personal pizza if you don't want to roll it up. However, many people online say the rolls are perfect for feeding their children — and don't require as much refrigerator space as a leftover pie would. These pizza rolls also provide endless possibilities for delicious toppings, including numerous meats, cheeses, vegetables, and even pineapple if you're feeling bold. Any way you slice it, this tortilla pizza (or roll-up) is bound to be a big hit!