The Ideal DIY Cake Pop Stand Is Already In Your Fridge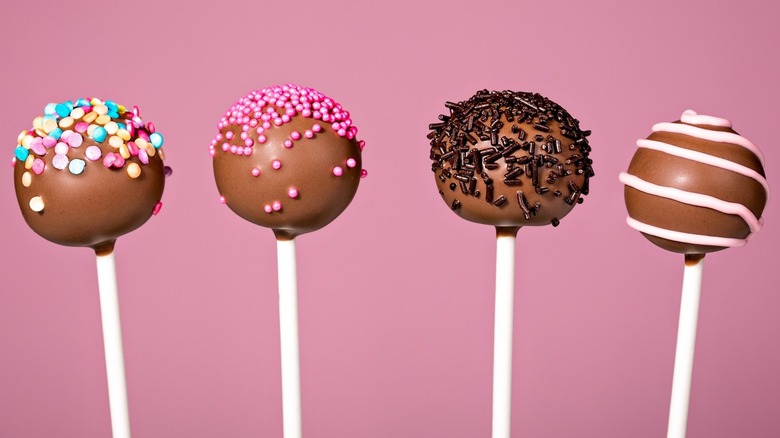 Juliannafunk/Getty
There's never a bad time for cake, but sometimes an entire slice can be a little too much. This is where the humble cake pop comes in. Those bite-sized portions of the birthday party staple — dipped in a sugary sweet chocolate coating and topped with sprinkles — make for an excellent nosh when you're craving a little treat. And who doesn't love eating things off of a stick?
You don't even need to fork over your hard-earned dollars for a Starbucks cake pop if you don't want to, because (believe it or not) making cake pops is actually relatively easy. Well, easy until it's time to let the snack's colorful outer shell dry, and not because you have to find something to distract yourself with while you wait. Rather, this step can end up being a bit of a struggle because it's hard to find the right device to keep the pops standing upright as they set — though, apparently, the ideal apparatus has been sitting in the fridge this whole time. Yes, as several ingenious bakers have discovered, an egg carton makes for an ideal cake pop stand — who knew?
Don't feel bad if you were out of the loop on this "hack," because we certainly were as well. However, now that we've seen how to execute the DIY, we can't believe we didn't think of it in the first place. Our apologies to all of the cake pops that suffered while we figured this out.
Making an egg carton cake pop stand is easy as pie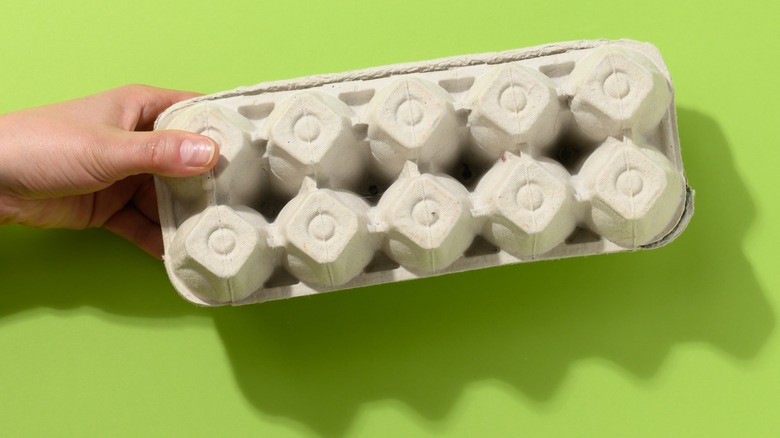 NDanko/Shutterstock
Considering how easy it is to make this egg carton cake pop stand, we doubt that it'll be a source of tension for people who wonder if they should make their own pops. All you need is something pointy, such as a pen or a small screwdriver, and, of course, an egg carton. With the carton facing upside-down, use your pointed object of choice to pierce a small hole through each dome.
You can probably see where this is going. After you've dipped the cake pop, using the easy icing tip that you shouldn't skip, slide the stick into the hole you've made, and voila! Your homemade cake pop stand has been made.
Be sure to not make too big of a hole in the egg carton — the fit should be snug to ensure that the pop stays in a fairly upright position while it sets. Additionally, after sliding the sticks into the hole, you can also add any extra garnishes to the treat, such as sprinkles or an icing drizzle. You could even decorate the egg carton itself by painting it or adding jewels if you're looking for a way to display your pops at a birthday party or event. If you happen to have used your last empty egg carton for grilling, you may also be able to use an upside-down colander as a cake pop stand. Happy baking!