The Cream Cheese Alternative You Should Pair With Smoked Salmon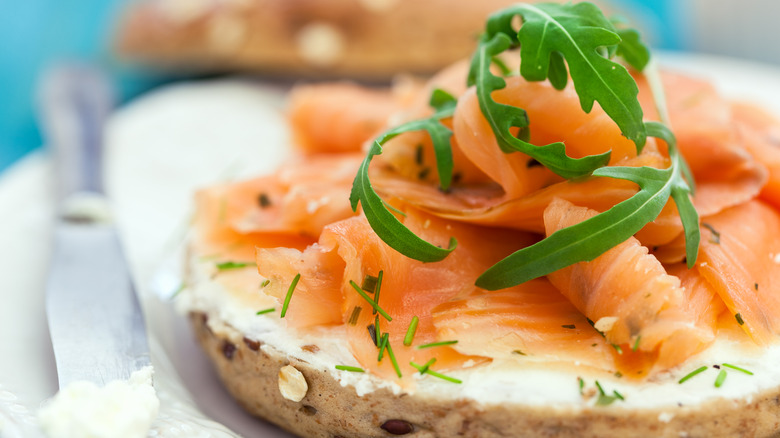 Kajakiki/Getty Images
Picture this: You're walking down the street in an early morning haze before strolling into a bakery serving soft-on-the-inside, toasty-on-the-outside bagels when suddenly, you realize they're out of cream cheese. How else will you get your morning dose of cream cheese, carbs, and smoked salmon? Fear not. As smoked salmon enthusiasts, we have just the solution for a cream cheese shortage.
Enter goat cheese, the tart, earthy, and slightly sweet, slightly salty cheese that can transform your morning bagels — or any dish that calls for smoked salmon. The tanginess of goat cheese confronts the campfire smokiness of the salmon for a yin and yang of flavors that come together for a delicious contrast. Smoked salmon is high in sodium, which morphs into a burst of umami goodness when paired with the savory taste of goat cheese. In addition, goat cheese imparts a brightness that takes the edge off of the sometimes overwhelming flavor of smoked salmon.
As goat cheese ages, it becomes firmer, akin to aged cow's milk cheeses like cheddar and Parmesan. Its texture can range from a dense and slightly gritty feel to a smooth, flaky consistency that always remains creamy. This unique makeup provides a delicate textural contrast to smoked salmon's smooth, thin mouthfeel. Bonus points for lactose-intolerant foodies: Goat cheese is lower in lactose than cattle-derived cheeses, like cream cheese, making it much easier on the digestive system.
Putting goat cheese and smoked salmon to use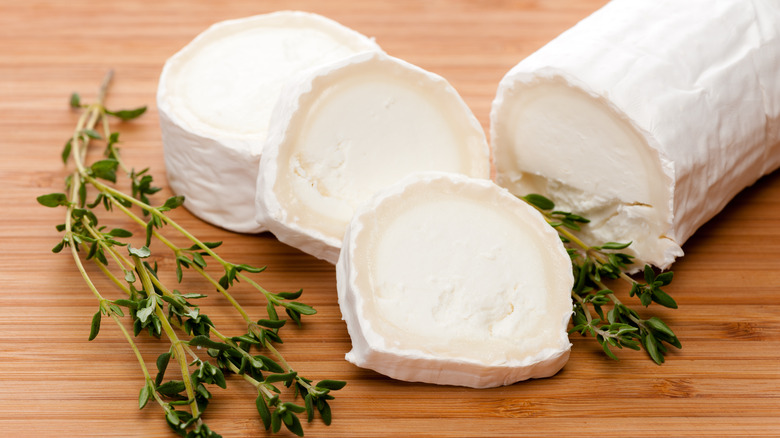 Ramses02/Getty Images
News flash — you're not limited to pairing goat cheese and salmon on a bagel. As much as we love complementary ingredients piled atop a toasted everything bagel, the world is your oyster with these two foods.
Create a refreshing salad with mixed greens, cucumber slices, cherry tomatoes, and avocado before topping the salad with crumbled goat cheese, smoked salmon, and a citrusy vinaigrette for a light yet satisfying meal. Prepare a quiche filling with goat cheese, eggs, cream, and seasonings, then fold in bite-size pieces of smoked salmon, pour the mixture into a pie crust, and bake until golden brown for the lunch of a lifetime.
Don't just take our word for it — look to the professionals! Ina Garten combines smoked salmon and goat cheese for her brunch-ready frittata, and Gordon Ramsay uses the two ingredients as a condiment spread that works with sandwiches, wraps, and pita chips. From appetizers to salads, sandwiches, and dips, goat cheese and smoked salmon work well in numerous dishes. Remember, you don't need to be short on cream cheese to pair goat cheese with smoked salmon; you can try it anytime.