McDonald's Cryptic As Featured In Meal Doesn't Live Up To The Hype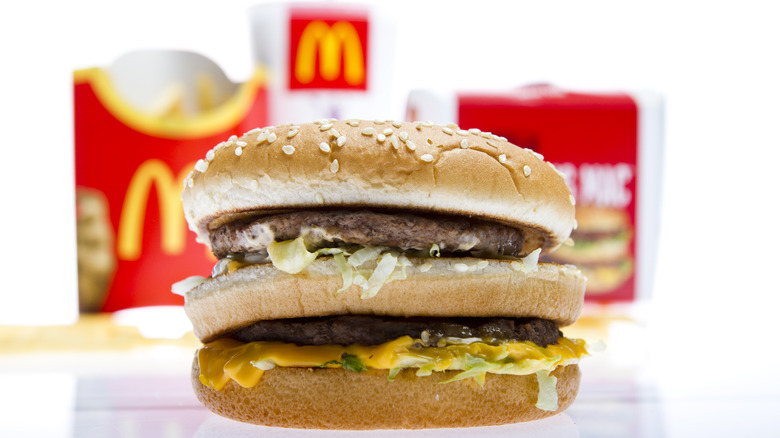 Spflaum1/Getty Images
McDonald's sent the internet into a frenzy earlier this week when it teased what many presumed to be a new menu item across its social media channels. Shared to Instagram and Twitter on August 7, the post featured a video containing a series of clips showing Mickey D's many appearances in film and television throughout the years. The cryptic message had many people salivating for a new menu item that some theorized might be based on a scene in the upcoming second season of Marvel Studio's "Loki," which takes place in a McDonald's restaurant. It also announced Monday, August 14, as the date that everything would be revealed. However, a press release shared today offered some more information about the launch, and unfortunately, it doesn't quite live up to the hype.
Rolling out to restaurants in over 100 countries, the As Featured In Meal collection is the next big thing coming to McDonald's. Patrons will be able to choose one of three entrees that they've seen referenced in pop culture over the years: a 10-Piece Chicken McNuggets, a Quarter Pounder with Cheese, or a Big Mac with a drink, french fries, and Sweet 'N Sour sauce. If all those items sound a bit familiar, it's because they're already available at the Golden Arches. This contributed to some of the disappointment around the limited-edition combos. Fans haven't held back from expressing their discontent about the announcement.
Some are calling McDonald's As Featured In Meals a ploy
McDonald's global chief marketing officer, Morgan Flatley, called the chain's new As Featured In Meals "the biggest Famous Order yet," but, as we all know, bigger isn't always better. While indulging in the same order as some of our favorite film and television characters can be fun, some patrons are disgruntled by the fact that there's nothing new about the food.
"This sh*t kinda just a stupid ploy to get foolish ppl to wanna buy the same sh*t they always get just because the packaging is different," one honest fan said on Instagram. "Wait...so no Loki happy meal toys...That's what everybody wanted, not the same food you already sell with rebranded packaging! So disappointed!" wrote another.
Still, there are a few things to look forward to with the menu changes. The Sweet N' Sour sauce, for example, will be undergoing a "Loki"-inspire facelift for the limited-edition meals. Similar to the discontinued McDonald's sauce that sold for almost $10,000, the revamped Sweet 'N Sour could eventually be worth big bucks and will also feature a scannable code that will unlock exclusive Marvel content on Snapchat. Additionally, the chain is also collaborating with the London-based brand PALACE for a new merch line that will be available to those who purchase one of the As Featured In Meals when they launch on August 14.