Taco Bell's New Burrito And Flatbread Are Giving Us FOMO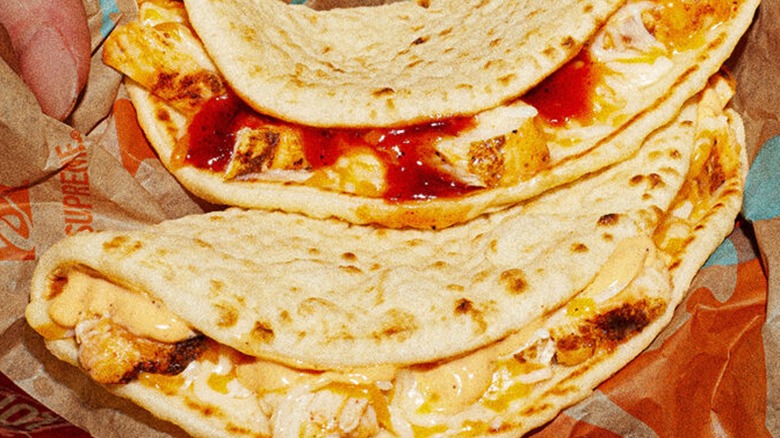 Taco Bell
Taco Bell has proven over the years to be notoriously fickle when it comes to its menu. While fan favorites like the Mexican Pizza were brought back after a significant and loud uproar from fans, there are many other items that consumers fell in love with, only to see them abruptly removed from the menu. 2023 has already seen more than a dozen items that have arrived and disappeared at Taco Bell. For this reason, the news that the fast-food chain is testing out new Flatbread Tacos and burritos is definitely giving us FOMO.
This week, a new $2 Chicken Flatbread Melt has been spotted being tested in Dayton, Ohio, while a Shredded Beef Grilled Cheese Burrito has made appearances at Taco Bell stores in Oklahoma City, Oklahoma. The burrito features a slow-braised shredded beef that's been cooked in spices, along with a three-cheese blend and a green sauce. The birria-inspired beef can also be substituted in any Taco Bell menu item.
The Chicken Flatbread Melts come in two flavors: Mexican BBQ and Three-Cheese. Both come with a mix of cheddar, mozzarella, and Monterey pepper jack cheeses, but the former includes Mexican BBQ sauce (a new option) covering the grilled marinated chicken, while the latter version has the chain's classic creamy chipotle sauce. The Flatbread Melts can be ordered on their own or in the Chicken Flatbread Deluxe Cravings Box, which also includes a medium drink, Doritos Cheese Gordita Crunch, Crunchy Taco, and Cinnamon Twists for $9.49.
Chicken Flatbread fans have been hoping for its return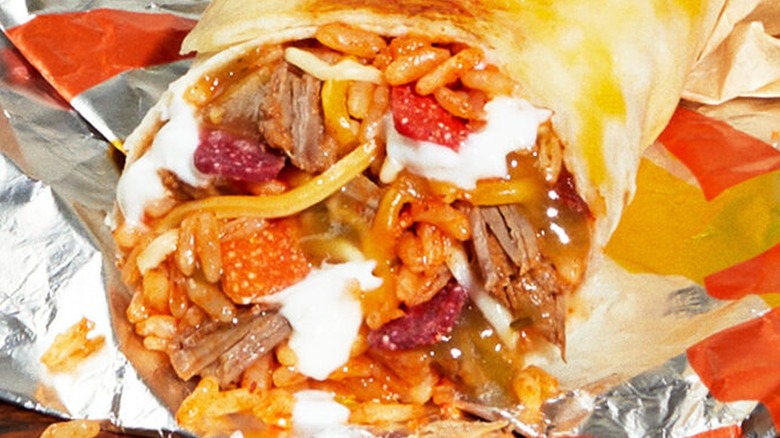 Taco Bell
Birria-style foods have been rising in popularity, with tacos being one of the most common. Taco Bell got into the trend at the beginning of August, releasing a limited-time Grilled Cheese Dipping Taco featuring slow-braised shredded beef. This is the first time Taco Bell has offered shredded beef, but with the company claiming it took them two years to produce the recipe, this menu addition could potentially stay on the menu for quite a while if it's popular. The Shredded Beef Grilled Cheese Burrito is the third Grilled Cheese item Taco Bell has offered, so it also seems we may be seeing even more of these products added in the future.
Taco Bell first began offering Flatbreads in 2010, but they've come and gone from the menu over the years. Fans of the chicken flatbreads even created a Facebook page called "BRING BACK THE TACO BELL CHICKEN FLATBREADS!" When it was confirmed by a follower that the new Flatbread Melts were being tested, a caption was posted that read in part, "Although not the same item, the flatbread has not been forgotten and the fight continues."