Roasted Cilantro Lime Shrimp Recipe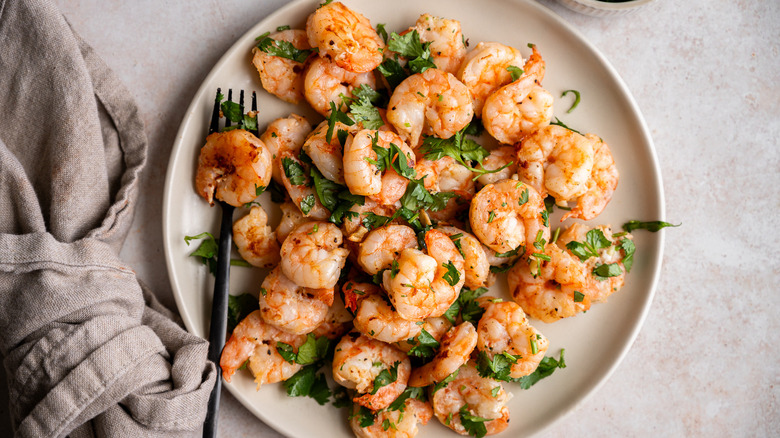 Christina Musgrave/Mashed
Indulge your taste buds with a burst of zesty flavors and succulent textures in recipe developer Christina Musgrave's tantalizing roasted cilantro lime shrimp recipe. This dish seamlessly blends the vibrant essence of fresh cilantro, the zingy brightness of lime, and the irresistible smokiness of perfectly roasted shrimp.
Each plump shrimp is marinated to perfection, allowing the citrusy tang of lime and the aromatic garlic to infuse every juicy bite. As the shrimp sizzle and caramelize in the oven, the marinade intensifies, creating a mouthwatering medley that embodies a balance of tanginess and depth.
This dish is ideal for meal prep. Ready in only 15 minutes, and requiring only 7 ingredients, it's also incredibly easy and convenient. Musgrave tells us, "I love making this at the beginning of the week to have on hand for rice bowls, salads, or tacos." Whether served as a delightful appetizer, a flavorful main course, or a protein-rich salad topper, this dish is delicious and shockingly simple.
Gather your roasted cilantro lime shrimp ingredients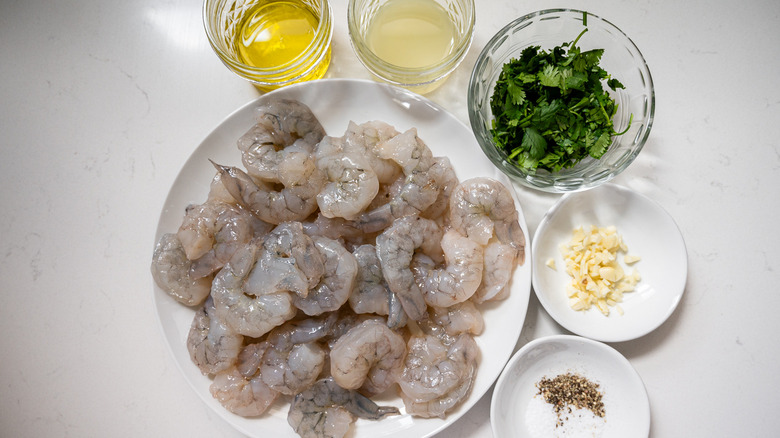 Christina Musgrave/Mashed
To make this roasted cilantro lime shrimp, you can start by gathering your ingredients. For this recipe, you will need shrimp, olive oil, lime juice, salt, pepper, garlic, and cilantro. It's also a good time to preheat your oven to 400 F.
While this ingredient list is rather simple, you may not always have lime juice on hand. If you find yourself in that predicament, Musgrave notes, "Lemon juice, red wine vinegar, or apple cider vinegar are good acid substitutions. You can also add in other seasonings like onion powder, paprika, or chili powder."
Dress the shrimp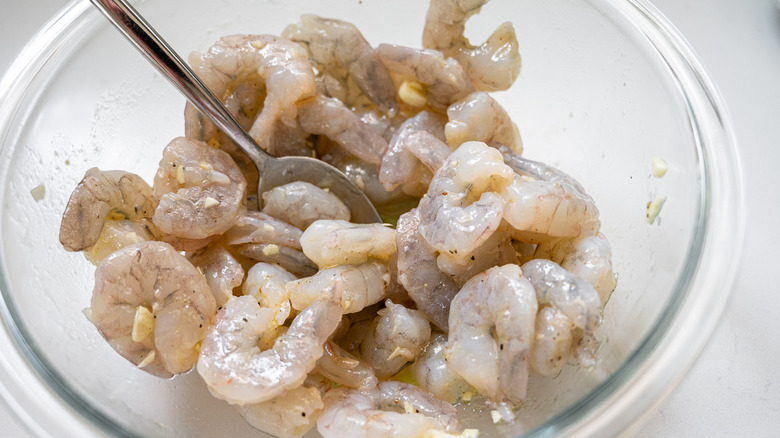 Christina Musgrave/Mashed
In a large bowl, add the shrimp, olive oil, lime juice, salt, pepper, and garlic. Then, toss the shrimp around to thoroughly coat the shrimp.
When cooking shrimp, or any protein for that matter, marinating is very important. The components in a marinade work together to penetrate the shrimp's surface, infusing them with a rich and complex flavor profile. The acidic elements in marinades help break down the connective tissues in shrimp, which can lead to a softer and more tender texture.
Bake shrimp on a lined baking sheet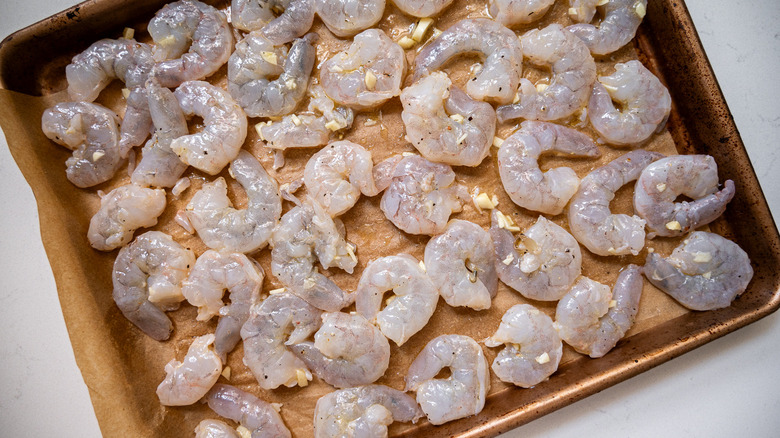 Christina Musgrave/Mashed
Now, it's time to cook them up. Transfer the shrimp to a large lined baking sheet. Then, bake in the preheated oven for 10 minutes. Yes, you read that right — just 10 minutes!
Shrimp is known for its quick cooking time. Due to the delicate and tender nature, shrimp cook relatively rapidly compared to other types of proteins. Overcooking shrimp can result in a rubbery and less flavorful texture. Therefore, it's crucial to monitor them closely as they cook to achieve the best results.
Top with cilantro and serve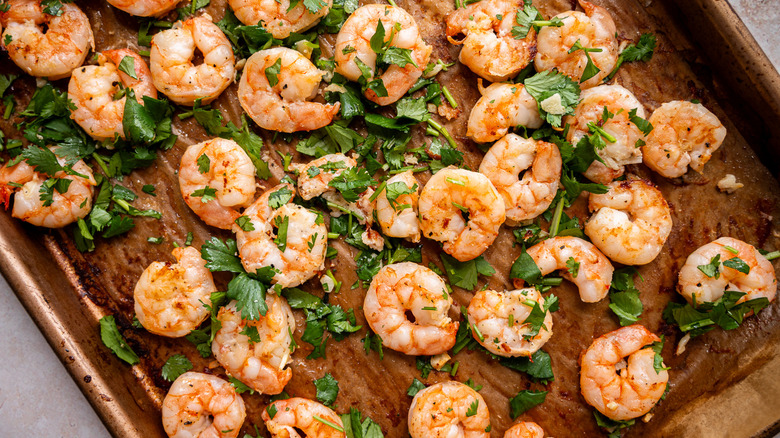 Christina Musgrave/Mashed
When the shrimp comes out of the oven, sprinkle them with the chopped cilantro. Now, they are ready to be enjoyed.
Need some ideas on how to complete this meal? Musgrave suggests, "This would be great with cilantro lime rice, in tacos, or in rice bowls. This would also be great served in a big spread with salsas, chips, and ceviche."
Roasted Cilantro Lime Shrimp Recipe
This roasted cilantro lime shrimp seamlessly blends fresh cilantro with the zing of lime and the irresistible smokiness of perfectly roasted shrimp.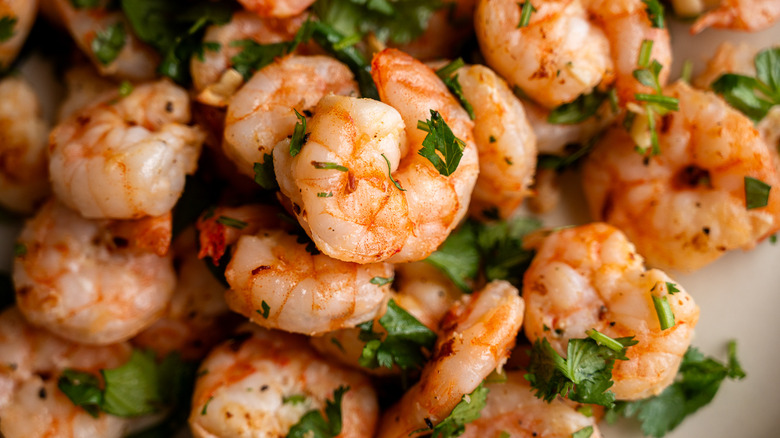 Ingredients
1 pound shrimp, peeled and deveined
1 tablespoon olive oil
1 tablespoon lime juice
½ teaspoon salt
½ teaspoon black pepper
2 cloves garlic, minced
¼ cup diced cilantro
Directions
Preheat the oven to 400 F.
Toss the shrimp, olive oil, lime juice, salt, black pepper, and garlic together in a large bowl.
Transfer the shrimp to a lined baking sheet.
Bake for 10 minutes.
Top the shrimp with diced cilantro and serve.
Nutrition
| | |
| --- | --- |
| Calories per Serving | 131 |
| Total Fat | 4.0 g |
| Saturated Fat | 0.6 g |
| Trans Fat | 0.0 g |
| Cholesterol | 182.6 mg |
| | |
| --- | --- |
| Total Carbohydrates | 1.1 g |
| Dietary Fiber | 0.2 g |
| Total Sugars | 0.1 g |
| Sodium | 287.2 mg |
| Protein | 23.0 g |