Guy's Grocery Games: Superstars Competitor Tregaye Fraser Is A Familiar Face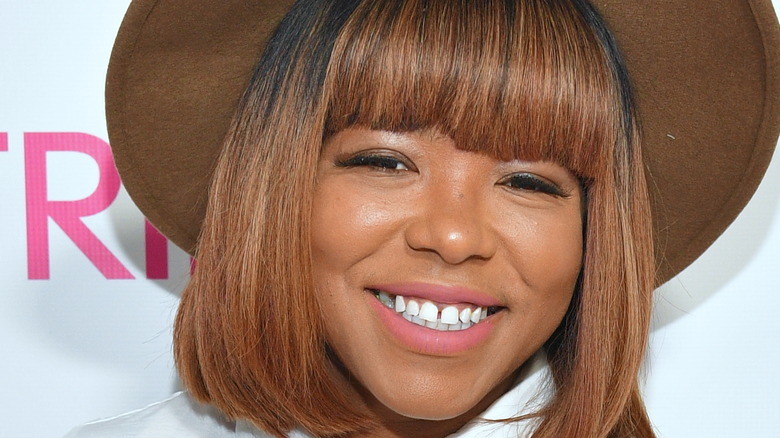 Prince Williams/Getty Images
If you watch the Food Network regularly, you'll notice that there are lots of cooks who appear on multiple shows. Chefs like Alex Guarnaschelli and Guy Fieri have a lot of frying pans on the fire, but there are others you see and think, "Where do I know them from?" For those tuning into "Guys Grocery Games: Superstars" on August 16, there's one face many people will likely find familiar — Tregaye Fraser.
Fraser might not be a household name yet, but she's appeared on many Food Network shows. Most notably, she was the winner of Season 12 of "Food Network Star," which aired in 2016. Since then, Fraser has appeared on television several times. She shared some of her favorite bites on "The Best Thing I Ever Ate" and "All-Star Best Thing I Ever Ate," was the host of the baking show "Cakealikes" on Discovery+, and even had her own pilot, "Tregaye's Way," on OWN. However, fans of "Guy's Grocery Games" might recognize Fraser best from her eight appearances on the show as a judge and competitor.
Tregaye Fraser delivers fusion mash-ups with classic culinary style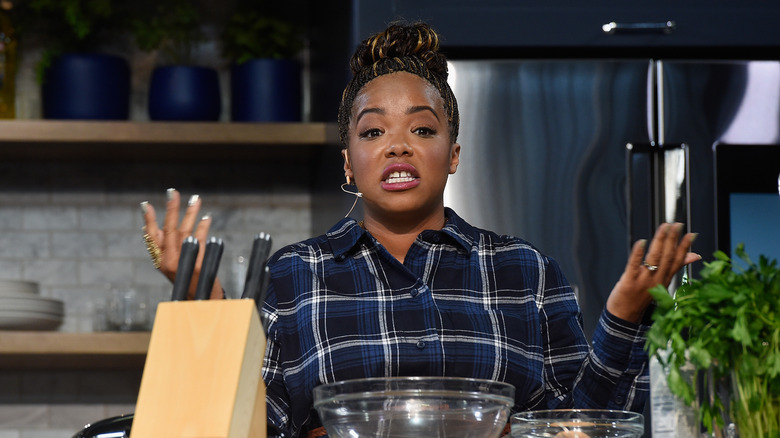 Gustavo Caballero/Getty Images
What can viewers of "Guy's Grocery Games: Superstars" expect of Tregaye Fraser? The Atlanta-based chef has her own style that combines her love of fusion food mash-ups with her classical culinary training at Le Cordon Bleu. According to Fraser's website, she can cook food from 24 different countries, which she likes to combine in unexpected ways. Some examples fans of "Food Network Star" might remember are Fraser's sushi-chili cheese dog dish and her lobster bread pudding bundt cake.
Fraser credits the book "Culinary Artistry" by Andrew Dorenburg and Karen Page for inspiring much of her creativity in the kitchen. "It really changed my life because it made me see food in a different way," Fraser shared with Lancaster Online. She eventually created her first original recipe, banana-fried chicken with coconut rice, and she says the book gave her the courage to try the unique pairing. Creativity is definitely something chefs need when competing on "Guy's Grocery Games" because host Fieri likes to throw curveballs at the contestants as much as possible. It will be interesting to see if Fraser's creative cooking style will once again get her the win.