TikTok's Viral Spaghetti Alfredo Combines 2 Pre-Made Sauces Into A Cheesy Masterpiece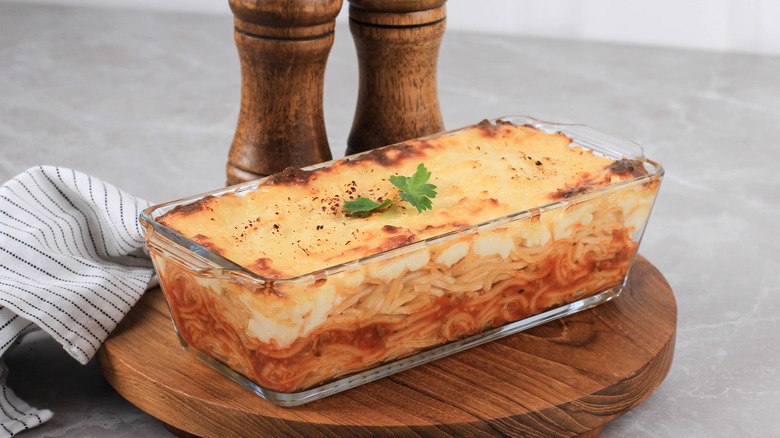 Ika Rahma H/Shutterstock
Figuring out what to make for dinner every single night can be a big challenge, especially if you don't like cooking. The good news? There's always a viral TikTok recipe for that. The TikTok feta pasta recipe has become a weeknight staple, and who could resist trying the viral TikTok hack that makes boxed mac and cheese creamier? Now, there's another viral TikTok pasta recipe floating around. There's a reason videos of it have amassed millions of views, likes, and comments: Not only is it pure comfort food, but it's also really easy to make.
That's because, for this spaghetti recipe, you don't need to crush any tomatoes, simmer a sauce for hours, or frantically whisk a bechamel. Instead, all you need to do is brown some ground beef in a pan, joined by some diced onions and garlic if you're feeling fancy. Then, add a jar of store-bought marinara sauce. Next, add cooked spaghetti that's been topped with jarred Alfredo sauce to a greased casserole dish and pour the meat sauce on top, then cover the whole thing with grated mozzarella and bake until bubbly. Easy, right? But there's actually a way to make it even easier, and on the flip side, there are a few extra steps that can be taken to make the recipe even more delicious.
Even easier TikTok spaghetti
TikTok's viral baked spaghetti Alfredo, which uses jarred marinara and jarred Alfredo sauce to make a hearty weeknight meal, can indeed be made even easier. One TikTok chef shared how they make the entire thing in their Dutch oven, and without having to boil the pasta separately, just like in Martha Stewart's one-pot pasta dish. Brown your beef, seasonings, and aromatics, add a jar of marinara sauce, a box of spaghetti noodles broken in half, some water, and a jar of Alfredo sauce, then cover it with cheese. This version is cooked on the stovetop and ready in just 30 minutes.
There are others who take extra steps to make the dish a little more homemade. Some folks make their own Alfredo-style cheesy cream sauce from scratch, others add veggies to the sauce, and anyone can add any spices or herbs that they like to liven up the flavors a little bit. You could even add a jar of pesto to your jarred Alfredo sauce for a quick boost. But even the easiest version of the recipe, made in one pot with two jarred sauces, gets rave reviews. "It is frickin' delicious," shared one TikToker, "we don't eat it any other way now."